Special Test
Thigh Thrust Test
Thigh Thrust Test is a provocative test used for sacroiliac SI joint dysfunction. It's also called Posterior Shear Test or Posterior Pelvic Provocation Test.
How do you perform the Thigh Thrust Test?
The patient lies in supine position with 90 degrees of flexion in the hip and knee on the side being tested.
The examiner stabilized the contralateral side of the pelvis over the anterior superior iliac spine ASIS and applied a light manual pressure to the participant's flexed knee along the longitudinal axis of the femur
See Also: Pelvic Anatomy
Another way to perform the test: With patient supine with hip flexed to 90 degrees and slightly adducted, one of the examiner's hands cups the sacrum and the other applies posteriorly directed force through the femur.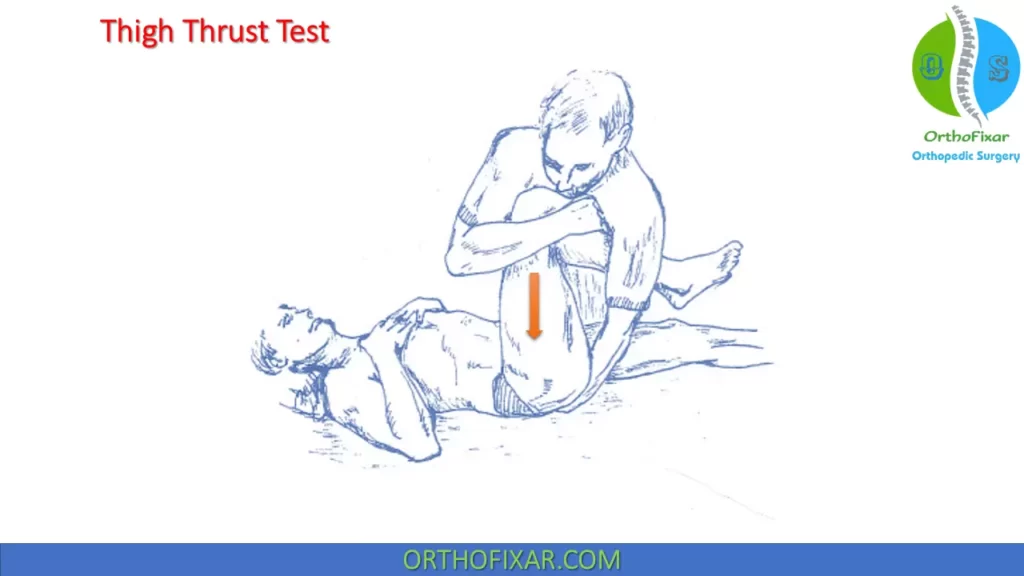 What does a positive Thigh Thrust Test mean?
The test is positive when the patient felt a familiar well localized pain deep in the gluteal area on the provoked side.
Accuracy
A study on 40 patients with chronic low back pain, he found the reliability of Thigh Thrust Test was as following:
Sensitivity: 55%
Specificity: 70%
Another study on 48 patients with chronic lumbopelvic pain referred for sacroiliac joint injection found that the sensitivity was 88% and the specificity was 69%.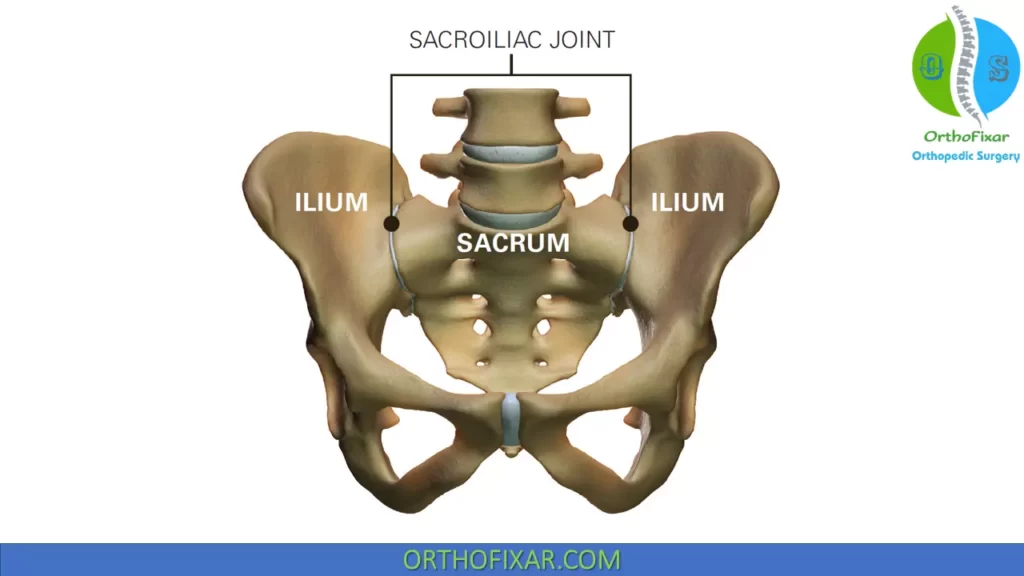 References
Ozgocmen S, Bozgeyik Z, Kalcik M, Yildirim A. The value of sacroiliac pain provocation tests in early active sacroiliitis. Clin Rheumatol. 2008 Oct;27(10):1275-82. doi: 10.1007/s10067-008-0907-z. Epub 2008 May 6. PMID: 18458988.
Laslett M, Aprill CN, McDonald B, Young SB. Diagnosis of sacroiliac joint pain: validity of individual provocation tests and composites of tests. Man Ther. 2005 Aug;10(3):207-18. doi: 10.1016/j.math.2005.01.003. PMID: 16038856.
Netter's Orthopaedic Clinical Examination An Evidence-Based Approach 3rd Edition Book.
Last Reviewed
August 31, 2023
Contributed by
OrthoFixar
Orthofixar does not endorse any treatments, procedures, products, or physicians referenced herein. This information is provided as an educational service and is not intended to serve as medical advice.