Post
Top 12 Best Free Orthopedic Apps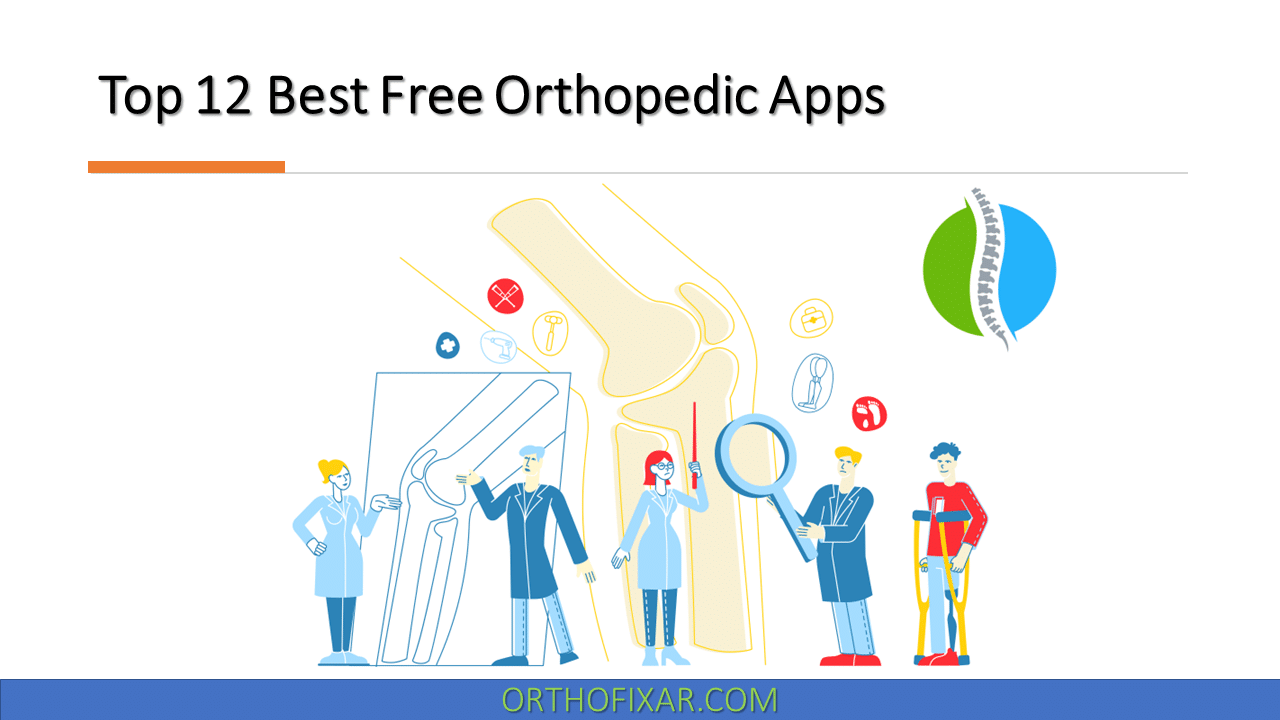 Explore our top 12 Best Free Orthopedic Apps, offering expert tools and resources for orthopedic care and learning. Enhance your practice today.
Best Free Orthopedic Apps
1. AO Surgery Reference
AO Surgery Reference is one of the most useful Orthopedic Apps for orthopedic surgeons.
AO Surgery Reference is an online repository for surgical knowledge. It describes the complete surgical management process from diagnosis to aftercare for all fractures of a given anatomical region, and also assembles relevant material that the AO has published before. 
It gives access to:
• Aid in surgical decision making for 353 fracture types
• 172 approaches
• 1222 surgical procedures
• All richly illustrated with more than 30'000 Illustrations
and much more.
2. Orthopedic Special Tests
Orthopedic Special Tests is an orthopedic app that contains all Special Tests in orthopedic surgery.
For all orthopedic surgery residents and specialists who are interested in learning and memorizing the special tests in orthopedic surgery.
Orthopedic Special Tests app contains all special tests that an orthopedic surgeon needs for shoulder, elbow, wrist, hand, hip, knee, ankle, foot and spine clinical examination.
Download Links: Android
3. Orthobullets
The companion APP for Orthobullets.com and Medbullets.com.
Bullets* contains medbullets and orthobullets Topics, Questions, Techniques, Cases, Videos, and Evidence. Our Testmaster allows you to create, take, and review customized exams. Article links allows for quick review of scientific abstracts and often the PDF is provided and can be viewed on your phone. Our "Home" screen allows you to monitor a thread of educational activity within our community, and it can be filtered to only include your specialty of interest. All educational activity, including the Qbank, is synced with the main platform for seamless use on both your Android APP and computer.
4. Orthopedic Classification
Orthopedic classification is a good orthopedic app that is designed for orthopedic residents, specialists and medical students interested in the study of orthopedic surgery and the classification of fractures and orthopedic diseases
Orthopedic classification app contains all classification systems of bone fractures such as the classification of humeral head fractures (Neer classification) and the classification of orthopedic diseases such as the classification of femoral head osteonecrosis (Vicat classification).
Download Links: Android
5. OrthoGuidelines
OrthoGuidelines is the home for AAOS quality products, such as clinical practice guidelines and appropriate use criteria. Users can navigate all guideline recommendations by orthopaedic disease, specialty, keyword, strength of evidence, and/or stage of care.
The OrthoGuidelines orthopedic app has been laid out with concise guideline and recommendation topics to aide in quick navigation, comprehension, and clinical use. Users can also search all AAOS recommendations, rationales, and appropriate use criteria with a single keyword search.
This orthopedic app provides evidence-based recommendations at the point of care to assist clinicians with clinical decision-making and clinician-patient discussions.
6. Orthofixar Orthopedic Surgery App
Orthofixar app is a WebView for orthofixar.com website for orthopedic surgery.
It's designed for all orthopedic surgeon all over the world.
Orthofixar Orthopedic app contains the following:
Many topics in orthopedic surgery that include (Trauma – sports medicine – pediatric – reconstruction – anatomy – pathology – foot and hand surgery ….)
All special tests used by orthopedic surgeon to examine and diagnosis his patient.
Surgical orthopedic approaches and operative techniques.
Orthopedic procedures (operative and non-operative).
Download Links: Android
7. Orthopedic Approaches
Orthopedic Approaches is an application that contains all operative surgical approaches in orthopedics in a simple and easy way.
The application contains the surgical approaches divided according to the regions into:
1. Shoulder Approaches,
2. Humerus Approaches,
3. Elbow Approaches,
4. Forearm Approaches,
5. Wrist & Hand Approaches,
6. Pelvis & Hip Approaches,
7. Femur Approaches,
8. Knee Approaches,
9. Tibia & Fibula Approaches,
10. Ankle & Foot Approaches.
Download Links: Android
8. Orthopedic Clinical Signs
Orthopedic Clinical Signs is an application for orthopedic doctors that contains all the measurements and angles used in orthopedic surgery, in addition to all the radiographic signs seen in orthopedic diseases, and a medical calculator for some medical indicators.
Orthopedic Clinical Signs was divided into 3 sections:
Measurements and Angles Section: It contains all the measurements and the radial angles used in diagnosing orthopedic diseases that the orthopedic doctor uses on every day of his working life. This section is organized by regions of the upper and lower extremities.
Radiographic and Clinical Signs Section: It contains the radiological signs that can be seen on the radiographs and clinical signs seen in some diseases and orthopedic surgical cases. This section is also classified according to the regions of the upper and lower extremities.
Medical calculator section: It contains some medical calculators such as the body mass index (BMI), the MESS scale to assess the severity of the injury, the Glasgow scale to assess the severity of neurological injury, the ideal weight calculator according to height and the pregnancy calculator.
Download Links: Android
9. Ortho Indications
Ortho Indications app for android is an easy-to-use tool to know the indications for non-surgical treatment and surgical treatment for various clinical conditions, diseases and fractures in orthopedic surgery.
The Orthopedic Indications app contains many clinical cases and fractures distributed according to the region and the nature of the disease.
Download Links: Android
10. Orthopedic Surgery Procedures
Access a vast library of detailed surgical procedures, covering a wide range of orthopedic specialties. This app contains joint injections, fractures fixation, joint replacements and many other orthopedic surgery procedures and techniques. Orthopedic Surgery Techniques offers step-by-step guides with annotated visuals, enabling you to understand complex techniques and perform surgeries with precision.
Orthopedic Surgery Procedures keeps you in the loop with the latest advancements in orthopedic surgery. Discover innovative procedures and stay informed about emerging technologies, implants, and surgical tools. Stay at the forefront of your field and deliver the best possible care to your patients.
Orthopedic Surgery Procedures is designed with simplicity in mind. With an intuitive user interface, easy navigation, and powerful search functionality, finding the information you need has never been easier. Spend less time searching and more time learning and perfecting your surgical techniques.
Download Links: Android
11. FRCS VIVAs Lite
Introducing the ultimate companion for orthopaedic surgeons and residents preparing for the FRCS VIVAS examination – the FRCS VIVAS Lite app.
This orthopedic app is packed with a vast collection of questions and answers to help you master the challenging VIVAS portion of the exam.
Download Links: Android
12. Orthopedic Notes Review
Orthopedic Short Notes Review is an android application for a quick review of information designed for orthopedic surgeons, residents and medical student who interested in orthopedic surgery learning.
This app contains a lot of short information in orthopedic surgery in all categories of orthopaedic surgery which are: Basic Science, Anatomy, Trauma, Sport Medicine, Reconstruction, Pediatrics, Pathology, Foot and Hand surgery.
Download Links: Android
Last Reviewed
November 15, 2023
Contributed by
OrthoFixar
Orthofixar does not endorse any treatments, procedures, products, or physicians referenced herein. This information is provided as an educational service and is not intended to serve as medical advice.