Post
All-in-one Orthopedic App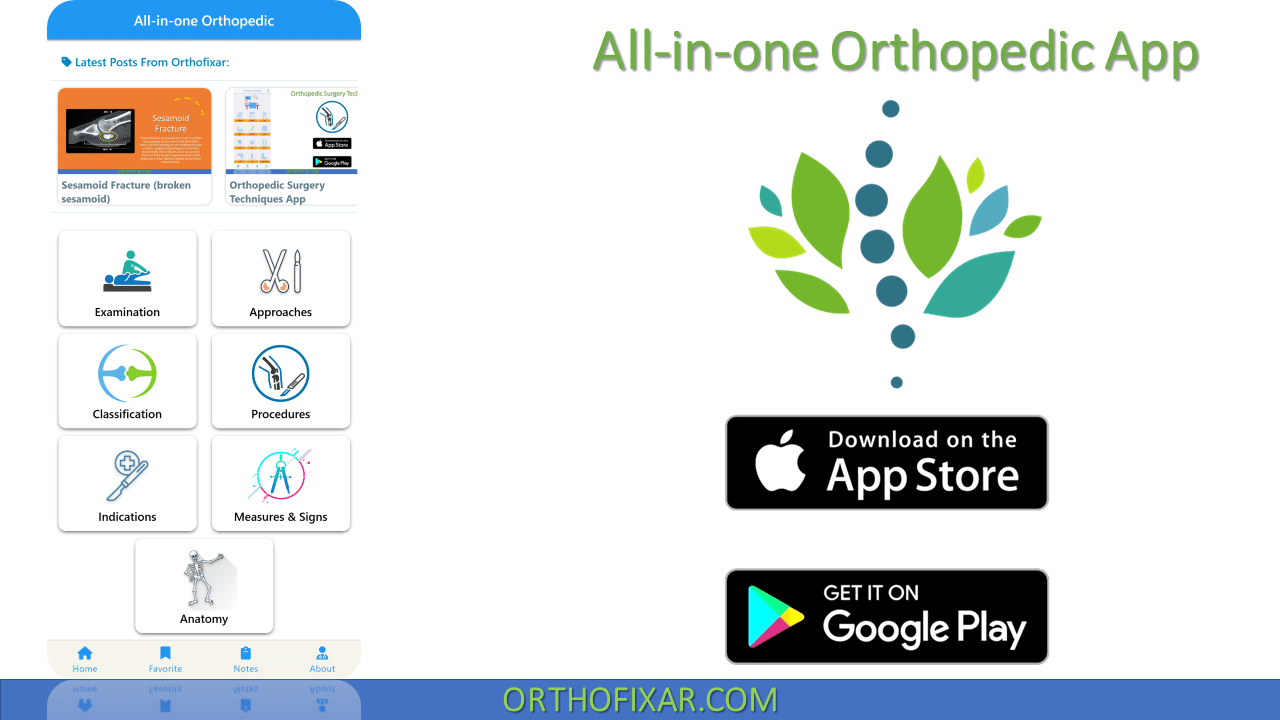 All-in-one Orthopedic App is a medical app that is for Orthopedic surgeons all over the world. It's an app that contains many Orthopedic learning tools introduced in a simple and easy way.
Orthopedic App Sections
The app contains the following sections:
1. Orthopedic Examination: Orthopedic Examination & Special Tests contains a comprehensive list of all the special tests you need for shoulder, elbow, wrist, hand, hip, knee, ankle, foot and spine clinical examinations.
2. Orthopedic Approaches: Orthopedic Surgical Approaches contains all operative surgical approaches in orthopedic surgery in a simple and easy way. The application contains the orthopaedic surgical approaches divided according to the regions.
3. Orthopedic Classification: Orthopedic surgery classification contains all classification systems of bone fractures such as the classification of humeral head fractures (Neer classification) and the classification of orthopedic diseases such as the classification of femoral head osteonecrosis (Vicat classification).
4. Orthopedic Procedures: Access a vast library of detailed surgical procedures, covering a wide range of orthopedic specialties. This app contains joint injections, fractures fixation, joint replacements and many other orthopedic surgery procedures and techniques. Orthopedic Surgery Techniques offers step-by-step guides with annotated visuals, enabling you to understand complex techniques and perform surgeries with precision.
5. Orthopedic Indications: Orthopedic Indications is an easy-to-use tool to know the indications for non-surgical treatment and surgical treatment for various clinical conditions, diseases and fractures in orthopedic surgery.
The Orthopedic Indications app contains many clinical cases and fractures distributed according to the region and the nature of the disease.
6. Orthopedic Measurements & Signs: Orthopaedic Measurements, Radiology angles & Clinical Signs contains all the measurements and angles used in orthopedic surgery, in addition to all the radiographic signs seen in orthopedic diseases, and a medical calculator for some medical indicators.
7. Anatomy: Human Anatomy Muscles & Nerves Application contains an explanation of the anatomy of the human body muscles and nerves in a simple briefing way. Anatomy of the upper and lower limb.
With All-in-one Orthopedic app, you can have all info for best learning orthopedic surgery.
Information
---
Compatibility:

Requires Android 5.0 and up

iPhone Requires iOS 11.0 or later.
iPad Requires iPadOS 11.0 or later.
iPod touch Requires iOS 11.0 or later.

Languages: English
Download Links
Last Reviewed
November 8, 2023
Contributed by
OrthoFixar
Orthofixar does not endorse any treatments, procedures, products, or physicians referenced herein. This information is provided as an educational service and is not intended to serve as medical advice.