Special Test
Three Phase Hyperextension Test
Three Phase Hyperextension Test (or Mennell sign) is used to differentiate whether the pathology is in the lumbar spine, the sacroiliac joint or the hip joint.
How do you do the Mennell Sign?
The patient is prone.
In the first phase of the test, the examiner grasps the patient's extended leg and raises it into hyperextension while immobilizing the pelvis with the other hand.
See Also: Prone Knee Bending Test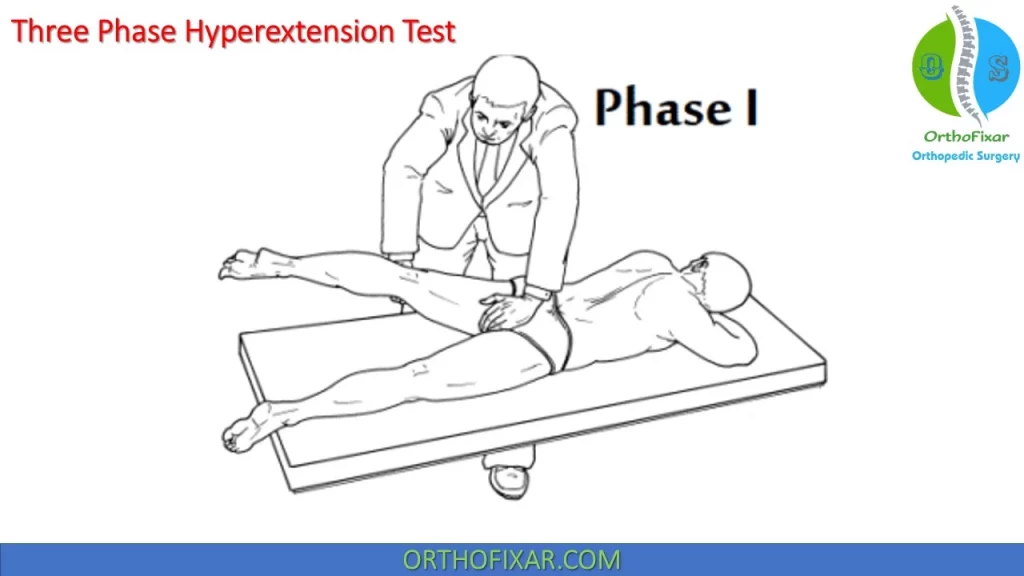 In the second phase, the examiner immobilizes the patient's sacrum parallel to the sacroiliac joint with the same hand and passively raises the patient's leg into hyperextension.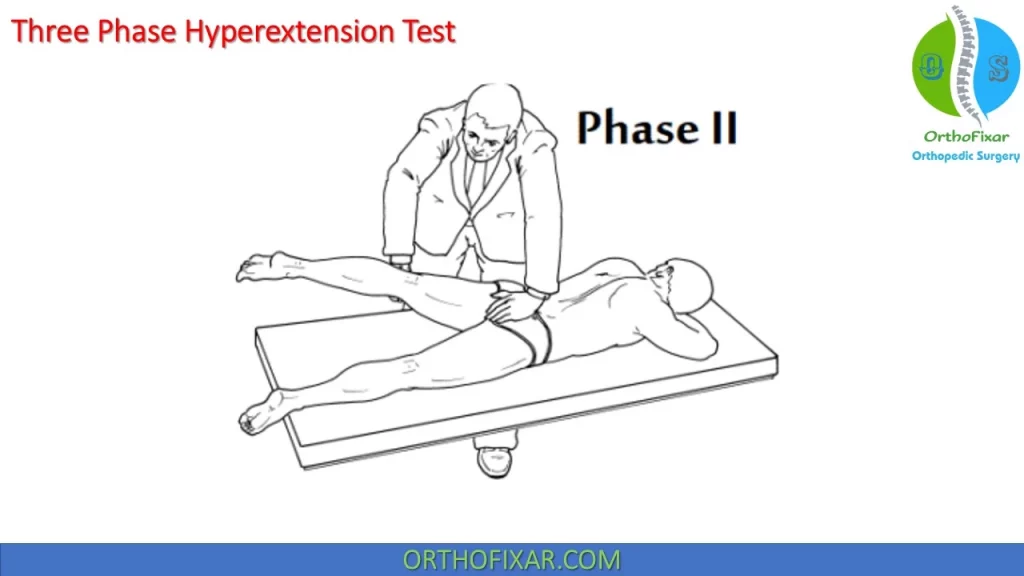 In the third phase, the examiner immobilizes the fifth lumbar vertebra with the heel of one hand while passively guiding the patient's leg into hyperextension with the other hand.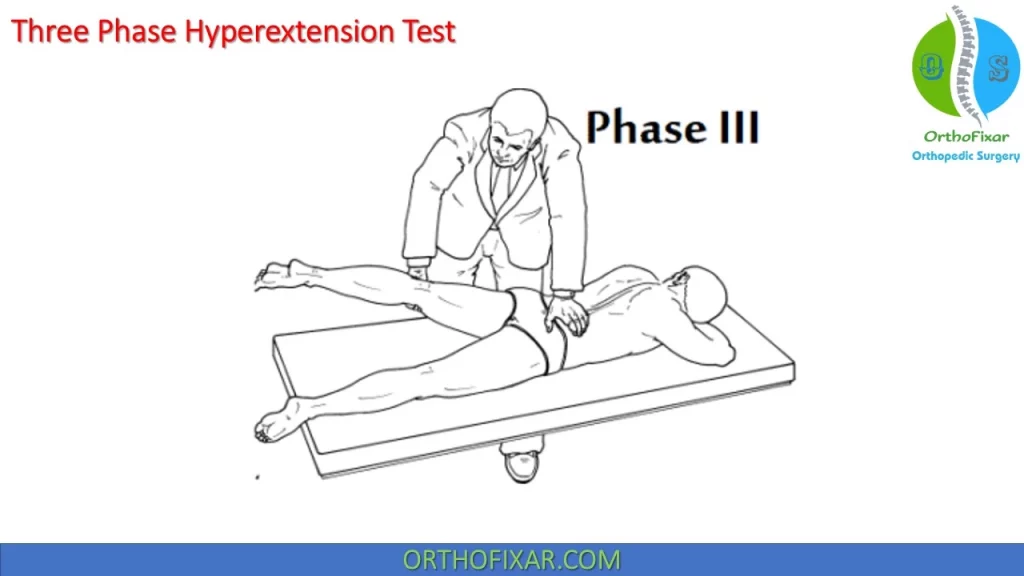 By moving the immobilizing hand up the spine, the examiner can also evaluate higher segments of the lumbar spine.
What does a positive Three Phase Hyperextension Test mean?
Under normal conditions no pain should occur in any phase of the test. The hip should allow about 10 to 20° of hyperextension. The sacroiliac joint should exhibit slight movement (joint play), and the lumbar spine should allow elastic hyperextension (lordosis) at the lumbosacral junction.
phase 1: Pain with the ilium immobilized suggests a hip disorder or muscle contracture (rectus femoris and/or psoas).
phase 2: Pain when the sacrum is immobilized suggests motion restriction of the sacroiliac joint or other disorders of this joint, such as ankylosing spondylitis (Mennell sign).
phase 3: While pain when the lumbar spine is immobilized suggests a disorder of the lumbosacral junction (vertebral motion restriction or protrusion or extrusion of an intervertebral disk). 
Sensitivity & Specificity
Sensitivity: 34 %

Specificity: 88 %
Albert and colleagues found this test to have a sensitivity of 54–70% and a specificity of 100%.
Reference
Petersen T, Laslett M, Juhl C. Clinical classification in low back pain: best-evidence diagnostic rules based on systematic reviews. BMC Musculoskelet Disord. 2017 May 12;18(1):188. doi: 10.1186/s12891-017-1549-6. PMID: 28499364; PMCID: PMC5429540.
Albert H, Godskesen M, Westergaard J. Evaluation of clinical tests used in classification procedures in pregnancy-related pelvic joint pain. Eur Spine J. 2000 Apr;9(2):161-6. doi: 10.1007/s005860050228. PMID: 10823434; PMCID: PMC3611366.
Sadowska-Wróblewska M, Filipowicz A, Garwolinska H, Michalski J, Rusiniak B, Wróblewska T. Clinical symptoms and signs useful in the early diagnosis of ankylosing spondylitis. Clin Rheumatol. 1983 Mar;2(1):37-43. doi: 10.1007/BF02032066. PMID: 6331962.
Clinical Tests for the Musculoskeletal System 3rd Edition.
Dutton's Orthopaedic Examination, Evaluation, And Intervention 3rd Edition.
Last Reviewed
July 28, 2023
Contributed by
OrthoFixar
Orthofixar does not endorse any treatments, procedures, products, or physicians referenced herein. This information is provided as an educational service and is not intended to serve as medical advice.