Post
Calcaneus Fracture (Heel Fracture)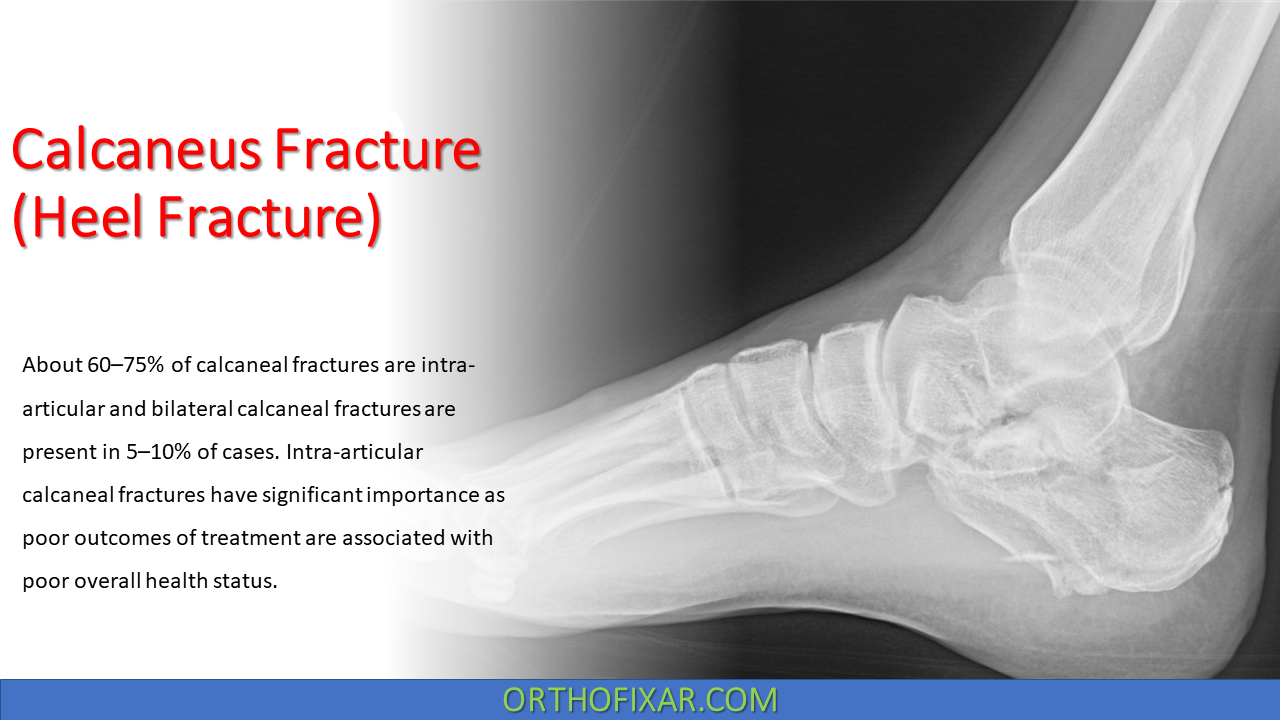 The calcaneus is the most frequently fractured tarsal bone and accounts for approximately 2% of all fractures. About 60–75% of Calcaneus fractures are intra-articular and bilateral calcaneal fractures are present in 5–10% of cases. Intra-articular calcaneal fractures have significant importance as poor outcomes of treatment are associated with poor overall health status.
Most intra-articular calcaneus fractures occur as a result of axial loading as in falls from a height. The talus is driven down into the calcaneus, which is composed of a thin cortical shell surrounding cancellous bone. Twisting forces are associated with extra-articular calcaneal fractures, which include fractures of the anterior and medial processes or the sustentaculum tali. In elderly diabetic patients, there is an increased incidence of tuberosity fractures from avulsion by the Achilles tendon.
See Also: Ankle Anatomy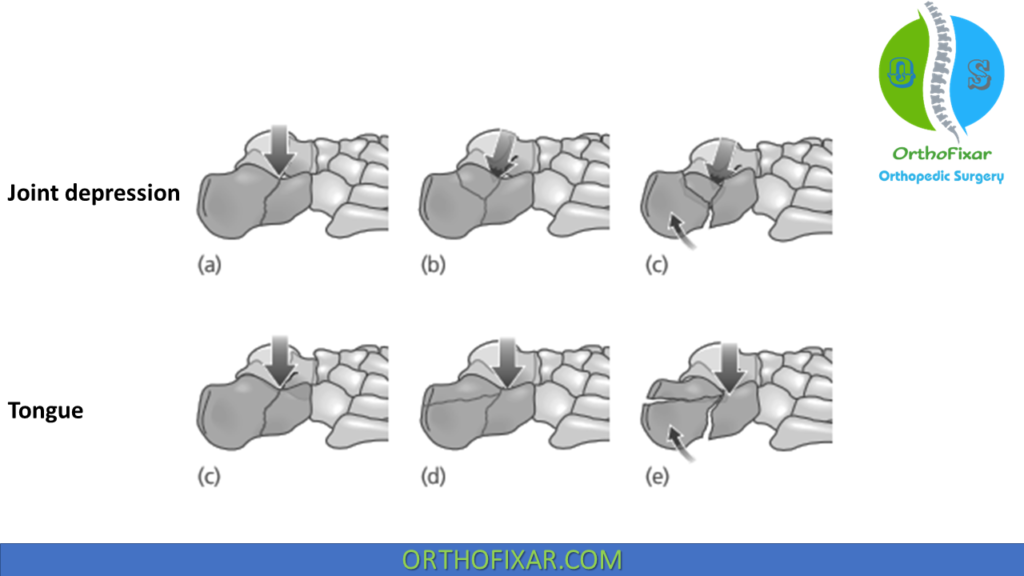 Symptoms & Signs
Patients present with heel pain, ecchymosis, swelling, and widening of the heel associated with tenderness. Careful evaluation of soft tissues and neurovascular status is essential. About 10% of calcaneal fractures have an associated compartment syndrome of the foot and this must be ruled out.
Massive swelling may result in blistering around the foot and ankle. Up to 50% of patients with heel fractures may have other associated injuries, including lumbar spine fractures (10%) and fractures of the lower extremities (25%).
Radiology
Radiographic evaluation of the patient with a suspected calcaneal fracture should include a lateral view of the hindfoot, a Harris axial view, Brodén view and an anteroposterior (AP) and oblique view of the foot:
The lateral radiograph is used to assess height loss (loss of Böhler angle, Gissane angle) and rotation of the posterior facet.
The Harris view is made to assess varus position of the tuberosity and width of the heel.
AP and oblique views of the foot are made to assess the anterior process and calcaneocuboid involvement.
A single Brodén view, obtained by internally rotating the leg 40° with the ankle in neutral, then angling the beam 10–15° cephalad, is made to evaluate congruency of the posterior facet.
A CT scan helps to further characterize the fracture and position of the peroneal and flexor hallucis tendons. This helps to plan further management.
See Also: Talar Fractures & Dislocation
Calcaneus Fracture Classification
Calcaneal fractures can be extra-articular (not involving the subtalar joint) or intra-articular (involving the sub talar joint).
Extra-articular fractures
Extra-articular calcaneus fractures constitute 25–30% of calcaneal fractures and include the following:
Anterior process fractures that result from strong plantarflexion and inversion, which tighten the bifurcate and interosseous ligaments leading to avulsion fracture.
Posterior tuberosity fractures may result from avulsion by the Achilles tendon.
Medial process fractures are vertical shear fractures that occur due to loading of the heel in valgus.
Sustentacular fractures that occur with heel loading accompanied by severe foot inversion.
Body fractures not involving the subtalar articulation. These are caused by axial loading. Significant comminution, widening, and loss of height may occur along with a reduction in the Böhler angle without posterior facet involvement.
Intra-articular fractures
Intra-articular fractures are traditionally classified using the Essex-Lopresti classification or the Sanders classification, which is based on CT scan.
Essex–Lopresti Classification
With axial loading, the posterolateral edge of the talus splits the calcaneus obliquely through the posterior facet, producing two main fragments: an anteromedial fragment, which consists of the sustentaculum ('constant' fragment), and a posterolateral fragment, which has an intra-articular component.
The ensuing fracture (primary fracture line) is almost always present and extends from the proximal, medial aspect of the calcaneal tuberosity, through the anterolateral wall, usually in the vicinity of the crucial angle of Gissane. The most variable aspect of this fracture line is its position through the posterior facet of the calcaneus. It can be located in the medial third near the sustentaculum tali, the central third or the lateral third near the lateral wall.
In addition to the primary fracture line, a secondary fracture component may be created, based on additional energy imparted and the position of the foot at the time of injury. As the axial force continues, the medial spike attached to the sustentaculum is pushed further towards the medial heel skin. Often an anterior fracture extends towards the anterior process and may exit into the calcaneocuboid joint.
The additional fractures of the posterior facet can be divided into two types. If the fracture line producing the posterior facet fragment exits behind the posterior facet and anterior to the attachment of the Achilles tendon, the injury is called a joint depression type. If it exits distal to the Achilles tendon insertion, it is called a tongue type.
Sanders Classification
This CT scan classification is based on the number and location of articular fragments. The posterior facet of the calcaneus is divided into three fracture lines (A, B and C, corresponding to the lateral, middle and medial fracture lines on the coronal image). Thus, there can be a total of four potential pieces: lateral, central, medial, sustentaculum tali. A displacement of greater than 2 mm is considered significant. The Sanders classification has become more widely accepted in evaluation of these fractures owing to its precision regarding the location and number of fracture lines through the posterior facet.
Type I: All non-displaced fractures regardless of the number of fracture lines
Type II: Two-part fractures of the posterior facet; subtypes IIA, IIB, IIC, based on the location of the primary fracture line
Type III: Three-part fractures with a centrally depressed fragment; subtypes IIIAB, IIIAC, IIIBC
Type IV: Four-part articular fractures; highly comminuted.
Download Orthopedic Classification App for Android / iOS Devices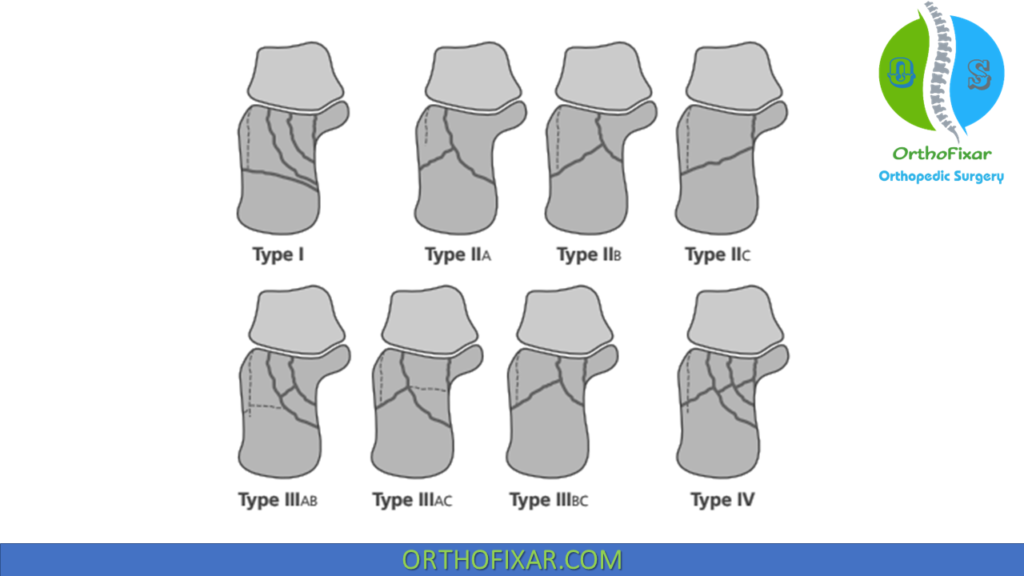 Calcaneus Fracture Treatment
Despite adequate reduction and treatment, fractures of the calcaneus may be severely disabling injuries, with variable prognosis and degrees of functional debilitation. Heel fracture treatment remains controversial, with no clear indication for operative vs non-operative treatment.
Extra-articular Calcaneus Fractures Treatment
All non-displaced or minimally displaced extra-articular calcaneal fractures can be managed non-operatively. Non-operative treatment consists of:
A well-padded supportive splint to allow resolution of the initial fracture haematoma.
A well-moulded plaster cast with the ankle in neutral position is applied.
Early subtalar and ankle joint range-of-motion exercises are initiated, and non-weightbearing restrictions are maintained for approximately 10–12 weeks, until radiographic union.
Fractures in patients with severe peripheral vascular disease, insulin-dependent diabetes or with other medical comorbidities prohibiting surgery may also be treated non-operatively.
Intra-articular Calcaneus Fractures Treatment
Non-displaced intra-articular fractures are managed nonoperatively. The management of displaced fractures is controversial with strong proponents for both non-operative and operative management. There is no solid evidence to suggest that patients who have open reduction and internal fixation (ORIF) have better functional results.
The Canadian Orthopaedic Trauma Society trial comparing operative and non-operative treatment of displaced intraarticular calcaneal fractures found that, as a whole, without stratification into various demographic classes, the outcomes after non-operative treatment were not different from the outcomes after operative treatment. However, with operative treatment significantly better results occurred in certain fracture groups such as women, younger adults, patients with a lighter workload, patients not receiving worker's compensation, patients with a higher initial Böhler angle (less severe initial injury) and those with an anatomic reduction on postoperative CT evaluation. Those having non-operative treatment of their fracture were 5.5 times more likely to require a subtalar arthrodesis for post-traumatic arthritis than those undergoing operation.
ORIF of intra-articular calcaneal fractures can be expected to benefit patients only if near-anatomical reconstruction is achieved. Most authors agree that the inability to surgically obtain and maintain an anatomical reduction of the posterior facet is probably associated with a worse outcome than closed non-operative treatment.
The goals of surgery are:
Restoration of congruity of the subtalar articulation, normal width and height of the calcaneus and the Böhler angle.
Maintenance of the normal calcaneocuboid articulation,
Decompression of the subfibular space available for the peroneal tendons
Neutralization of the varus deformity of the fracture.
Surgery should not be attempted until swelling in the foot and ankle has adequately subsided. However, it should not be delayed beyond 3 weeks. Open reduction can be obtained through a medial approach, combined medial and lateral approach or a lateral approach alone. Open reduction has complications including wound dehiscence, calcaneal osteomyelitis and sural nerve injury.
Postoperative management of Heel Fracture includes non-weight bearing for 8–12 weeks with early institution of subtalar range-of-motion exercises. Occasionally a tongue-type fracture may present without any additional fracture lines, widening of the lateral wall or significant displacement at the primary fracture line. These cases can be treated by closed reduction by the axial pin fixation of Gissane, which was popularized by Essex-Lopresti.
References & More
ESSEX-LOPRESTI P. The mechanism, reduction technique, and results in fractures of the os calcis. Br J Surg. 1952 Mar;39(157):395-419. doi: 10.1002/bjs.18003915704. PMID: 14925322. Pubmed
Sanders R. Displaced intra-articular fractures of the calcaneus. J Bone Joint Surg Am. 2000 Feb;82(2):225-50. doi: 10.2106/00004623-200002000-00009. PMID: 10682732. Pubmed
Buckley R, Tough S, McCormack R, Pate G, Leighton R, Petrie D, Galpin R. Operative compared with nonoperative treatment of displaced intra-articular calcaneal fractures: a prospective, randomized, controlled multicenter trial. J Bone Joint Surg Am. 2002 Oct;84(10):1733-44. doi: 10.2106/00004623-200210000-00001. PMID: 12377902. Pubmed
Sanders R, Fortin P, Pasquale T, et al. Operative treatment in 120 displaced intra-articular calcaneal fractures: Results using a prognostic computed tomography scan classification. Clinical Orthopaedics and Related Research 1993;290:87–95
Mercer's Textbook of Orthopaedics and Trauma, Tenth edition.
Last Reviewed
November 1, 2023
Contributed by
OrthoFixar
Orthofixar does not endorse any treatments, procedures, products, or physicians referenced herein. This information is provided as an educational service and is not intended to serve as medical advice.