Post
Patellar Fractures | Broken Kneecap
Patellar fractures represent approximately 1% of all skeletal injuries and are frequently observed within the age range of 20 to 50 years. These fractures can arise due to either direct impact or indirect trauma inflicted upon the knee. In instances of direct impact, the resultant fractures are often comminuted or stellate in nature, potentially leading to concurrent chondral injuries affecting the distal femur or patella. Notably, such fractures tend to exhibit minimal displacement, attributed to the preservation of the medial and lateral retinacular expansions.
Alternatively, a more prevalent scenario involves fractures stemming from sudden contractions of the quadriceps muscles. This dynamic muscular action can result in the avulsion of either the inferior or superior pole, or even manifest as a transverse fracture. In cases of transverse fractures, there may be concurrent tears involving the medial and lateral retinacular expansions. The extent of fragment displacement in transverse fractures offers insight into the degree of disruption experienced by these retinacular structures. Notably, a significant portion of patellar fractures stems from the combined effects of both direct impact and indirect forces.
See Also: Patellar Dislocation
Patellar Fractures Symptoms
Patients present with pain, swelling and tenderness of the involved knee with a feeling of giving way on attempted walking.
A defect in the patella may be palpable. Inability of the patient to extend the affected knee actively usually indicates an associated disruption of the extensor mechanism and a torn retinaculum. In direct injuries with an overlying wound, it is imperative to confirm that an open fracture or traumatic arthrotomy has not occurred.
Radiology
Anteroposterior (AP), lateral and axial views of the knee should be obtained.
Transverse fractures usually are best seen on a lateral view, whereas vertical fractures, osteochondral fractures and articular incongruity are best evaluated on axial views.
A bipartite patella, seen in 8% of the population, may be mistaken for a fracture. It usually occurs in the superolateral position, has smooth margins and is bilateral in 50% of individuals.
Patellar Fractures Classification
Patellar Fractures may be classified as either undisplaced or displaced or on a morphological fracture pattern as stellate, comminuted, transverse, vertical (marginal), polar or osteochondral types.
Broken Kneecap Treatment
Non-operative treatment
Non-operative treatment is indicated for undisplaced or minimally displaced (2–3 mm) patellar fractures with minimal articular disruption (1–2 mm).
The treatment consists of in a cylinder cast for 4–6 weeks. Early weight bearing is encouraged, advancing to full weight bearing with crutches as tolerated by the patient.
Surgical treatment
OPEN REDUCTION AND INTERNAL FIXATION
Fractures with more than 3 mm of displacement or articular incongruity and open fractures are best treated operatively.
Internal fixation techniques include:
Magnusson wiring,
modified tension banding (using parallel longitudinal Kirschner wires),
tension band through cannulated compression screws and circumferential cerclage wiring.
The most secure fixation is obtained with modified tension band wiring. The retinacular disruption should be repaired at the time of surgery and fixation should be secure enough to allow early motion.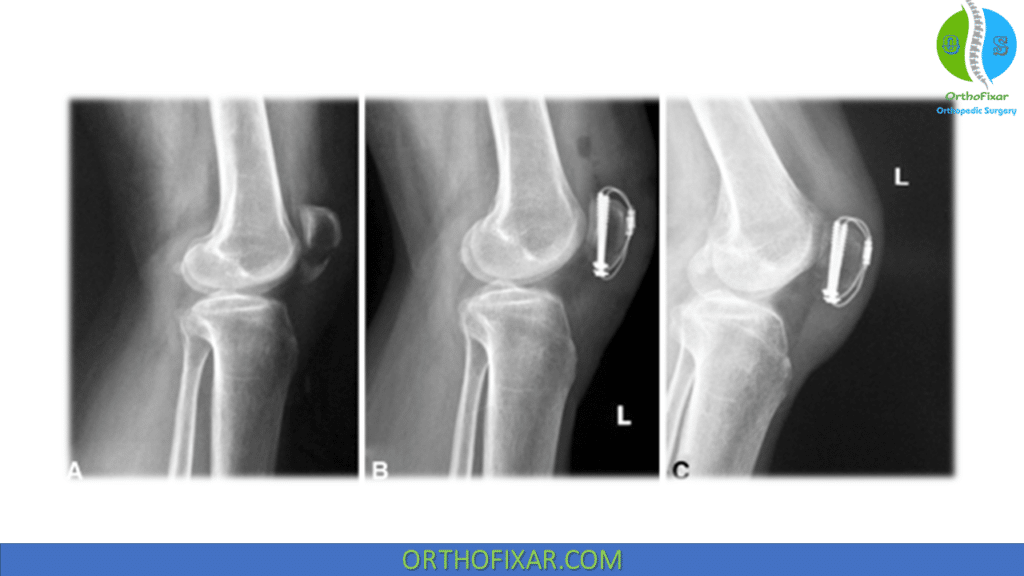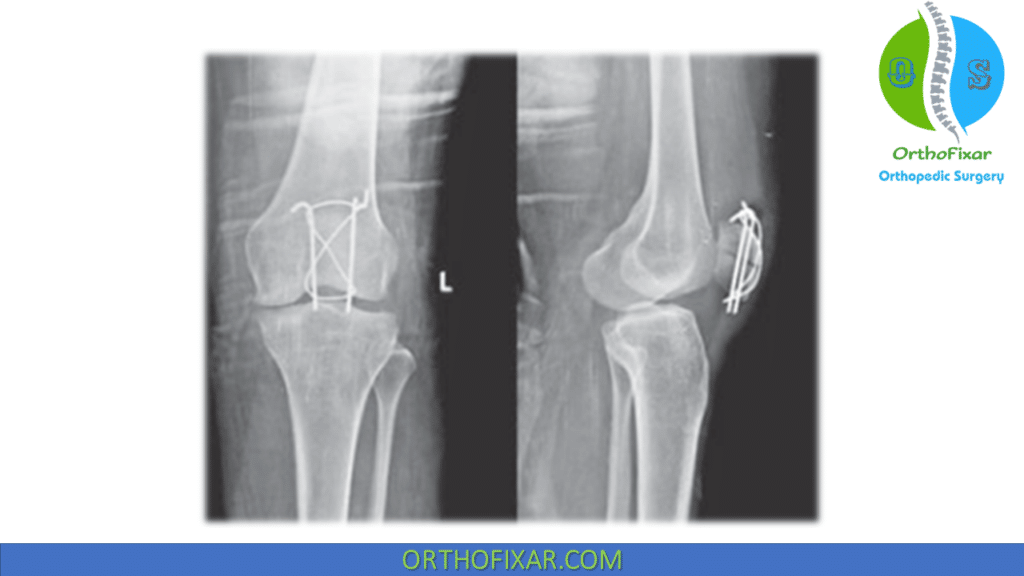 PATELLECTOMY
If the amount of comminution and articular damage preclude salvage of the entire patella, a partial or total patellectomy may be indicated. Total patellectomy impairs the efficiency of the quadriceps mechanism and every effort should be made to save all of the patella or at least its proximal or the distal third, if practical (the largest fragment is preserved).
The extensor mechanism is reattached to the patella through drill holes. If patellar tendon advancement is performed, care is taken to reattach the tendon to the remaining central portion of the patella to maintain an extensor mechanism that is congruous in the patellofemoral articulation.
In the presence of an extensively comminuted fracture, a total patellectomy may be required. Post – operatively, if stable internal fixation is achieved, gentle active-assisted and passive flexion exercises are initiated after 7–10 days. Active extension is delayed for 6 weeks. When a partial patellectomy has been done or less stable constructs are achieved, the knee joint is maintained in extension for approximately 6 weeks before initiating flexion.
References & More
Mercer's Textbook of Orthopaedics and Trauma, Tenth edition.
Campbel's Operative Orthopaedics 12th edition Book.
Millers Review of Orthopaedics -7th Edition Book.
Boström A. Fracture of the patella: a study of 422 patellar fractures. Acta Orthopaedica Scandinavica 1972;143:1. Pubmed
Saltzman CL, Goulet JA, McClellan T, et al. Results of treatment of displaced patellar fractures by partial patellectomy. Journal of Bone and Joint Surgery (American) 1990;72A:1279. Pubmed
Last Reviewed
August 29, 2023
Contributed by
OrthoFixar
Orthofixar does not endorse any treatments, procedures, products, or physicians referenced herein. This information is provided as an educational service and is not intended to serve as medical advice.