Post
Clavicle Fractures
Clavicle Fractures account for 5 to 10% of all fractures and 35 to 40% of shoulder girdle injuries in adults. The clavicle fractures most often resulting from a direct blow or a fall on an outstretched arm.
The clavicle fractures can be divided based on the anatomic region:
Midshaft clavicle fracture: the most common (80-85 %).
Distal third fractures: the second most common type (15% to 20%).
Medial third fractures: the rarest type (0% to 5%).
Pathophysiology
Mechanism of injury:
A direct blow on the point of the shoulder is the commonest reported mechanism of injury injury that produces a midshaft fracture of the clavicle.
Or it can result from fall on an outstretched arm.
Pathoanatomy:
The deforming forces in the displaced clavicle fractures are:
The sternocleidomastoid muscle that pulls the medial fragment postero-superiorly.
Weight of arm pull the lateral fragment inferiorly but is opposed by the trapezius.
In addition, the pectoralis major and latissimus dorsi pull the lateral segment infero-medially with resultant shortening.
Also read: Clavicle anatomy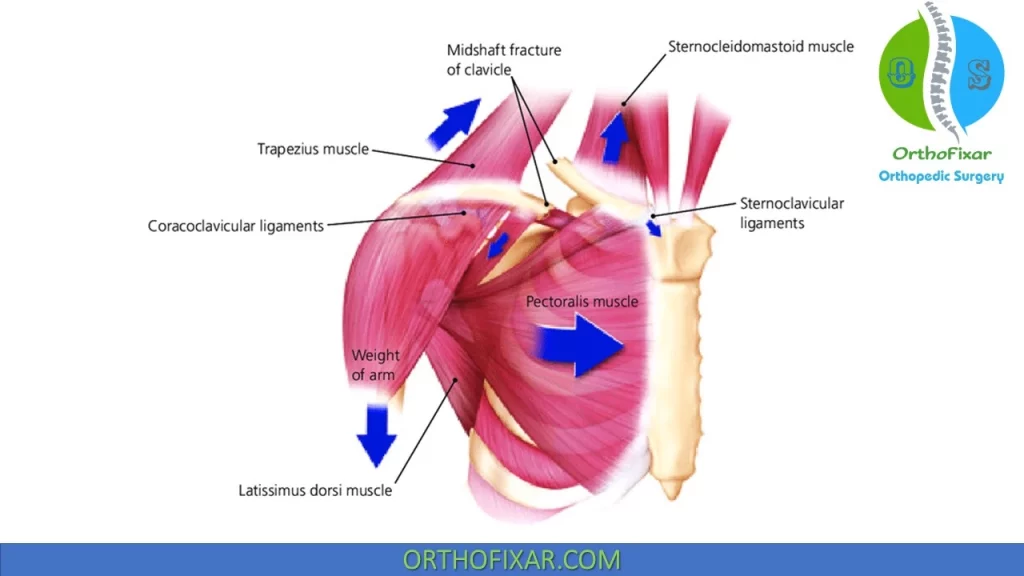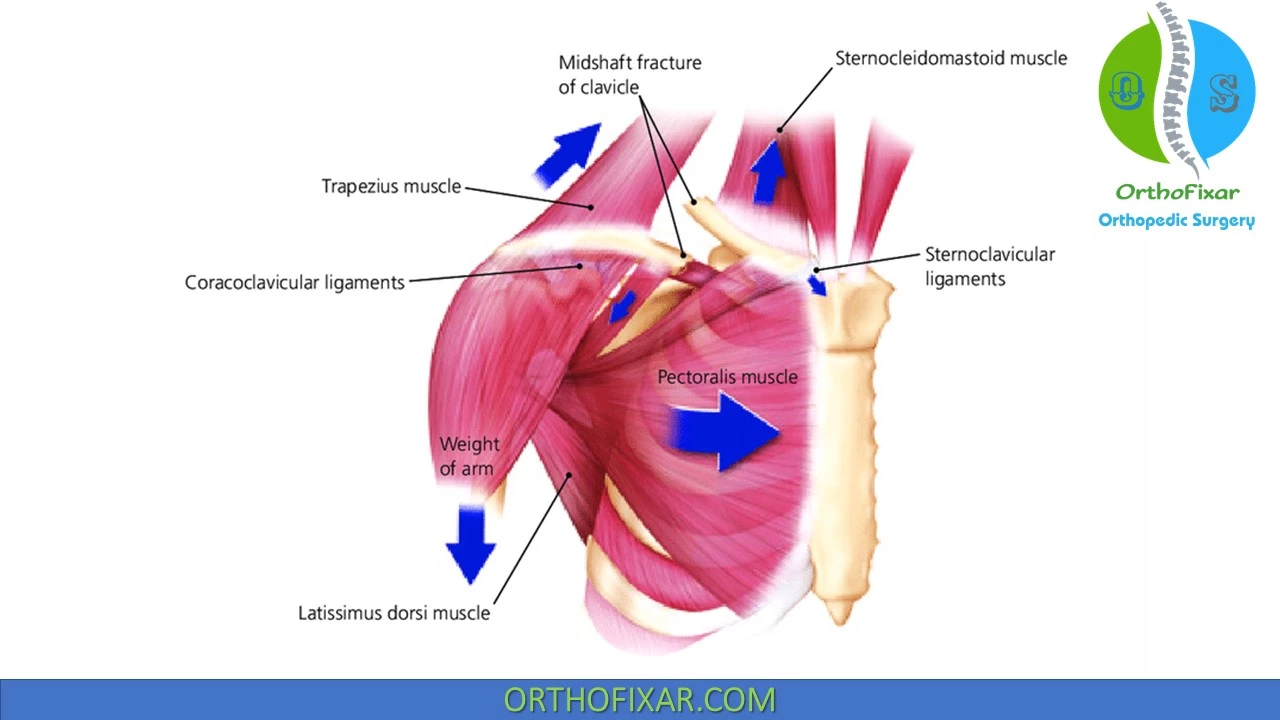 Associated Injuries
Ipsilateral rib fractures.
Scapular and/or glenoid fractures.
Proximal humeral fractures.
Hemo/pneumothoraces.
Clavicle Fractures Classification
Group I:
Middle third clavicle fractures (80-85%):
Type
Description
Treatment
Nondisplaced
Less than 100% displacement
Nonoperative
Displaced
– Greater than 100% displacement
– Nonunion rate of 4.5%
Operative
Group I – Middle third fractures
Group II:
Neer Classification of Lateral third clavicle fractures (10-15%):
Type
Description
Treatment
Type I
– Fracture occurs lateral to coracoclavicular ligaments (trapezoid, conoid) or inter-ligamentous
– Usually minimally displaced
– Stable because conoid and trapezoid ligaments remain intact
Nonoperative
Type IIA
– Fracture occurs medial to intact conoid and trapezoid ligament
– Medial clavicle unstable
– Up to 56% nonunion rate with nonoperative management
Operative
Type IIB
– Fracture occurs either between ruptured conoid and intact trapezoid ligament or lateral to both ligaments torn
– Medial clavicle unstable
– Up to 30-45% nonunion rate with nonoperative management
Operative
Type III
– Intraarticular fracture extending into AC joint
– Conoid and trapezoid intact therefore stable injury
– Patients may develop posttraumatic AC arthritis
Nonoperative
Type IV
– A physeal fracture that occurs in the skeletally immature
– Displacement of lateral clavicle occurs superiorly through a tear in the thick periosteum
– Clavicle pulls out of periosteal sleeve
– Conoid and trapezoid ligaments remain attached to periosteum and overall the fracture pattern is stable
Nonoperative
Type V
– Comminuted fracture
– Conoid and trapezoid ligaments remain attached to comminuted fragment
– Medial clavicle unstable
Operative
Group II – Neer Classification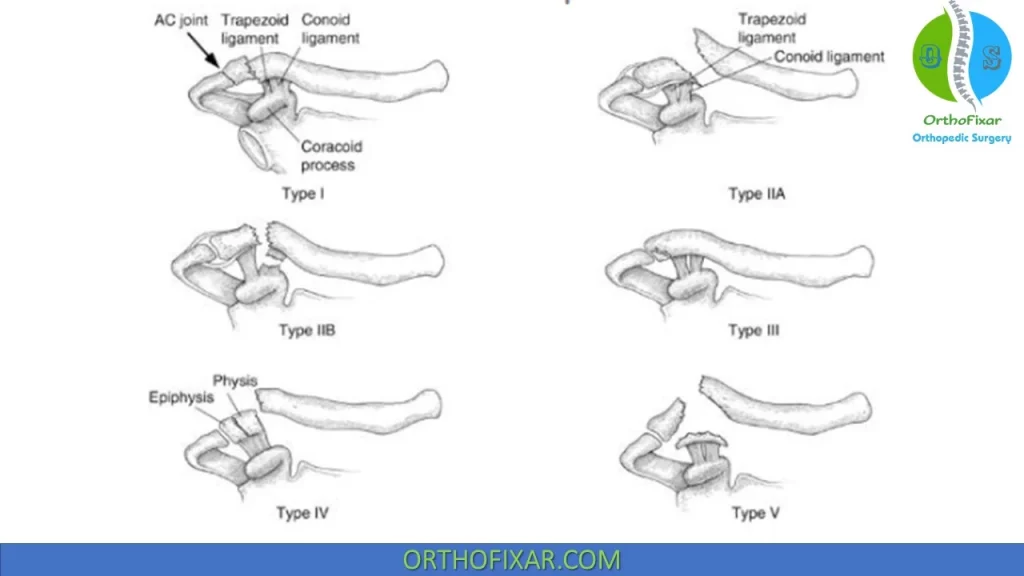 Group III:
Medial third clavicle fractures (5-8%):
Type
Description
Treatment
Anterior
displacement
– Most often non-operative treated.
– Rarely symptomatic.
Nonoperative
Posterior
displacement
– Rare injury (2-3%)
– Often physeal fracture-dislocation (age < 25)
– Stability dependent on costoclavicular ligaments
– Must assess airway and great vessel compromise
– Serendipity radiographs and CT scan to evaluate
– Surgical management with thoracic surgeon on standby
Operative
Group III – Medial third fractures
Clinical Evaluation
Symptoms & Signs:
The classic presentation following a clavicular fracture is guarded shoulder motions and difficulty elevating the arm beyond 60 degrees.
A clavicular deformity may also be observable.
There is also exquisite tenderness to palpation or percussion (bony tap) over the fracture site. Horizontal adduction is painful.
Examinations:
Evaluate the neurovascular structures.
Look for tenting of skin.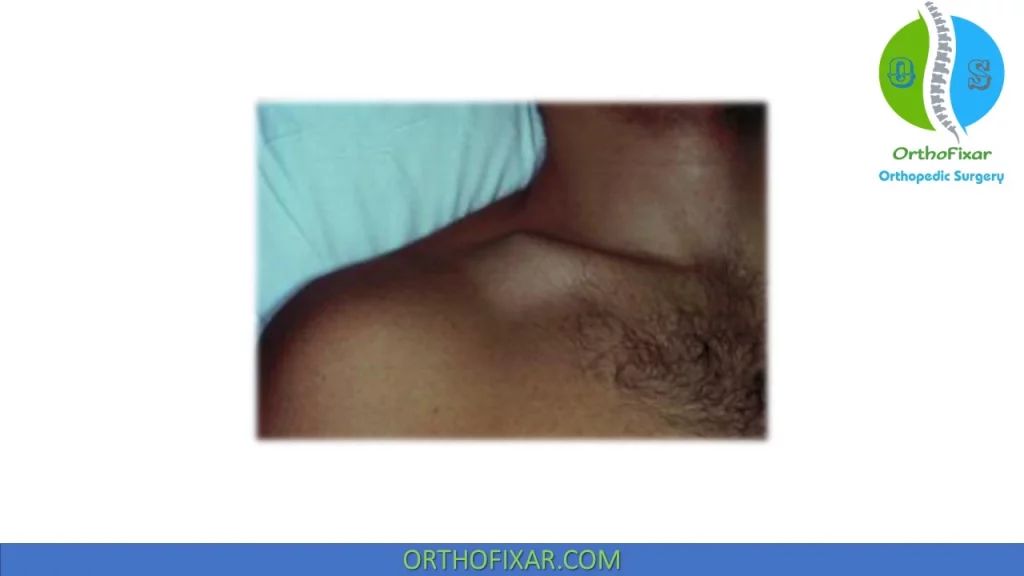 Imaging Evaluation
AP view of bilateral shoulders for comparable purposes and to measure clavicular shortening.
15-degree cephalad-oblique radiographic views.
Clavicle Fractures treatment
Non-Operative treatment:
It's the first choice of treatment for most of the midshaft clavicle fractures.
Hand the limb in a sling or figure-eight bandage (There is No difference in outcome).
Non-Operative treatment indications include:
Nondisplaced middle third clavicle fractures.
Lateral third Stable clavicle fractures (Group II) (NEER Type I, III, IV)
Nondisplaced medial third clavicle fractures.
Pediatric distal clavicle fractures (skeletally immature).
Risk factors for non-union in clavicle fractures treated non-operativley:
Females
Elderly
Displaced fractures
Shortening more than 2 cm
Comminuted.
Lateral third fractures have higher rates of nonunion compared with midshaft fractures.
Normal healing times for clavicular fracture are 6 weeks in young children in 8 weeks in adults.
Due to the importance of the clavicle in shoulder function, joint mobilizations are started immediately after the period of immobilization, and strengthening exercises for the deltoid, pectoralis major, and upper trapezius muscles are prescribed when appropriate.
Operative treatment
Indications:
Absolute indications:
Unstable lateral third fractures (NEER Type IIA, Type IIB, Type V)
Open fractures
Displaced fractures with skin tenting.
Vascular injuries.
Floating shoulder (clavicle and scapula neck fractures)
Symptomatic nonunion
Posteriorly displaced of medial third fractures.
Displaced middle third with >2cm shortening.
Relative indications:
Brachial plexus injury (may have spontaneous improvement)
Closed head injury
Seizure disorder
Polytrauma patient.
See Also: Brachial plexus injury
Types of procedure in clavicle fractures:
Open reduction internal fixation (ORIF) with plate and screw fixation (superior vs anterior plate position)
Intramedullary screw or nail fixation
hook plate (for lateral third fractures)
Coracoclavicular ligament repair
Coracoclavicular ligament reconstruction
Superior plating positioning has better biomechanical strength than anterior plating but it's more prominent that require later hardware removal.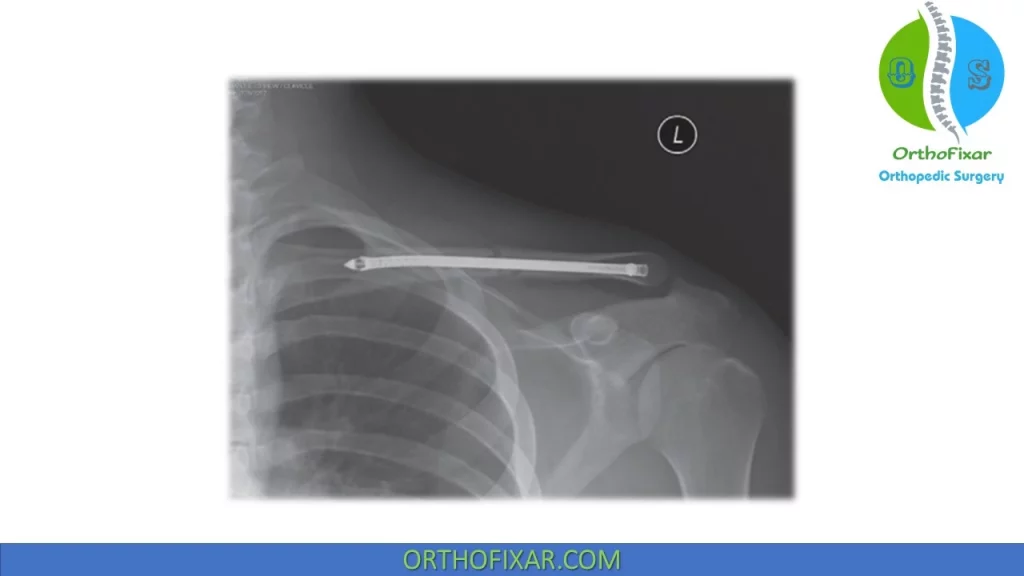 References
Allman FL Jr. Fractures and ligamentous injuries of the clavicle and its articulation. J Bone Joint Surg Am. 1967 Jun;49(4):774-84. PMID: 6026010.
Bentley TP, Hosseinzadeh S. Clavicle Fractures. [Updated 2021 Aug 9]. In: StatPearls [Internet]. Treasure Island (FL): StatPearls Publishing; 2021 Jan-. Available from: https://www.ncbi.nlm.nih.gov/books/NBK507892/
Bahk MS, Kuhn JE, Galatz LM, et al: Acromioclavicular and sternoclavicular injuries and clavicular, glenoid, and scapular fractures. Instr Course Lect 59:209–226, 2010.
Campbel's Operative Orthopaedics 12th edition Book.
Millers Review of Orthopaedics -7th Edition Book.
Rockwood and Green's Fractures in Adults 8th Edition book.
Last Reviewed
July 14, 2023
Contributed by
OrthoFixar
Orthofixar does not endorse any treatments, procedures, products, or physicians referenced herein. This information is provided as an educational service and is not intended to serve as medical advice.