Post
Pilon Fracture | Tibial Plafond Fracture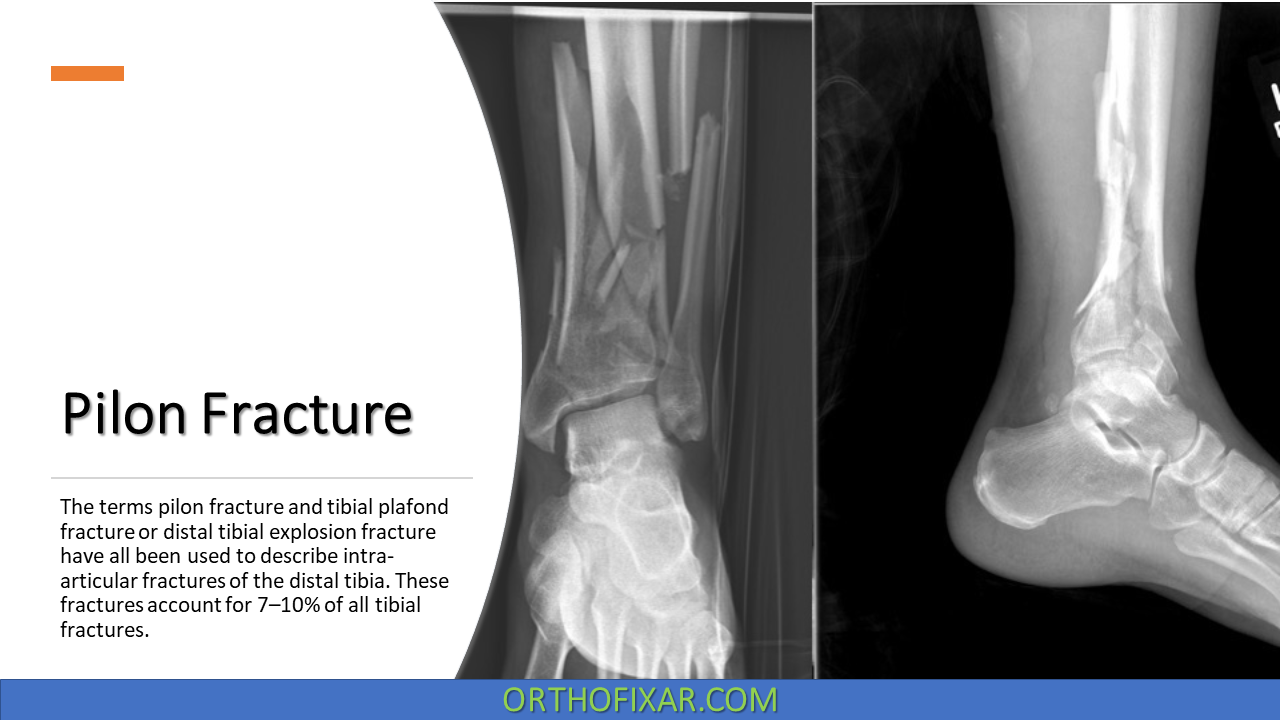 The terms pilon fracture and tibial plafond fracture or distal tibial fracture have all been used to describe intra-articular fractures of the distal tibia. These fractures account for 7–10% of all tibial fractures.
Mechanism of Injury
Pilon Fracture can occur as a result of a variety of injury mechanisms:
Falls from a height produce axial compression forces and can cause impaction of the articular surface with significant comminution.
Plantarflexion or dorsiflexion of the ankle at the time of injury results in either a primarily posterior or anterior plafond injury respectively.
Skiing accidents produce torsion combined with a varus or valgus stress. They often result in a fracture with two or more large fragments and minimal articular comminution.
Injuries producing combined compression and shear forces result in complex fracture patterns with components of both compression and shear.
See Also: Tibia Fractures
Symptoms & Signs
Patient with a Pilon fracture typically presents with pain, swelling and deformity of the distal leg. The tibia is subcutaneous in this region and therefore there is the danger of displaced fracture fragments producing excessive skin pressure converting a closed injury into an open one.
The swelling can increase, rapidly necessitating serial neurovascular examinations and assessment of skin integrity, necrosis and fracture blisters. Meticulous assessment of soft-tissue damage is of paramount importance as the thin soft-tissue envelope surrounding the distal tibia can be severely damaged. This may result in inadequate healing of surgical incisions with wound necrosis and skin slough if not treated appropriately.
In high-energy violence, it is prudent to wait for a few days for swelling to reduce before planning surgery. Most pilon fractures are often associated with injuries to the calcaneus, tibial plateau, pelvis and the vertebra.
See Also: Lateral Ankle Sprain
Radiology
Anteroposterior, lateral and mortise radiographs should be obtained to analyze the fracture morphology. A CT scan with three-dimensional reconstruction is often required to evaluate the fracture pattern.
Three common fragments identified; are due to ligamentous attachments:
Medial—deltoid ligament
Volkmann—posterior tibiofibular ligament
Chaput—anterior tibiofibular ligament
See Also: Tibial Plateau Fracture
Pilon Fractures Classification
Common classifications include Ruedi-Allgower and AO/OTA and describe degree of comminution but generally not helpful to determine operative plan.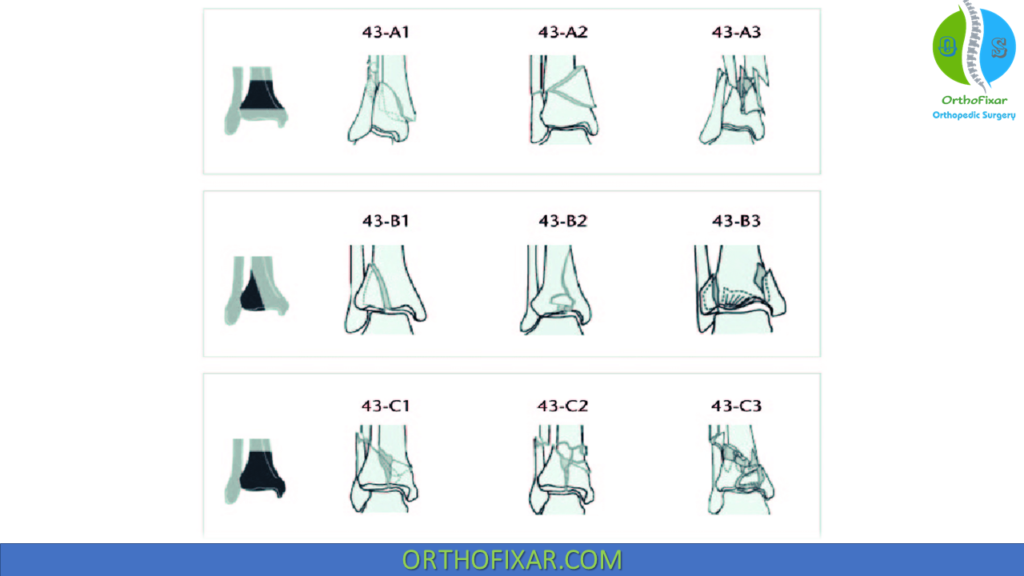 Ruedi and Allgower Classification of Pilon Fractures:
| Classification | Description |
| --- | --- |
| Type 1 | Cleavage fracture with no major articular disruption |
| Type 2 | Fracture dislocation with major articular surface disruption, without comminution |
| Type 3 | Major articular disruption with impacted and comminuted fracture |
Ruedi and Allgower Classification of Pilon Fractures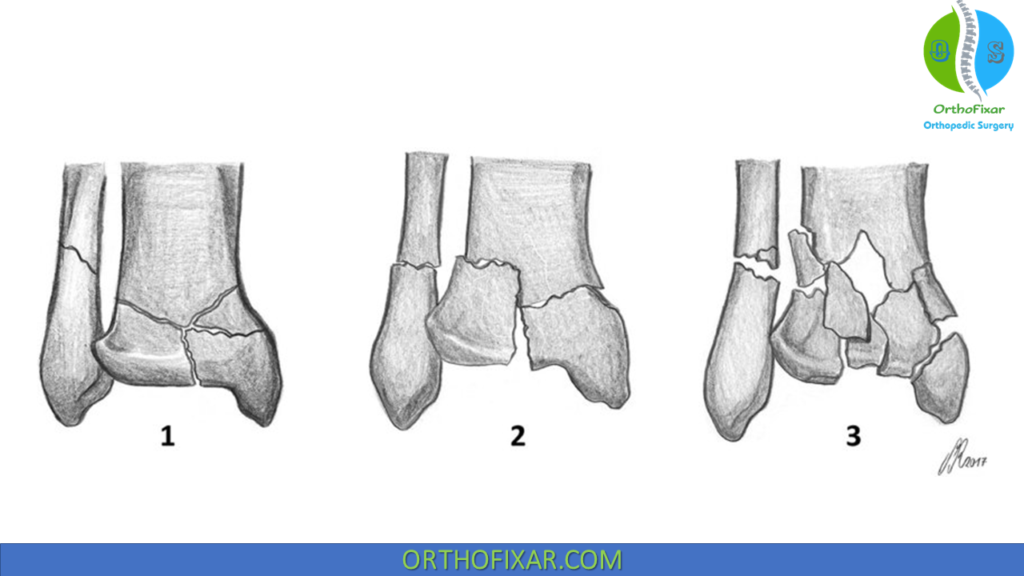 Orthopedic Classification App for Android / iOS devices: Download Link
Pilon Fractures Treatment
Non-operative Treatment
Pilon Fractures non-operative treatment is indicated for patients unable to tolerate anesthesia or severe soft tissue or vascular compromise, Also, stable fracture patterns without articular displacement may be amenable to nonoperative treatment.
Operative Treatment
Limited internal fixation with external fixation is not the most effective treatment method for Pilon fractures. If external fixation is performed, thin wire frames are ideal because they can be used to stabilize the articular surface and provide rigid fixation.
Primary temporary external fixation, delayed ORIF is the most commonly used method. Fixation of the fibula is not required at the index operation, because immediate ORIF is associated with an unacceptable rate of wound complications and therefore is not advocated.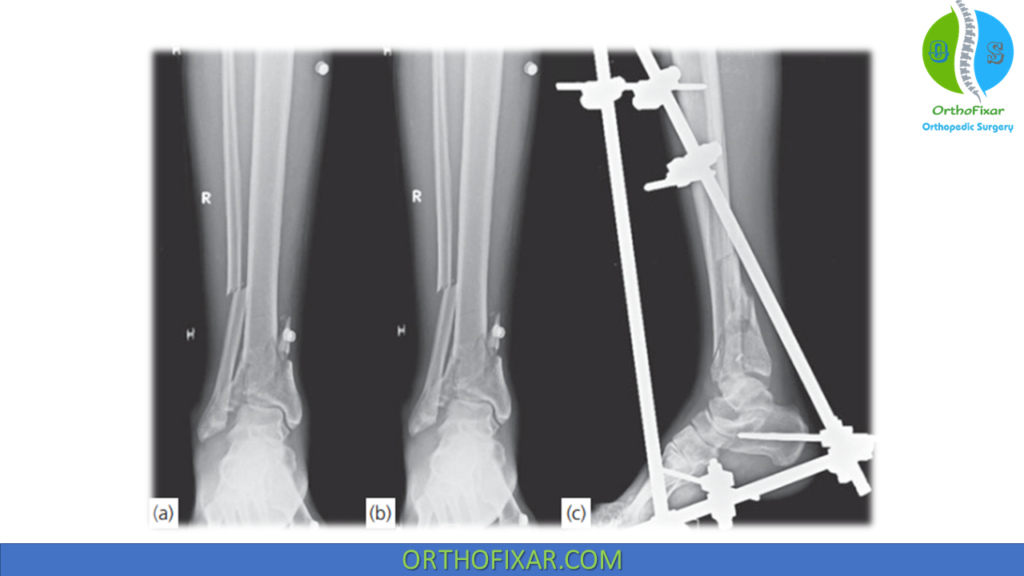 ORIF of tibia and fibula is delayed until soft tissue swelling resolves and any hemorrhagic blisters have epithelialized.
Principles of ORIF:
Anatomic reduction and absolute rigid fixation of articular surface
Preserve tibial length.
Reconstruction of metaphyseal shell
Bone grafting of metaphyseal defects
Reattachment of metaphysis to diaphysis: Bridge plating technique is appropriate, without requirement to achieve anatomic reduction. Restoration of length, alignment, and rotation are critical.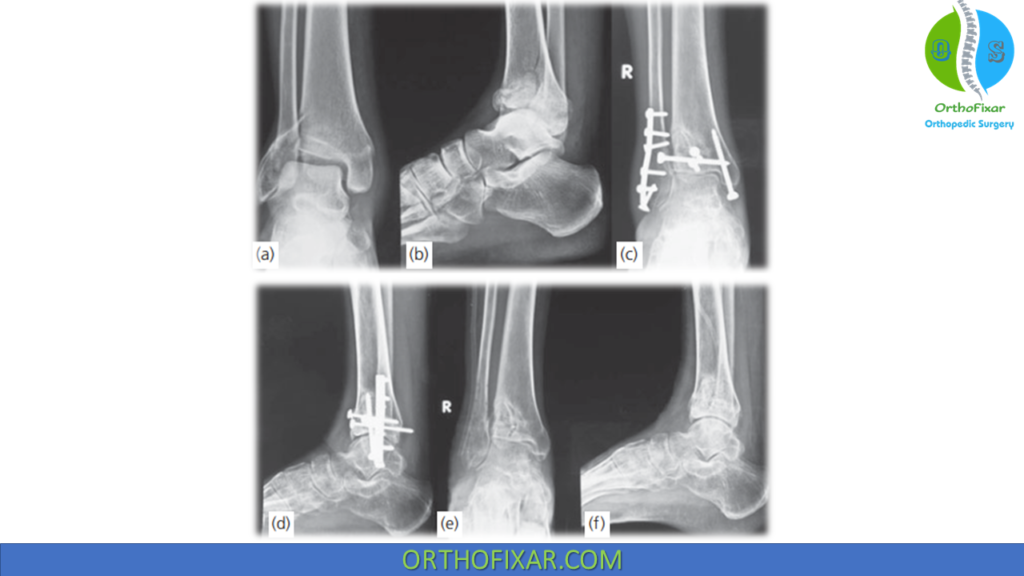 References & More
Millers Review of Orthopaedics -7th Edition Book.
Mercer's Textbook of Orthopaedics and Trauma, Tenth edition.
Rüedi T, Allgöwer M. Fractures of the lower end of the tibia into the ankle joint. Injury 1969;1:92.
Etter C, Ganz R. Long-term results of tibial plafond fractures treated with open reduction and internal fixation. Archives of Orthopaedic and Trauma Surgery 1991;11:227. Pubmed
Dickson KF, Montgomery S, Field J. High energy plafond fractures treated by a spanning external fixator initially and followed by a second stage open reduction internal fixation of the articular surface: Preliminary report. Injury 2001;32(Suppl 4):SD92–8. Pubmed
Wyrsch B, McFerran MA, McAndrew M, et al. Operative treatment of fractures of the tibial plafond: A randomized, prospective study. Journal of Bone and Joint Surgery (American) 1996;78:1646–57. Pubmed
Last Reviewed
October 10, 2023
Contributed by
OrthoFixar
Orthofixar does not endorse any treatments, procedures, products, or physicians referenced herein. This information is provided as an educational service and is not intended to serve as medical advice.