Post
5th Metatarsal Fracture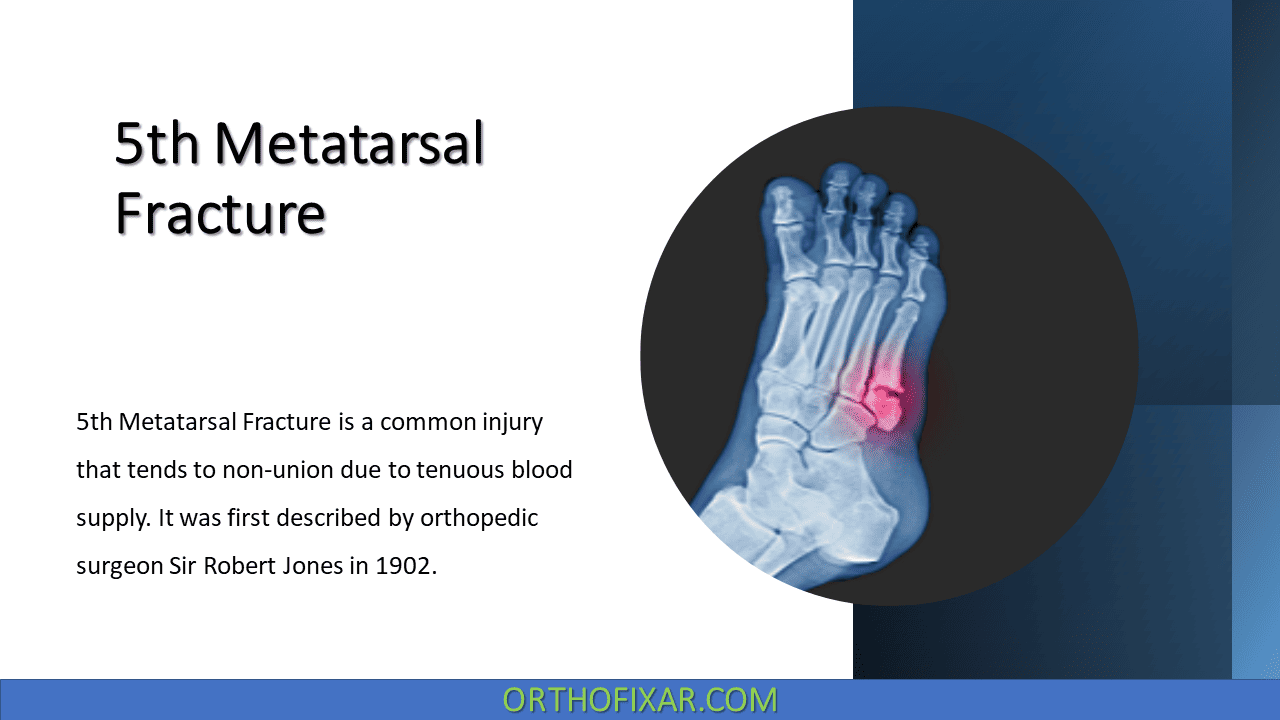 5th Metatarsal Fracture is a common injury that tends to non-union due to tenuous blood supply. It was first described by orthopedic surgeon Sir Robert Jones in 1902.
Fractures of the fifth metatarsal are separated roughly into two groups, proximal base fractures and distal spiral fractures. Proximal fifth metatarsal fractures are further divided by the location of the fracture. Each implies a separate causality, location, treatment and prognosis.
See Also: Foot Anatomy
Symptoms & Signs
Patients with 5th metatarsal fracture present with pain about the lateral aspect of the forefoot that is worse with weight-bearing activity. This pain may occur in the setting of acute trauma or repetitive microtrauma over weeks to months. One should be suspicious of stress fracture with antecedent pain or pain of worsening quality or duration over time.
It is important to evaluate the skin for open injuries that may require more urgent debridement. Physical examination may reveal tenderness to palpation, swelling, and ecchymosis at the site of injury. Patients will also have pain with resisted foot eversion. It is critical to evaluate the patient for other injuries, including damage to the lateral ankle ligamentous structures and Lisfranc injury.
Radiographs are the initial imaging of choice used to evaluate for these injuries. AP, lateral, and oblique images of the foot are essential to making the diagnosis.
5th Metatarsal Fracture Classification
Lawrence and Bottle classified proximal fifth metatarsal fracture into 3 zones:
Zone I fractures (93%) are avulsion injuries of the cancellous tuberosity, which occur secondary to contraction of the long plantar ligament and peroneus brevis insertion. Although most are extra-articular, some may involve the metatarso-cuboid joint.
Zone II fractures (Jones fracture) occur at the metaphyseal–diaphyseal junction. They result from adduction or inversion of the forefoot. The fracture is caused by tensile stress along the lateral border of the metatarsal. This is a circulatory watershed region that is subject to potential non-union secondary to poor blood supply.
Zone III fractures occur in the proximal 1.5 cm of the diaphyseal shaft of the metatarsal and are typically stress fractures. These are relatively rare and seen mainly in athletes, who usually present with prodromal symptoms before complete fracture. Possible aetiological factors include low arches and associated first metatarsal hypermobility, as well as cavovarus deformities, both of which can result in abnormally high stresses placed on the lateral foot. Poor blood supply in this region may also predispose an individual to impaired injury healing, resulting in non-union.
Download Orthopedic Classification App for Android / iOS Devices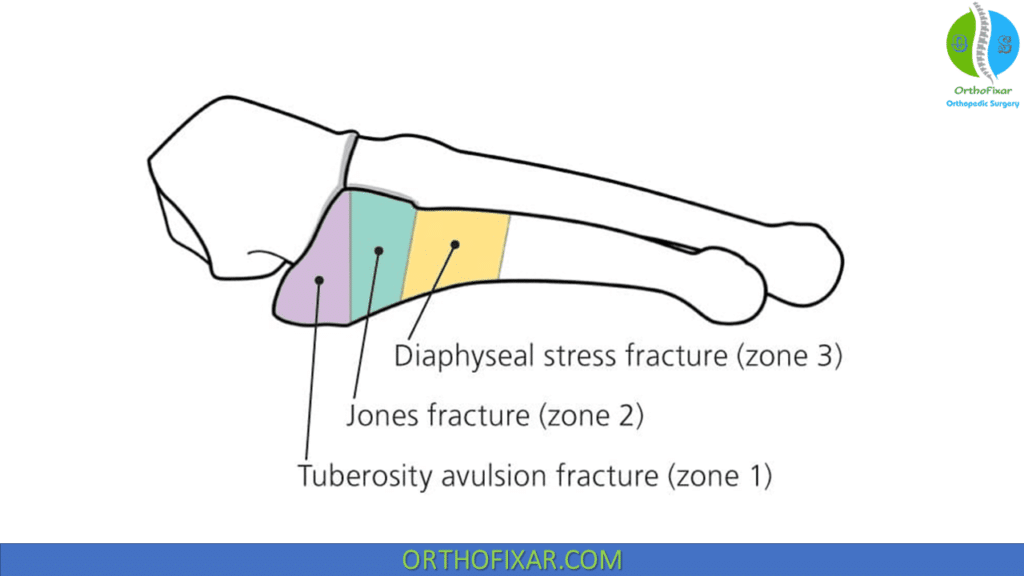 5th Metatarsal Fracture Treatment
Treatment of the 5th metatarsal fracture treatment is based on the zone of fracture:
Zone I Fractures
These are treated with a stiff-soled shoe and weight bearing as tolerated once symptoms diminish. If there is a large intra-articular fragment with displacement or if the base fragment has retracted proximally, indicative of peroneus brevis retraction, internal fixation is necessary.
Fifth metatarsal bone fracture healing time is usually 4-6 weeks of none-operative treatment with casting.
Continued symptoms after non-surgical treatment are rare and may necessitate removal of the non-union fragment, with reattachment of the peroneus brevis.
Zone II Fractures
A non-displaced fracture is managed initially in a short leg non-weight bearing cast worn for a few weeks followed by a weight-bearing cast till union has been achieved. Fractures with displacement and comminution can be treated similarly; however, in a high-performance athlete, consideration should be given to early open reduction and internal fixation with an intramedullary screw, which allows for earlier mobilization.
Zone III Fractures
Initial treatment is by a non-weight-bearing cast for a few weeks. Strict adherence to non-weight bearing is necessary until radiographic evidence of fracture healing. If sclerosis is noted at the fracture site, this indicates circulatory compromise, and surgical intervention is necessary to remove avascular fibrous tissue, graft the area and compress the fracture with an intramedullary screw.
Spiral fractures of the distal fifth metatarsal are common and occur frequently in dancers and professional athletes, it's called the dancer's fracture. They usually occur because of a rotational force being applied to the foot while axially loaded in a plantarflexed position. Treatment is symptomatic, with a hard-soled shoe.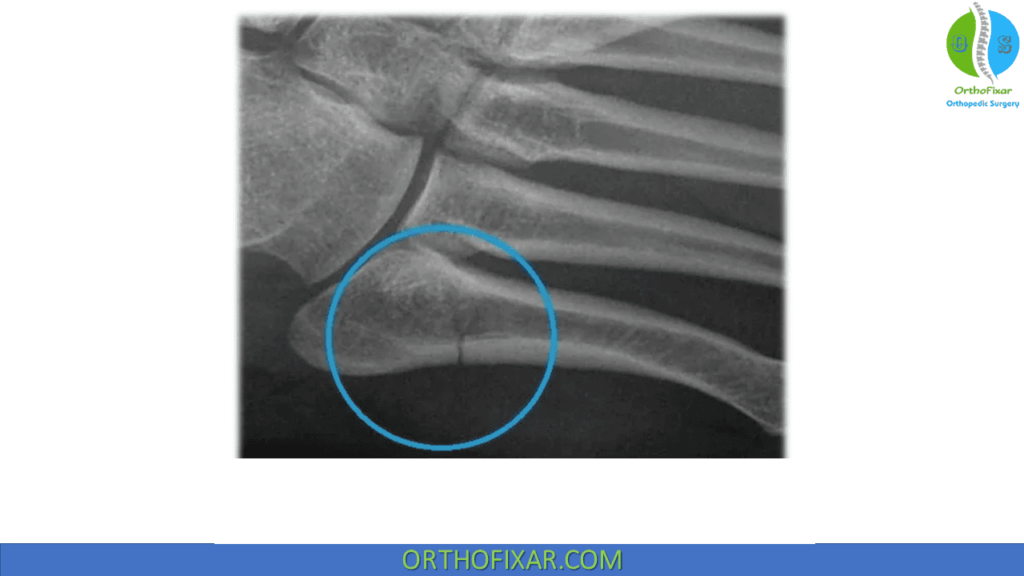 References & More
Smidt KP, Massey P. 5th Metatarsal Fracture. [Updated 2023 May 29]. In: StatPearls [Internet]. Treasure Island (FL): StatPearls Publishing; 2023 Jan-. Available from: https://www.ncbi.nlm.nih.gov/books/NBK544369/
Torg JS, Balduini FC, Zelko RR, et al. Fractures of the base of the fifth metatarsal distal to the tuberosity. Journal of Bone and Joint Surgery (American) 1984;66:209–14. Pubmed
Josefsson PO, Karlsson M, Redlund-Johnell I, et al. Jones fracture: surgical versus nonsurgical treatment. Clinical Orthopaedics and Related Research 1994;299:252. Pubmed
Rosenberg GA, Sferra JJ. Treatment strategies for acute fractures and nonunions of the proximal fifth metatarsal. Journal of the American Academy of Orthopaedic Surgeons 2000;8:332. Pubmed
Last Reviewed
November 6, 2023
Contributed by
OrthoFixar
Orthofixar does not endorse any treatments, procedures, products, or physicians referenced herein. This information is provided as an educational service and is not intended to serve as medical advice.