Special Test
Beighton Score
Beighton Score is a screening score for ligamentous laxity and joint hypermobility.
Wynne Davies criteria and the Beighton score are commonly used methods for detecting ligamentous laxity.
See Also: Thomas Test
The ligamentous laxity criteria are the following:
Beighton Score
Beighton scoring method uses the following criteria:
Passive dorsiflexion of the little finger beyond 90° (one point per hand).
Passive apposition of the thumb to the flexor aspect of the forearm (one point per hand).
Hyperextension of the elbow beyond 10° (one point per arm).
Hyperextension of the knee beyond 10° (one point per leg).
Forward flexion of the trunk with fully extended knees with the ability to place the palms of the hands fat on the floor (one point).
All elements are added together to give an overall ligamentous laxity score ranging from 0 (tight) to 9 (hyperlax).
The first four criteria are given one point each, and since they can be done on both right and left, it amounts to a total of eight points, and the forward trunk flexion is given a point amounting to a total score of nine points.
In general, a score of four or more indicates a diagnosis of hyperlaxity. In an infant or toddler who has not started walking/ not capable of obeying a command to bend forward with extended knees, the Wynne Davies criteria is used.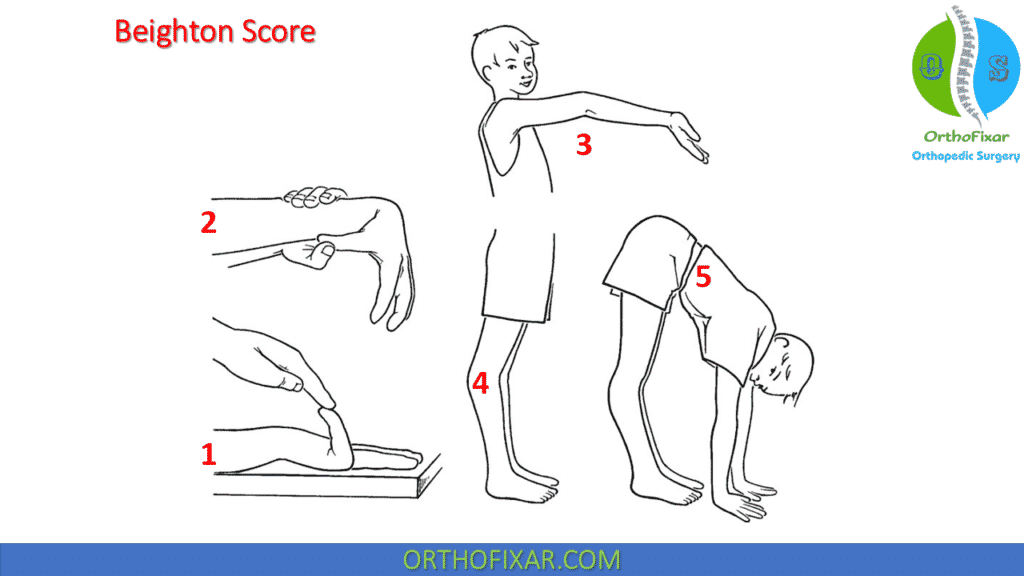 Wynne Davies Criteria
The Wynne Davies Criteria are the following:
The ability of the thumb to touch the forearm on flexion of the wrist.
Extension of the fingers parallel to the forearm on extension of wrist and metacarpophalangeal (MCP) joints.
Extension of the elbows beyond 180°.
Extension of the knees beyond 180°.
Dorsifexion of the foot to 45°.
If three pairs of the five joints showed this much laxity, it is considered indicative of hyperlaxity.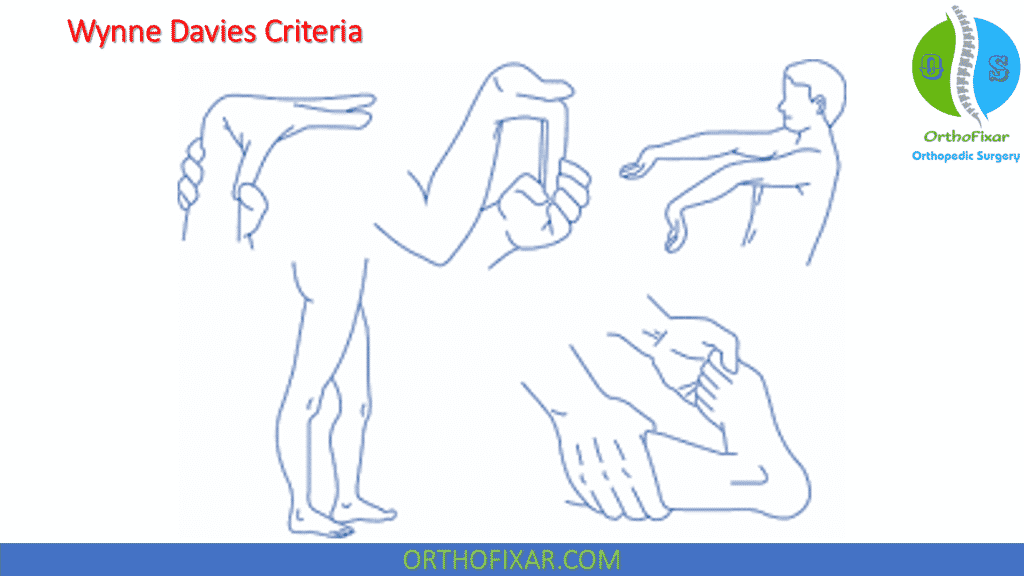 Ligamentous Laxity
Children are born with inherent ligamentous laxity. This laxity is necessary for the satisfactory completion of parturition when the child must come out through a relatively narrow vaginal opening. Most of the children lose this laxity with age.
Consequently, the range of motion of different joints in children tends to change over time before reaching adult values. Lack of knowledge on the accepted range in children can result in over diagnosis or under diagnosis. The persistence of ligamentous laxity can be indicative of underlying disorders like Ehlers–Danlos syndrome or Marfan syndrome.
References
Clinch J, Deere K, Sayers A, Palmer S, Riddoch C, Tobias JH, Clark EM. Epidemiology of generalized joint laxity (hypermobility) in fourteen-year-old children from the UK: a population-based evaluation. Arthritis Rheum. 2011 Sep;63(9):2819-27. doi: 10.1002/art.30435. PMID: 21547894; PMCID: PMC3164233.
Wynne-Davies R. Acetabular dysplasia and familial joint laxity: Two etiological factors in congenital dislocation of the hip. A review of 589 patients and their families. J Bone Joint Surg Br. 1970;52:704–716.
Krivickas LS, Feinberg JH: Lower extremity injuries in college athletes: Relation between ligamentous laxity and lower extremity muscle tightness. Arch Phys Med Rehabil 77:1139–1143, 1996.
Dutton's Orthopaedic Examination, Evaluation, And Intervention 3rd Edition.
Last Reviewed
April 30, 2022
Contributed by
OrthoFixar
Orthofixar does not endorse any treatments, procedures, products, or physicians referenced herein. This information is provided as an educational service and is not intended to serve as medical advice.