Special Test
Lower Extremity Functional Scale
Lower Extremity Functional Scale (LEFS scoring) is list of questions 20 functional tasks the patient is asked to perform in order to measure the lower extremity function.
The patient is asked to rate the difficulty of performing the 20 functional tasks on a Likert-type scale ranging from 0 (extremely difficult or unable to perform activity) to 4 (no difficulty):
The scale score is described as following:
Score 0: Extreme Difficulty or Unable to Perform Activity.
Score 1: Quite a Bit of Difficulty.
Score 2: Moderate Difficulty.
Score 3: A Little Bit of Difficulty.
Score 4: No Difficulty.
See Also: Ottawa Ankle Rules
The examiner talk to the patient: We are interested in knowing whether you are having any difficulty at all with the activities listed below because of your lower limb problem for which you are currently seeking attention. Please provide an answer for each activity.
Today, do you or would you have any difficulty at all with:
Any of your usual work, housework, or school activities.
Your usual hobbies, recreational or sporting activities
Getting into or out of the bath.
Walking between rooms.
Putting on your shoes or socks.
Squatting.
Lifting an object, like a bag of groceries from the floor.
Performing light activities around your home.
Performing heaving activities around your home.
Getting into or out of a car.
Walking 2 blocks.
Walking a mile.
Going up or down 10 stairs (about 1 flight of stairs).
Standing for 1 hour.
Sitting for 1 hour.
Running on even ground.
Running on uneven ground.
Making sharp turns while running fast.
Hopping.
Rolling over in bed.
A total score out of 80 is calculeted by summing each score. The answers provide a score between 0 and 80, with lower scores representing more disability.
A study concluded that The LEFS scoring is efficient to administer and score and is applicable for research purposes and clinical decision making for individual patients.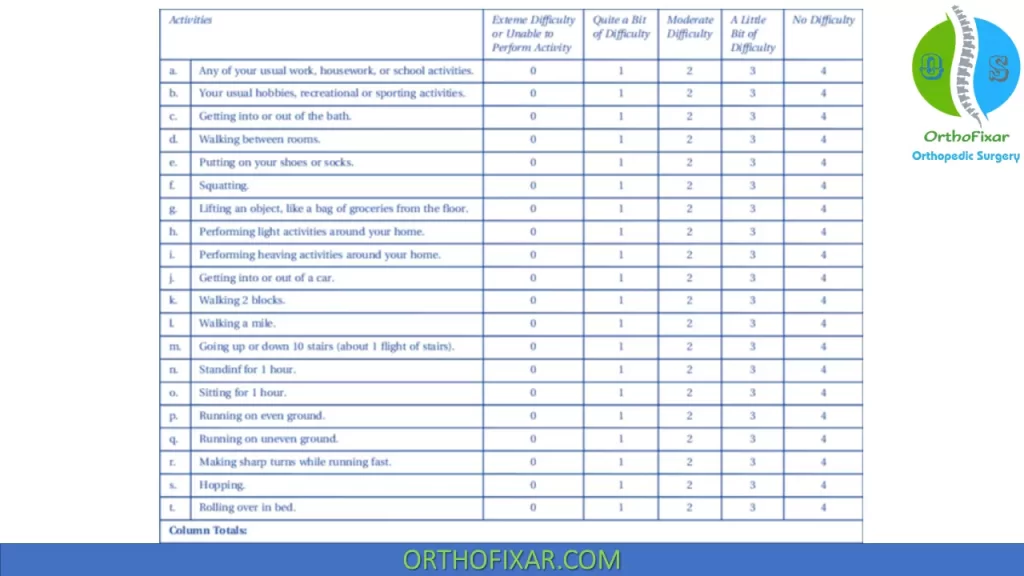 Foot Function Index (FFI)
A self-administered questionnaire consisting of 23 items divided into pain, disability, and activity restriction subscales. A score between 0 and 100 is derived by dividing the visual analog scale into 10 segments. Higher scores indicate more impairment.
For each of the following questions we would like you to score each question on a scale from 0 (no pain or difficulty) to 10 (worst pam imaginable or so difficult it required help) that best describes your foot over the past WEEK.
No Pain    1  2  3   4   5   6   7   8   9   10    Worst Pain imaginable
 Pain Subscale: How severe is your foot pain:
1. Foot pain at its worst?     
2. Pain standing with shoes?
3. Foot pain in morning?     
4. Pain walking with orthotics?
5. Pain waking barefoot?    
6. Pain standing with orthotics?
7. Pain standing barefoot?  
8. Foot pain at end of day?
9. Pain waking with shoes?
Disability Subscale: How much difficulty did you have:
10. Difficulty walking In house?                               
11. Difficulty standing tip toe?
12. Difficulty walking outside?         
13. Difficulty walking 4 blocks?       
14. Difficulty getting up from chair?
15. Difficulty climbing curbs?
16. Difficulty climbing stairs?
17. Difficulty walking fast?
18. Difficulty descending stairs?
Activity Limitation Subscale: How much difficulty did you have:
19. Stay inside all day because of feet?                 
20. Use assistive device indoors?
21. Stay in bed because of feet?      
22. Pam walking with orthotics?
23. Limit activities because of feet?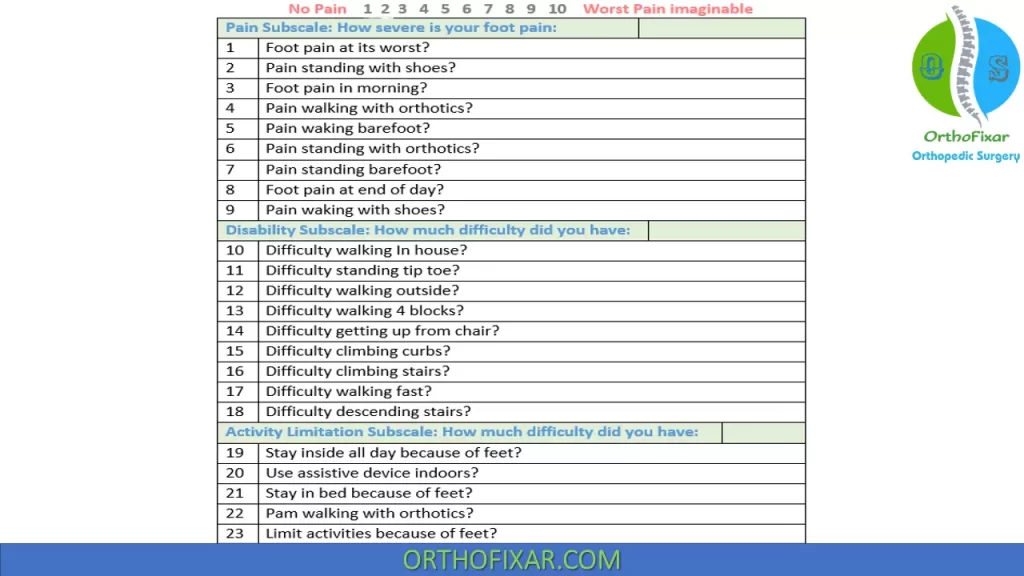 References
Binkley JM, Stratford PW, Lott SA, Riddle DL. The Lower Extremity Functional Scale (LEFS): scale development, measurement properties, and clinical application. North American Orthopaedic Rehabilitation Research Network. Phys Ther. 1999 Apr;79(4):371-83. PMID: 10201543.
Budiman-Mak E, Conrad KJ, Roach KE. The Foot Function Index: a measure of foot pain and disability. J Clin Epidemiol. 1991;44(6):561-70. doi: 10.1016/0895-4356(91)90220-4. PMID: 2037861.
Baumhauer JF, Nawoczenski DA, DiGiovanni BF, Wilding GE. Reliability and validity of the American Orthopaedic Foot and Ankle Society Clinical Rating Scale: a pilot study for the hallux and lesser toes. Foot Ankle Int. 2006;27:1014-1019.
Netter's Orthopaedic Clinical Examination An Evidence-Based Approach 3rd Edition Book.
Last Reviewed
May 20, 2023
Contributed by
OrthoFixar
Orthofixar does not endorse any treatments, procedures, products, or physicians referenced herein. This information is provided as an educational service and is not intended to serve as medical advice.