Post
Osteoblastoma
Osteoblastoma is a benign but aggressive tumor of bone (it can attain a large size and is not self-limiting). It is a rare bone ­forming tumor that represents less than 1% of all bone tumors. Mostly occurs in 10 to 30 years old patient, where male > female (3:1).
40% to 50% of the lesions are located in the posterior elements of the spine. Other locations include proximal humerus, and hip.
See Also: Osteosarcoma
Clinical Evaluation
The most common symptom is pain that may be similar to that produced by an osteoid osteoma (worse at night and relieved by nonsteroidal anti inflammatory drugs).
In the spine, painful scoliosis or neurological deficit may be present.
In the lumbar spine, signs and symptoms of nerve root compression may be evident, whereas in the thoracic spine, spinal cord compression is more common.
The tumor usually is slow growing, and symptoms may be present for 1 to 2 years before a diagnosis is made.
Imaging Evaluation
Anterior-posterior AP and lateral views of the affected area is recommended.
Radiology findings include:
The classic appearance of a mineralized central nidus (> 2cm) with a surrounding radiolucent halo and reactive sclerosis.
The lesion may be purely radiolucent, sclerotic, or mixed.
Lesions may be diaphyseal or metaphyseal, and they may be primarily cortical or intramedullary.
Extension into the soft tissue is rare except in the spine, where soft tissue extension is common.
CT scan is necessary to fully evaluate lesion.
Bone scan reveals hot with intense focal uptake.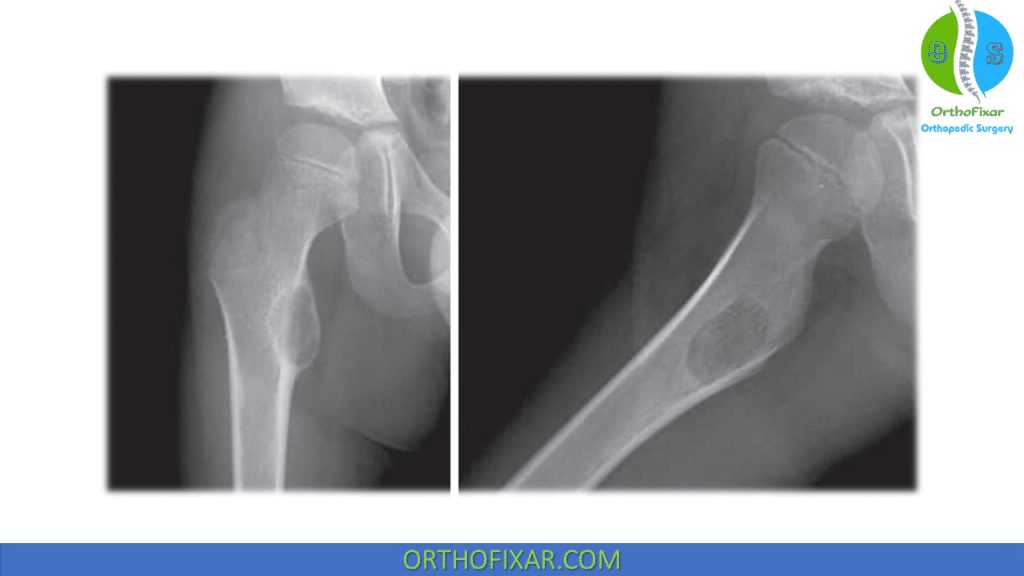 Histology
The lesion is look like an osteoid osteoma. Fibrovascular stroma appearance with production of osteoid and primitive woven bone.
Bony trabeculae are lined by a single layer of osteoblasts (may be important in differentiating osteoblastoma from osteosarcoma). There is a sharp circumscription and a loose arrangement of the tissue.
Features favoring a malignant diagnosis include permeation of surrounding tissue and sheets of osteoblasts without bone production.
Differential Diagnosis
Osteoblastoma differential diagnosis include:
Osteosarcoma.
Aneurysmal Bone Cyst.
Osteomyelitis.
Osteoid osteoma.
See Also: Differential Diagnosis for Bone Lesions
Osteoid osteoma
Osteoblastoma
Lesion Size
< 2 cm
> 2 cm
Common location
Long bone diaphysis
Posterior elements of the spine
Progressive History
Self-Limited
Progressive
Histology
Benign appearance.
No growth potential.
Central nidus composed of more organized osteoid and lined by osteoblasts.
Benign appearance.
Localized growth, with aggressive potential.
Central lesion less organized, with greater vascularity.
Osteoblastoma spine treatment
Nonsurgical management is indicated as first-line treatment.
Surgery is always indicated as they do not respond to nonsurgical treatment.
Differentiation between osteoblastoma and aggressive osteoblastoma
Osteoblastoma
Aggressive Osteoblastoma
Size
– Benign.
– More than 1.5 cm.
– Borderline between osteoblastoma and osteosarcoma More than 4 cm
Cytomorphology
– Osteoblasts are round or ovoid with eccentric nuclei and moderate amount of cytoplasm.
– Aspirates are highly cellular, osteoblasts are 2-3 times larger than conventional osteoblasts (epithelioid osteoblasts)
Histopathology
– Haphazardly deposited trabeculae of woven bone rimmed by osteoblasts and scattered osteoclasts with in richly vascular stroma.
– Mitosis rare.
– Wider and more irregular trabeculae bordered by epithelioid osteoblasts. Mitosis present.
– High risk of recurrence.
See Also: Differential Diagnosis for Bone Lesions
Osteoblastoma Treatment
In the literature, the role of radiation therapy in the management of osteoblastoma is controversial, and open surgery remains the mainstay treatment for this lesion.
Osteoblastoma treatment consists of extended curettage or resection with bone grafting of the defect may be necessary.
Osteoblastoma spine treatment, instrumented fusion may be necessary if resection causes instability. Some authors recommend adjuvant radiation therapy for spinal lesions because revision surgery for recurrences in this area is difficult.
As follow ­up care, patients should have serial radiographs of the primary site and of the chest.
References & More
Campbel's Operative Orthopaedics 12th edition Book.
Millers Review of Orthopaedics -7th Edition Book.
Limaiem F, Byerly DW, Mabrouk A, Singh R. Osteoblastoma. 2022 Nov 15. In: StatPearls [Internet]. Treasure Island (FL): StatPearls Publishing; 2022 Jan–. PMID: 30725639.
Limaiem F, Byerly DW, Mabrouk A, et al. Osteoblastoma. [Updated 2022 Nov 15]. In: StatPearls [Internet]. Treasure Island (FL): StatPearls Publishing; 2022 Jan-. Available from: https://www.ncbi.nlm.nih.gov/books/NBK536954/
Wu M, Xu K, Xie Y, Yan F, Deng Z, Lei J, Cai L. Diagnostic and Management Options of Osteoblastoma in the Spine. Med Sci Monit. 2019 Feb 20;25:1362-1372. doi: 10.12659/MSM.913666. PMID: 30785872; PMCID: PMC6391855.
Nemoto O, Moser Jr, Rp, Van Dam BE, et al. Osteoblastoma of the spine. A review of 75 cases. Spine. 1990;15(12):1272–80.
Last Reviewed
February 18, 2023
Contributed by
OrthoFixar
Orthofixar does not endorse any treatments, procedures, products, or physicians referenced herein. This information is provided as an educational service and is not intended to serve as medical advice.