Post
Unicameral Bone Cyst
Unicameral bone cysts, often found in childhood, are lesions that resemble developmental or reactive abnormalities rather than true tumors. Typically, they occur within the first two decades of life, with males experiencing them twice as often as females.
While these cysts can affect any bone in the extremities, they are most commonly found in the proximal humerus and femur among children, whereas in adults, the ilium and calcaneus are more frequently affected. Active growth periods tend to activate the cysts, and they usually heal on their own as the individual reaches maturity.
Causes and Pathology
Unicameral bone cysts initially develop as metaphyseal lesions near the growth plate in children. As time progresses, they tend to move closer to the diaphysis. The exact cause of these cystic lesions remains unclear, although the prevailing theory suggests a focal defect in metaphyseal remodeling, obstructing interstitial fluid drainage. Consequently, pressure builds up, leading to localized bone necrosis and fluid accumulation. Studies have shown that the cyst fluid contains various substances such as prostaglandins, oxygen free radicals, interleukins, cytokines, and metalloproteinases, all potentially contributing to bone resorption.
See Also: Differential Diagnosis for Bone Lesions
The cysts themselves are filled with a clear yellow, serous fluid unless bleeding into the cavity occurs due to a pathological fracture. A fibrous membrane, usually less than 1 mm thick, lines the cyst wall. Unlike endothelial cells, the lining of a unicameral bone cyst comprises fibroblasts. Beneath this membrane, the cyst wall consists of fibrovascular tissue, immature bone fragments, osteoclast-like giant cells, mesenchymal cells, and occasional lymphocytes.
Unicameral Bone Cyst Diagnosis
In most cases, unicameral bone cysts remain asymptomatic, unless a pathological fracture has taken place. About two-thirds of patients initially present with fractures, which can trigger the healing process of the cyst. Conversely, unicameral bone cysts in flat bones are typically asymptomatic, incidentally discovered, and rarely prone to fracture.
Diagnosis of unicameral bone cysts is often made through plain radiographs, which reveal a well-defined, centrally located lytic lesion. This imaging technique is usually sufficient for confirming the presence of a unicameral bone cyst. While the cyst may expand concentrically, it does not breach the cortex. Sometimes, prominent osseous ridges on the inner cortical wall create a multiloculated appearance. No periosteal reaction is observed, unless a fracture has occurred.
The Fallen Leaf sign refers to the presence of a bone fracture fragment resting dependently in a cystic bone lesion. This finding is said to be pathognomonic for a simple (unicameral) bone cyst following a pathological fracture. Although it has occasionally been reported with other cystic lesions, e.g. eosinophilic granuloma. The finding exists because a simple bone cyst is fluid filled, and therefore a bony fragment may descend through the fluid uninhibited.
In some cases, a cystogram using radiopaque dye can be performed for further evaluation.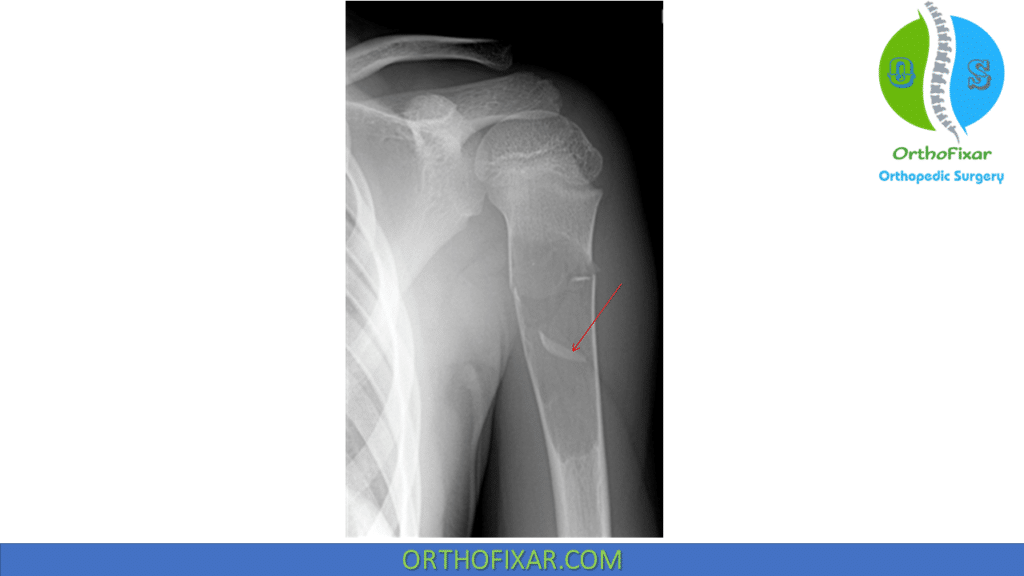 Imaging Study
Imaging studies, such as plain radiographs, are often sufficient for diagnosing unicameral bone cysts. However, in complex cases or when additional information is needed, other imaging modalities like magnetic resonance imaging (MRI) or computed tomography (CT) scans may be employed. These imaging techniques provide a more detailed visualization of the cyst, its location, and the surrounding structures, aiding in treatment planning.
Simple Bone Cyst Treatment
Treatment of simple bone cyst depend on their size, location, and symptoms. Small, asymptomatic lesions in the upper extremities can be closely observed with serial radiographs. However, larger lesions at risk of pathological fracture, symptomatic lesions, and those in the lower extremities typically require intervention.
Unicameral bone cyst treatment options include curettage (with or without bone grafting or internal fixation) and aspiration and injection (commonly employing corticosteroids, bone marrow aspirate, demineralized bone matrix, or other substances).
Pathological fractures in the upper extremity can often be managed conservatively as the fracture itself may initiate the healing process. On the other hand, fractures through unicameral bone cysts in the proximal femur necessitate curettage, bone grafting, and internal fixation. Flexible intramedullary nailing, a technique employed in the femur and humerus, provides early stability, reducing the need for a cast and decreasing the risk of further pathological fractures.
In the mid-1970s, corticosteroid injection emerged as a viable treatment option for unicameral bone cysts due to its effectiveness and cost-effectiveness, as well as its reduced morbidity compared to traditional methods like curettage and bone grafting. The procedure is performed with the patient under heavy sedation or anesthesia, using fluoroscopic guidance to guide the placement of an 18-gauge spinal needle through the cortex into one end of the cyst, with a second needle placed at the opposite end. The diagnosis of a unicameral bone cyst is confirmed when straw-colored cyst fluid flows out. In some cases, a cystogram using radiopaque dye may be conducted, injecting each separate cavity if possible.
Typically, 80 to 200 mg of methylprednisolone (Depo-Medrol) is used for the injection, with the specific dosage depending on factors such as the patient's age, size of the lesion, and overall health. The mechanism of action of corticosteroid injection is believed to involve either an antiprostaglandin effect or a reduction in cyst pressure. If there is no radiographic evidence of healing within two months, repeat injections should be considered, if three injections fail to promote healing, curettage and bone grafting should be considered. This percutaneous treatment method has shown successful outcomes in over 90% of patients.
Other materials can also be utilized for percutaneous treatment of unicameral bone cysts, these include:
Autogenous bone marrow mixed with allograft demineralized bone matrix,
High-porosity hydroxyapatite,
Calcium sulfate,
Calcium phosphate bone graft substitutes,
Cancellous allograft.
However, no conclusive studies have demonstrated the superiority of one type of injection over another.
Certain factors may negatively impact the success of percutaneous unicameral bone cysts treatment, these include:
A multiloculated appearance,
Large size,
Radiographically active lesions,
Patient age younger than 10 years.
For larger painful lesions in high-risk fracture areas like the proximal femur, curettage, bone grafting, and internal fixation are often recommended. Allograft bone or commercially available bone graft substitutes can facilitate excellent healing without the need for autograft harvest, reducing morbidity.
References & More
Evans J, Shamrock AG, Blake J. Unicameral Bone Cyst. [Updated 2022 Jul 5]. In: StatPearls [Internet]. Treasure Island (FL): StatPearls Publishing; 2023 Jan-. Available from: https://www.ncbi.nlm.nih.gov/books/NBK470587/
Noordin S, Allana S, Umer M, Jamil M, Hilal K, Uddin N. Unicameral bone cysts: Current concepts. Ann Med Surg (Lond). 2018 Jun 28;34:43-49. doi: 10.1016/j.amsu.2018.06.005. PMID: 30224948; PMCID: PMC6138978.
Noordin S, Allana S, Umer M, Jamil M, Hilal K, Uddin N. Unicameral bone cysts: Current concepts. Ann Med Surg (Lond). 2018 Jun 28;34:43-49. doi: 10.1016/j.amsu.2018.06.005. PMID: 30224948; PMCID: PMC6138978.
Campbel's Operative Orthopaedics 12th edition Book.
Millers Review of Orthopaedics -7th Edition Book.
Last Reviewed
May 14, 2023
Contributed by
OrthoFixar
Orthofixar does not endorse any treatments, procedures, products, or physicians referenced herein. This information is provided as an educational service and is not intended to serve as medical advice.