Post
Osteochondritis Dissecans
Osteochondritis Dissecans (OCD) is a condition that Involves subchondral bone and overlying cartilage separation.
OCD is bilateral in 20% to 30% of patients. It is more common in male than in female (2:1) and during adolescence. It is rare in patients younger than 10 years or older than 50 years.
Locations of Osteochondritis Dissecans
Osteochondritis Dissecans can occur in any joint cartilage of the body, but it's more common in the knee (OCD knee).
Another site include the Elbow Joint (OCD Elbow) especially the Capitellum and Ankle Joint (OCD Ankle)
The common sites of osteochondritis Dissecans in the knee (OCD knee) are:
The lateral aspect of the medial femoral condyle near the attachment of the posterior cruciate ligament (80%).
The posterolateral aspect of the femoral condyle (15%).
The inferomedial quadrant of the patella (5%).
It is the most common source of loose bodies in the knee joint.
Osteochondritis dissecans occurs in two groups of patients:
Young patients, before physeal closure, in whom treatment can be expected to produce good results.
Adult patients, in whom the cause may be a vascular phenomenon and the results less satisfactory.
Etiology
The etiology of Osteochondritis dissecans is unclear and controversial.
Some theories for the Osteochondritis dissecans causes include the following:
Repetitive microtrauma
Familial predisposition
Endocrine imbalance
Epiphyseal abnormalities
Accessory centers of ossification
Growth disorders
Osteochondral fracture
Repetitive microtrauma with subsequent interruption of interosseous blood supply to the subchondral area of the epiphysis.
Anatomical variations in the knee.
Congenitally abnormal subchondral bone.
See Also: Knee Meniscus Tear
Clinical Evaluation
Osteochondritis dissecans Symptoms & signs include:
The most common symptom in patients with OCD lesion is a vague, aching discomfort in the knee, frequently of several months' duration.A history of trauma to the knee is given by 40% to 60% of patients.
Wilson sign: the patient may walk with an externally rotated gait to avoid contact of the medial femoral condyle with the medial tibial spine.
Catching and popping occurs if a chondral piece is separated or partially separated.
Examination:
Examination of the joint may show:
Effusion.
Joint line tenderness or tenderness over the lesion.
Limitation of motion.
Presence of McMurray sign.
Quadriceps atrophy.
Radiographic Evaluation
The most useful radiographic view in the knee is the tunnel or intercondylar notch view:
Anteroposterior and lateral radiographs should be made in addition to the tunnel view.
Comparison radiographs should be obtained in juvenile and adolescent patients because an osteochondritis dissecans lesion may be confused with bilateral anomalous ossification centers, which may cause transient symptoms but usually resolve spontaneously within 6 to 12 months.
If CT is performed, it should be done in the coronal plane.
MRI can be helpful in determining the size, location, and characteristics of the lesion. Fluid around the fragment and focal cystic areas beneath the fragment are the best indicators of instability.
Technetium-99m bone scans have been recommended to follow the healing activity of lesions and to help predict the results of treatment.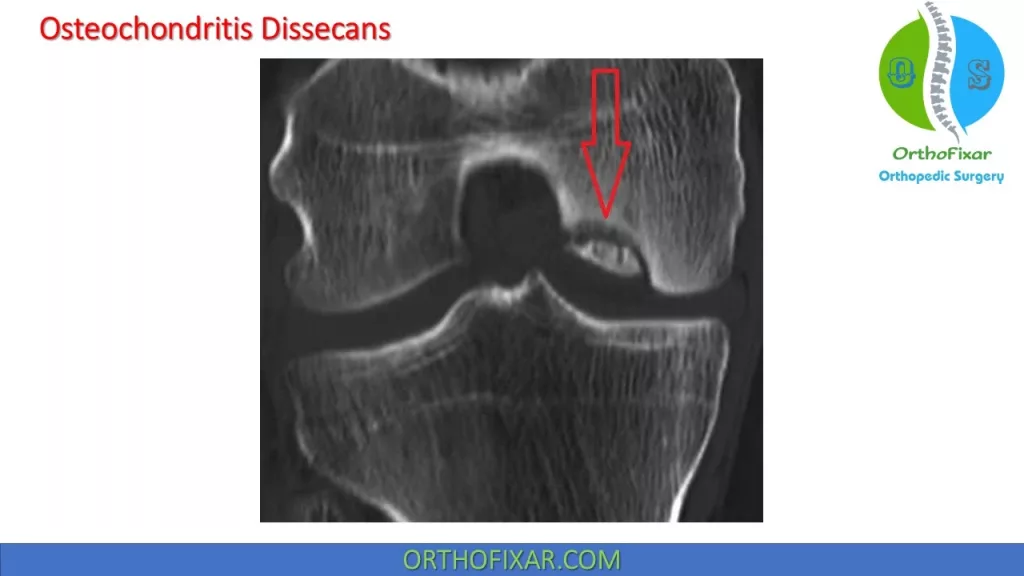 Classification
Classification of Osteochondritis Dissecans Based on Bone Scan
| STAGE | FINDING |
| --- | --- |
| Stage 0 | Normal radiographic and scintigraphic appearance |
| Stage I | Lesion visible on plain radiographs, bone scan normal |
| Stage II | Increased uptake in area of lesion on bone scan |
| Stage III | Increased isotopic uptake in entire femoral condyle |
| Stage IV | Uptake in tibial plateau opposite lesion |
Based on data from Cahill BR: Osteochondritis dissecans of the knee: treatment of juvenile and adult forms, J Am Acad Orthop Surg 3:237, 1995.
Staging Systems for Osteochondritis Dissecans
STAGE
ARTHROSCOPY
MRI
RADIOGRAPHY
Stage I
– Irregularity and softening of articular cartilage;
– no definable fragment
– Thickening of articular cartilage;
– low signal changes
– Compression lesion;
– no visible fragment
Stage II
– Articular cartilage breached;
– definable fragment not displaceable
– Articular cartilage breached;
– low signal rim behind fragment indicating fibrous attachment
– Fragment attached
Stage III
– Articular cartilage breached;
– definable fragment, displaceable but attached by some overlying cartilage
– Articular cartilage breached;
– high signal changes behind fragment indicating synovial fluid between fragment and underlying subchondral bone
– Nondisplaced fragment without attachment
Stage IV
Loose body
Loose body
Displaced fragment
From Dipaola JD, Nelson DW, Colville MR: Characterizing osteochondral lesions by magnetic resonance imaging, Arthroscopy 7:101, 1991.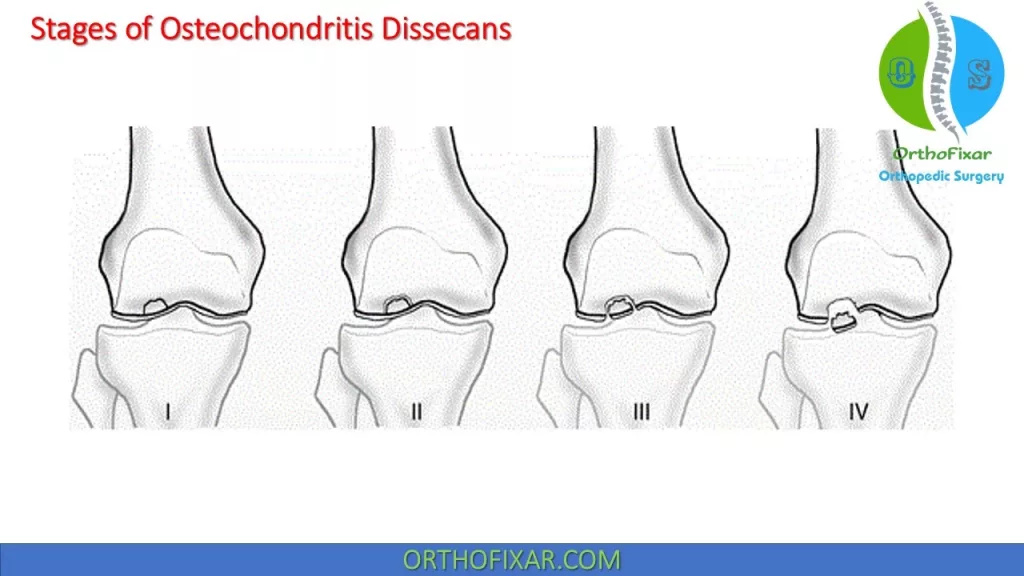 Osteochondritis Dissecans Treatment
The treatment of osteochondritis dissecans depends on the patient's age and the degree of involvement.
Non-Operative Treatment:
Indications for non-operative treatment of OCD include:
Children with open growth plates.
First line of treatment in patients with mild symptoms.
Non-operative treatments include:
Periods of immobilization (Prolonged immobilization should be avoided).
Activity modification.
Non–weight bearing.
Operative Treatment:
Indications for operative treatment of Osteochondritis Dissecans includes:
Failed of non-operative treatment.
Symptomatic knee in a patient who is skeletally older than 12 years.
A lesion larger than 1 cm in diameter.
Involvement of the weight-bearing surface.
OCD surgery options include:
Retrograde drilling: in Lesions with intact articular cartilage (In situ lesions). Holes should be drilled to a depth of 1.0 to 1.5 cm to promote vascular healing. Retrograde drilling, pinning, or bone grafting should not cross the physis.
Drilling and Pinning: in Unstable separated lesions.
Debridement (removal of the fibrous tissue to bleeding bone) and pinning of the fragment in place: in Partially detachment lesions. Debridement is recommended because partial detachment leads to a break in the cartilaginous border and protrusion of fibrous tissue.
Osteochondral autografting or allografting is used for larger lesions.
Removal of loose bodies: indications include small fragments (<2 cm), multiple fragments, fragments with inadequate bone stock, and fragments that cannot be secured with internal fixation.
Usually arthroscopic techniques is used to treat most patients with OCD lesions that require surgery.
Open arthrotomy techniques can be done through a mini-incision if arthroscopy does not allow for optimal fixation, or if the lesions involving areas inaccessible by arthroscopic techniques.
Osteochondritis Dissecans Prognosis:
Prognostic factors include the following:
The age of the patient.
Progression of the lesion.
Size.
Stability.
Amount of subchondral bone present.
Location of the lesion, especially if it relates to weight bearing.
References & More
Campbel's Operative Orthopaedics 12th edition Book.
Millers Review of Orthopaedics -7th Edition Book.
Cahill BR. Osteochondritis Dissecans of the Knee: Treatment of Juvenile and Adult Forms. J Am Acad Orthop Surg. 1995 Jul;3(4):237-247. doi: 10.5435/00124635-199507000-00006. PMID: 10795030.
Dipaola JD, Nelson DW, Colville MR. Characterizing osteochondral lesions by magnetic resonance imaging. Arthroscopy. 1991;7(1):101-4. doi: 10.1016/0749-8063(91)90087-e. PMID: 2009106.
Last Reviewed
March 24, 2023
Contributed by
OrthoFixar
Orthofixar does not endorse any treatments, procedures, products, or physicians referenced herein. This information is provided as an educational service and is not intended to serve as medical advice.