Post
Facet Joint Dysfunction
Facet joint Dysfunction may involve subluxation of the facet or degeneration of the facet itself leading to hypermobility and osteophyte formation.
The lumbar facet joints give the spine rigidity and protect the intervertebral discs against rotational injury.
See Also: Spine Movements
Facet Joint Dysfunction Causes
Facet joint dysfunction often occurs from repetitive stress to the facet joint through movement or loading.
As with much lumbar spine pathology, facet joint pathology is closely linked to pathology in other spine components. For example, degenerative changes in the disc significantly increase load and subsequent degeneration of the facet joints. Conversely, degenerative changes in the facet joint can alter load and ultimately damage the disc. Other associated pathologies, such as muscle spasm, may be protective in nature.
Symptoms
A subluxed facet joint tends to "lock" the involved spinal segment, causing the involved segment to become hypomobile and the adjacent segments to become hypermobile over time. The patient may report a history of extension, rotation, or lateral bending of the spine with pain that tends to be localized over the affected facet. Prolonged standing often provokes symptoms, as do motions that repeatedly load the joint such as extension, rotation, and side bending to the involved side.
Although pain is often localized to the region of the involved facets, radiating pain into the buttock, groin, or thigh that stops above the knee and accompanying hamstring tightness may also be present. Note that these are also symptoms associated with herniated discs.
Degeneration of the facet joint has an undefined history of injury. If the degeneration is significant, the size of the intervertebral foramen will decrease, potentially impinging the associated nerve root and causing radicular pain. Nerve entrapment can be reduced by the patient's assuming a posture that decreases pressure on the nerve root, usually caused by flexion reducing the size of the intervertebral foramen.
A definitive diagnosis of facet joint degeneration is made using computed tomography (CT scan is preferred over MRI for detecting osteophyte formation and osteoarthritis) or by relief of symptoms following injection of an anesthetic into the facet joint.
The patient may assume a posture that decreases the pressure on the affected facets, and possible local muscle spasm is noted in the paravertebral muscles.
See Also: Spine Manipulation Technique
Facet Joint Dysfunction Treatment
When facet joint dysfunction presents acutely and with no symptoms distal to the knee, the patient may benefit from manipulation (i.e., high-velocity thrust) performed by someone qualified in the technique.
Other initial treatment of patients with facet joint pathologies involves the use of nonsteroidal anti-inflammatory drugs (NSAIDs) to decrease pain and facilitate movement.
Instruct the patient to avoid postures and movements that irritate the facet and increase pain, especially sleeping in a prone position.
Local therapeutic modalities such as moist heat, electrical stimulation, or ice may be helpful to decrease subsequent muscle spasm.
Long-term treatment revolves around restoring normal arthrokinematics by mobilizing hypomobile segments and using stabilization exercises to control hypermobility.
Facet joint injections may be helpful to reduce pain and spasm and allow sufficient strengthening and stabilization to occur.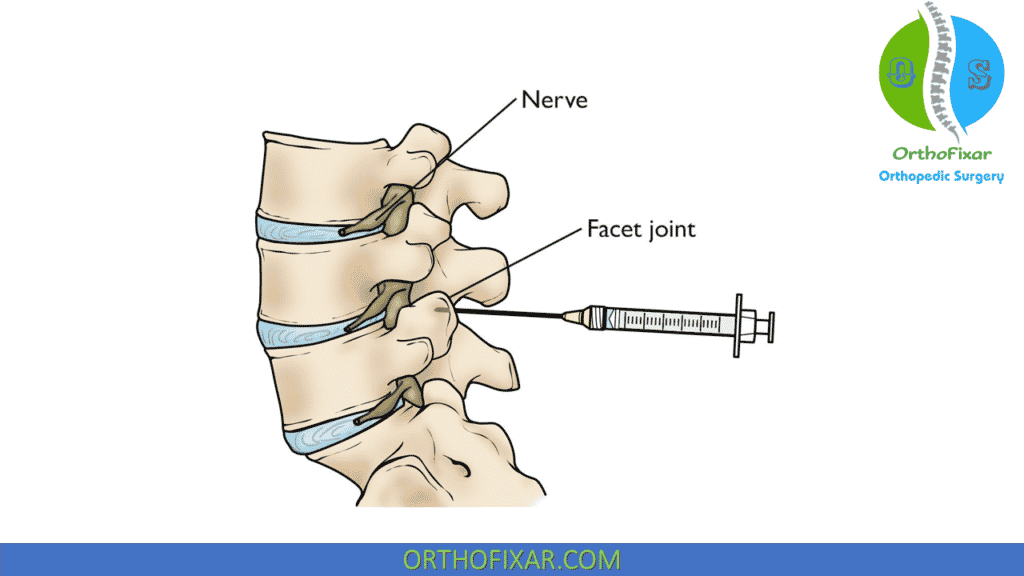 References
Boden SD, Riew KD, Yamaguchi K, Branch TP, Schellinger D, Wiesel SW. Orientation of the lumbar facet joints: association with degenerative disc disease. J Bone Joint Surg Am. 1996 Mar;78(3):403-11. doi: 10.2106/00004623-199603000-00012. PMID: 8613448.
Natarajan, RN, et al: Study on effect of graded facetectomy on change in lumbar motion segment torsional flexibility using three-dimensional continuum contact representation for facet joints. J Biomech Eng, 121:215, 1999.
Varlotta, GP, et al: The lumbar facet joint: a review of current knowledge: part 1: anatomy, biomechanics, and grading. Skeletal Radiol, 40:13, 2011.
Varlotta, GP, et al: The lumbar facet joint: a review of current knowledge: part II: diagnosis and management. Skeletal Radiol, 40:149, 2011.
Last Reviewed
June 3, 2022
Contributed by
OrthoFixar
Orthofixar does not endorse any treatments, procedures, products, or physicians referenced herein. This information is provided as an educational service and is not intended to serve as medical advice.