Special Test
Cozen Test
What is Cozen Test?
Cozen Test is used to indicates lateral epicondylitis of the elbow joint or the "Tennis Elbow", another names of this test include: "resisted wrist extension test" or "resistive tennis elbow test".
See Also: Tennis Elbow
How do you perform the Cozen Test?
The patient is seated for the examination. The examiner immobilizes the elbow with one hand while the other hand lies at on the dorsum of the patient's fist.
The patient is then requested to dorsiflex the wrist against the resistance of the examiner's hand.
Alternatively, the examiner may attempt to press the fist, which the patient holds with the wrist firmly extended, into flexion against the patient's resistance.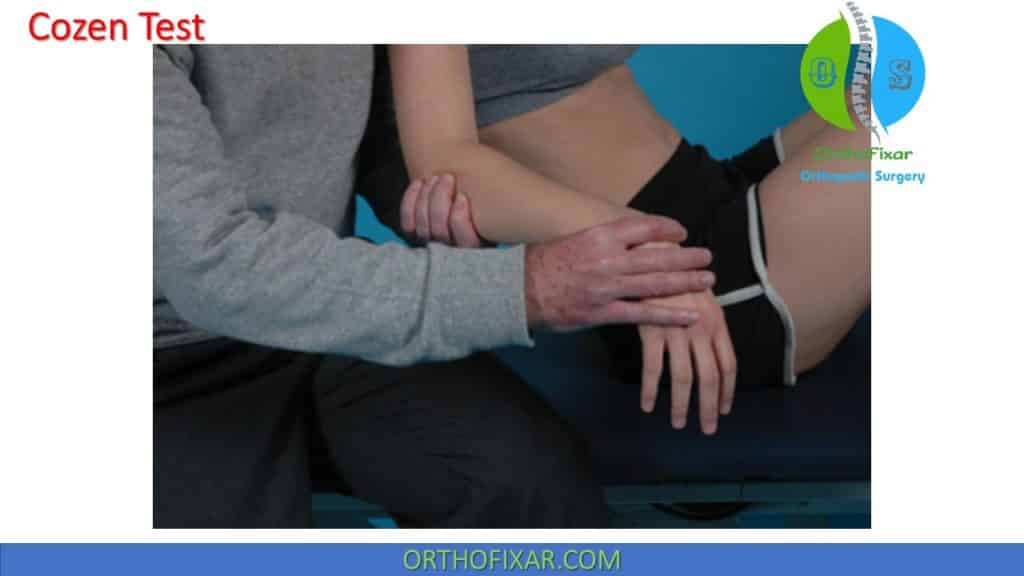 What does a positive Cozen Test mean?
Cozen Test is positive when there is localized pain in the lateral epicondyle of the humerus or pain in the lateral extensor compartment that suggests epicondylitis.
Clinicians have reported differentiating between the extensor carpi radialis longus (resistance over the second metacarpal) and the extensor carpi radialis brevis (resistance over the third metacarpal). Although this may be possible, often both may present with a positive finding and the area of local palpable tenderness is at or near the lateral epicondyle.
Sensitivity & Specificity
A study by G Saroja 1 to analyse the accuracy of Provocative tests in lateral epicondylitis (Cozen's test, Maudsley test and Mills sign) found that Cozen's test has a high sensitivity but no specificity:
Sensitivity: 84 %

Specificity: 0 %
Reference
Saroja, G., Aseer P, A. and P M, V. (2014). DIAGNOSTIC ACCURACY OF PROVOCATIVE TESTS IN LATERAL EPICONDYLITIS. International Journal of Physiotherapy and Research, 2(6), pp.815-823. Link
Budoff JE, Nirschl RP. Office examination of the elbow how provocative tests can help clinch the diagnosis Consultant. 200 1 ;4 1 :7
Peterson M, Butler S, Eriksson M, SvardsuddK. A randomized controlled trial of exercise versus wait-list in chronic tennis elbow (lateral epicondylosis). Ups J Med Sci. 1 1 6(4) 269-279.
Clinical Tests for the Musculoskeletal System 3rd Edition.
Dutton's Orthopaedic Examination, Evaluation, And Intervention 3rd Edition.
Last Reviewed
May 7, 2022
Contributed by
OrthoFixar
Orthofixar does not endorse any treatments, procedures, products, or physicians referenced herein. This information is provided as an educational service and is not intended to serve as medical advice.