Post
Slipped Capital Femoral Epiphysis
Slipped Capital Femoral Epiphysis is a disorder of proximal femoral epiphysis where there is a slippage of the epiphysis relative to the femoral neck.
SCFE is caused by weakness of perichondrial ring and slippage through hypertrophic zone of the growth plate. The femoral epiphysis remains in the acetabulum, and the neck is displaced anteriorly and rotates externally.
Epidemiology
Slipped Capital Femoral Epiphysis SCFE is seen most often in obese adolescent African American boys during their rapid growth spurt (10-16 years of age).
Boys are more commonly affected than girls (2:1). Black children are more commonly affected than white ones (2:1). Occasional patients have a positive family history.
The left hip is affected more common than the right one (2:1), from 25% to 40% of cases are bilateral. When bilateral slips occur, the second slip usually occurs within 12 to 18 months of the initial slip.
See Also: Legg-Calvé-Perthes Disease
Etiology of Slipped Capital Femoral Epiphysis:
Several factors have been suggested as a cause of Slipped Capital Femoral Epiphysis, they include:
Local trauma.
Mechanical factors (especially obesity, growth spurts, and puberty).
Inflammatory conditions.
Endocrine disorders (e.g., hypothyroidism, hypopituitarism, and chronic renal disease).
Genetic factors.
Down syndrome.
Seasonal variations.
There are many factors support the hypothesis that all patho-mechanisms of SCFE are traumatic:
Erosion of the antero-superior articular cartilage.
Damage to the posterolateral acetabular labrum.
Cartilaginous erosion and a transverse cleft on the anterior surface of the femoral head.
Shear forces are generally the main causative factors, torsional forces also play a role in SCFE.
See Also: Developmental Dysplasia of the Hip Risk Factors
Classification
Slipped Capital Femoral Epiphysis traditionally has been classified according to the stability, the duration of symptoms and the severity of the slip.
Classification based on Stability:
It's Developed by Loder, and it is prognostic for the severe complication of osteonecrosis of the femoral head.
| Stability | Weight Bearing Ability | Prognosis |
| --- | --- | --- |
| Stable SCFE | The patient can weight bearing with or without crutches. | Minimal risk of osteonecrosis (<10%) |
| Unstable SCFE | The patient can't weight bearing because of severe pain. | high risk of osteonecrosis (~47%) |
Classification based on duration of symptoms:
| Type | Duration of Symptoms |
| --- | --- |
| Acute | Symptoms are less than 3 weeks duration. |
| Chronic | Symptoms are less more than 3 weeks duration. |
| Acute on chronic | Exacerbation of chronic symptoms. |
Classification based on severity of the slip:
| Grade | Degree of slippage |
| --- | --- |
| Grade I | 0-33% of slippage |
| Grade II | 34-50% of slippage |
| Grade III | 50% of slippage |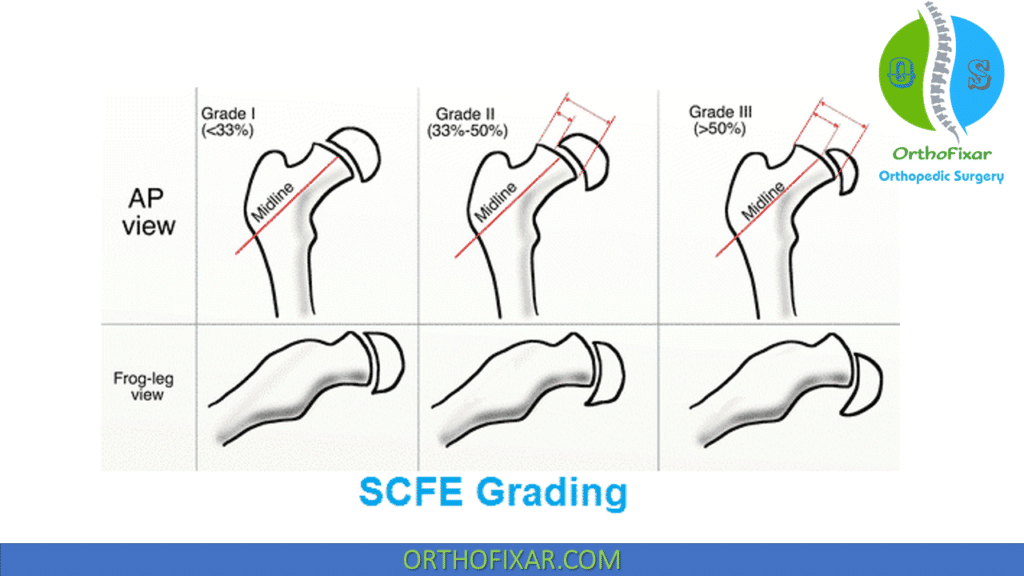 SCFE Symptoms
The child present with pain in the groin, medial thigh, or knee.
With Physical examination there is a limitation of hip motion, especially internal rotation. Often flexing the hip make the leg rotates externally in a frog-leg position.
Patients with chronic slips may have mild or moderate shortening of the affected extremity, the leg may be in fixed external rotation, and a Trendelenburg gait may be present if the slip is of a moderate degree.
Radiographic Evaluation
The diagnostic SCFE radiology view is usually anteroposterior AP.
A cross-table, or true, lateral view can help determine the extent of posterior displacement of the epiphysis, and a "frog-leg" lateral view best shows subtle slipping.
Radiographic findings of SCFE:
The Klein line is a line along the anterior or superior aspect of the femoral neck that normally is intersected by the epiphysis. In early slips, the epiphysis is flush with or below this line.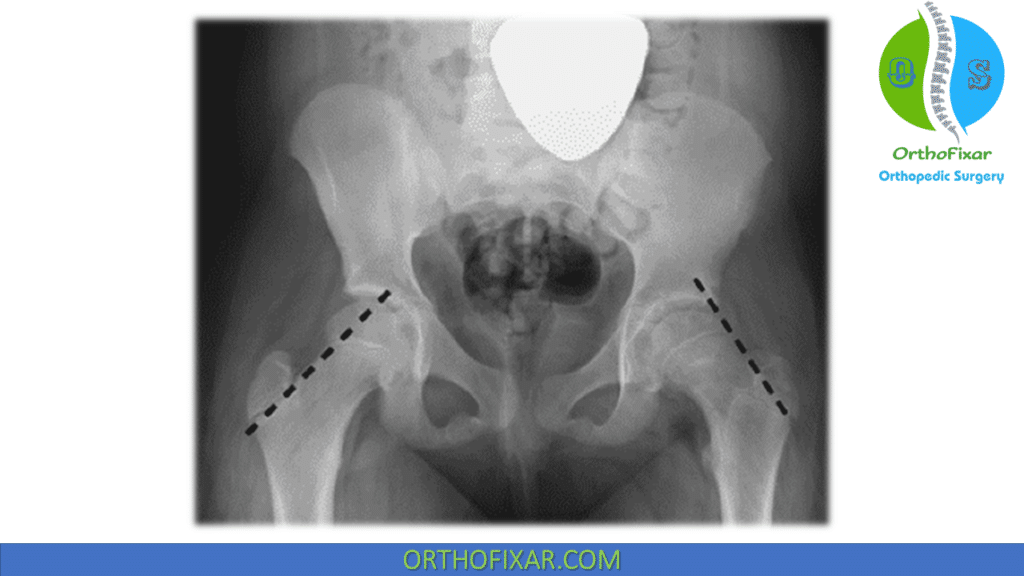 Blanch sign: A double density that is seen at the metaphysis when a femoral head is even mildly slipped posteriorly on the AP radiograph as compared with the contralateral hip.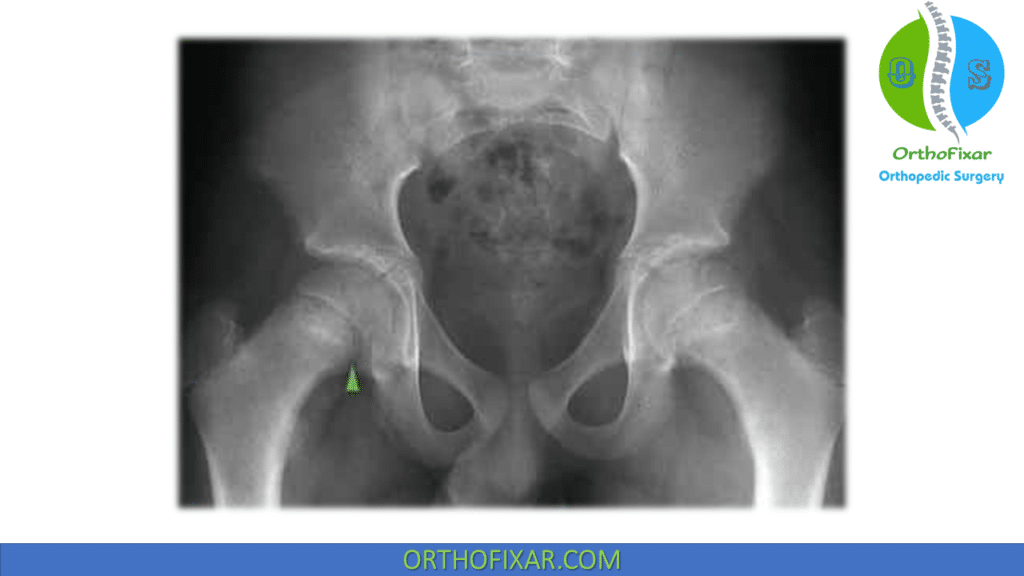 A modification of this measurement considered a slip to have occurred if the maximal width of the epiphysis lateral to the Klein line differed 2 mm or more from the contralateral hip. This modification was reported to improve sensitivity from 40% to almost 80%.
Ultrasonography and MRI have been used for diagnosis and evaluation of Slipped Capital Femoral Epiphysis SCFE.
MRI Findings include:
Growth plate widening.
Increased signal of the metaphysis.
Edema around the physis.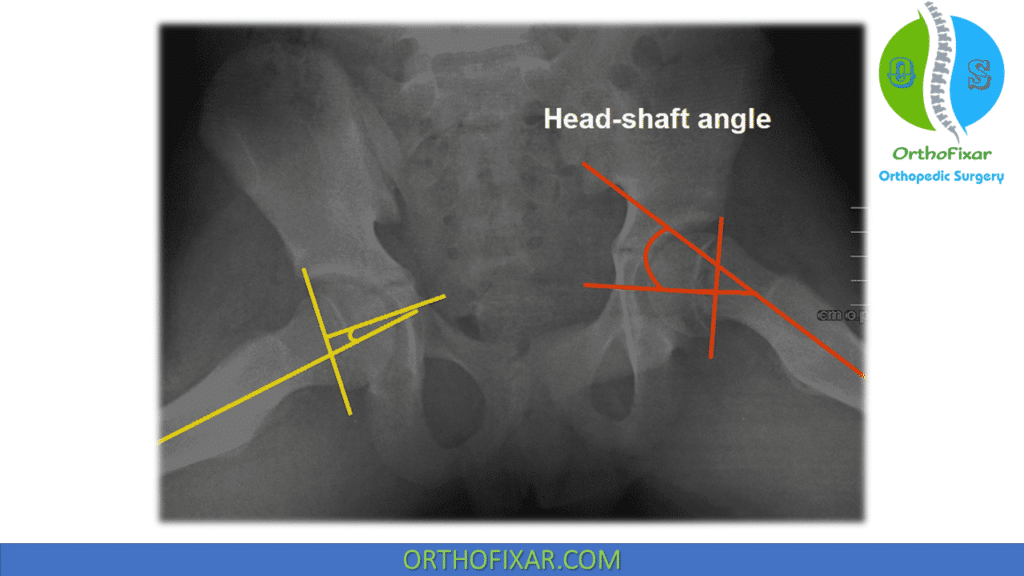 SCFE Treatment
The main goals of Slipped Capital Femoral Epiphysis SCFE treatment are:
Prevent additional slipping of the epiphysis.
Stimulate early physeal closure,
Avoid the complications of osteonecrosis, chondrolysis, and osteoarthritis.
Nonoperative treatment by traction and spica cast immobilization is rarely used today in Slipped Capital Femoral Epiphysis treatment because of its complications.
Operative Treatment
Pinning In-Situ:
Pinning in situ is the recommended treatment for stable and unstable Slipped Capital Femoral Epiphysis SCFE. It's recommended to use a single, larger-diameter central pin or screw.
Forceful reduction before pinning is not indicated as it can cause Avascular necrosis (AVN). It is best to manipulate only severe, acute (unstable) slips that may be technically difficult or impossible to pin in situ.
Open reduction, limited osteotomy, and internal fixation, if necessary, have been recommended if a severe acute or chronic slip cannot be reduced closed.
Pin or screw should not be removed until the physis closes.
Prophylactic pinning of the opposite hip is generally recommended in patients with an endocrinopathy or in young children (<10 years) or with an open triradiate cartilage.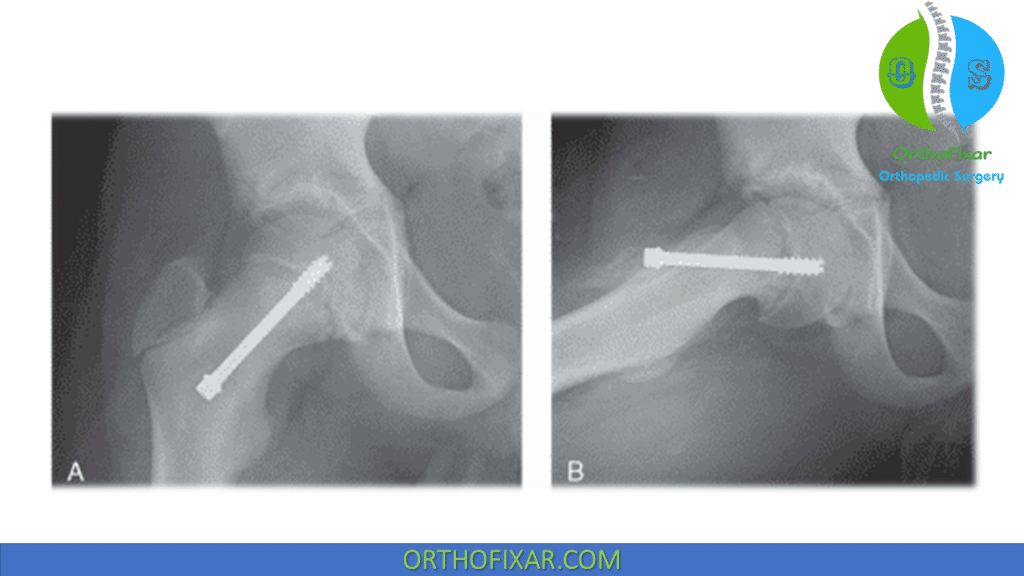 Osteotomy:
Indications for osteotomy include:
Problems with gait, sitting or cosmetic appearance at more than 1 year after stabilization because of the capacity of the capital femoral epiphysis to remodel.
Malunion of a chronic slip in poor position; a malunited slipped epiphysis differs from a chronic slip only in that in the former the physis has fused and further slipping does not occur.
There are many types of osteotomy to correct Slipped Capital Femoral Epiphysis deformity:
Closing wedge osteotomy through the femoral neck, usually near the physis to correct the deformity, incidences of osteonecrosis (2% to 100%) and chondrolysis (3% to 37%).
Compensatory osteotomy through the trochanteric region to produce a deformity in the opposite direction.
Other techniques include:

The technique of Fish.
The technique of Dunn just distal to the slip.
The subcapital realignment technique of Leuing et al.
The base of the neck technique of Kramer et al.
The technique of Abraham et al.
Slipped Capital Femoral Epiphysis Complications
Osteonecrosis: Osteonecrosis occurs in 10% to 40% of patients with acute unstable SCFE.
Chondrolysis: Characterized by narrowed joint space (< 3 mm), pain, and decreased motion. Pin placement into the anterior superior quadrant of the femoral head has the highest rate of joint penetration. It's associated with inadvertent pin penetration into the joint.
Degenerative joint disease: Pistol-grip deformity of the proximal femur. Slip progression occurs in up to 2% of cases treated with in situ pinning.
References & More
Campbel's Operative Orthopaedics 12th edition Book.
Millers Review of Orthopaedics -7th Edition Book.
Johns K, Mabrouk A, Tavarez MM. Slipped Capital Femoral Epiphysis. [Updated 2022 Nov 14]. In: StatPearls [Internet]. Treasure Island (FL): StatPearls Publishing; 2022 Jan-. Available from: https://www.ncbi.nlm.nih.gov/books/NBK538302/
Peck DM, Voss LM, Voss TT. Slipped Capital Femoral Epiphysis: Diagnosis and Management. Am Fam Physician. 2017 Jun 15;95(12):779-784. PMID: 28671425.
Last Reviewed
February 9, 2023
Contributed by
OrthoFixar
Orthofixar does not endorse any treatments, procedures, products, or physicians referenced herein. This information is provided as an educational service and is not intended to serve as medical advice.