Special Test
Wartenberg Sign
What is Wartenberg Sign?
Wartenberg Sign is a neurological test that is used in evaluation of Ulnar nerve motor weakness. It was described by Robert Wartenberg who was a clinical neurologist and professor (1887-1956).
How do you perform the Wartenberg Sign?
The patient is asked to hold his fingers fully adducted with metacarpophalangeal joint (MCP), proximal interphalangeal joints (PIP), and distal interphalangeal joints (DIP) joints fully extended.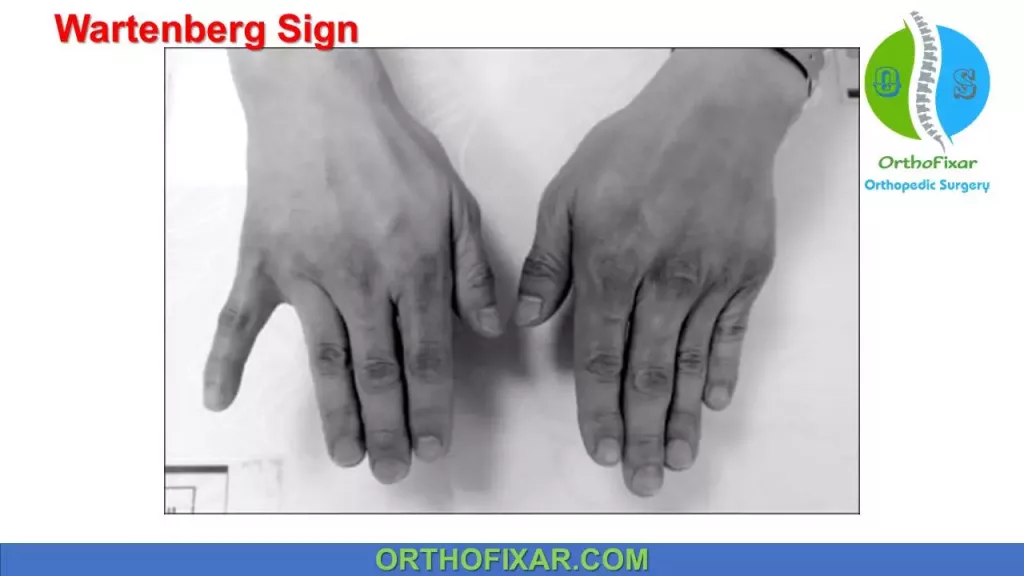 What does a positive Wartenberg Sign mean?
Wartenberg Sign is considered positive if small finger drifts away into abduction from other fingers, indicating an injury to the ulnar nerve.
This due to the unopposed action of extensor digiti minimi that is innervated by the radial nerve.
Note
This sign could be confused with Wartenberg Syndrome or Cheralgia Paresthetica, in which the Superficial radial nerve becomes compressed as it comes superficial at brachioradialis and ECRB interval in distal forearm causing sensory disturbance, it's characterized by pain and tenderness 1 to 2 cm proximal to the radial styloid, and radicular pain distally along the course of the superficial radial nerve elicited by percussion.
There may be different causes for the denervation and muscle imbalance of intrinsic hand muscles ,in particular the palmar interosseous muscle, to the little finger including:
An ulnar nerve neuropathy usually from ulnar nerve entrapment somewhere along its course.
Cervical myelopathy: most commonly due to mechanical compression of the spinal cord in the neck as occurs in spondylotic cervical spinal stenosis.
Upper motor neuron disorders of the cerebral cortex such as mild hemiplegic stroke or hemiplegic migraine where the same clinical finding has been called the "digiti quinti sign".
Differentiation of the cause of Wartenberg sign is based on associated clinical findings in the history and examination, sometimes investigations including radiographs and/or MRI of the cervical spine, conduction studies and EMG are required.
Ulnar nerve
Ulnar nerve (C8,T1) is a branch of the medial cord of brachial plexus.
It gives motor branches to:
Flexor carpi ulnaris muscle (FCU).
Ulnar half of flexor digitorum profundus muscle (FDP).
Hypothenar muscles.
Abductor digiti minimi muscle.
Opponens digiti minimi muscle.
Flexor digiti minimi muscle.
Interossei muscles.
3rd and 4th lumbricals muscles.
Adductor pollicis muscle.
And sometimes deep head of flexor pollicis brevis muscle.
Sensory distribution is over ulnar 1 ½ fingers and ulnar aspect of hand.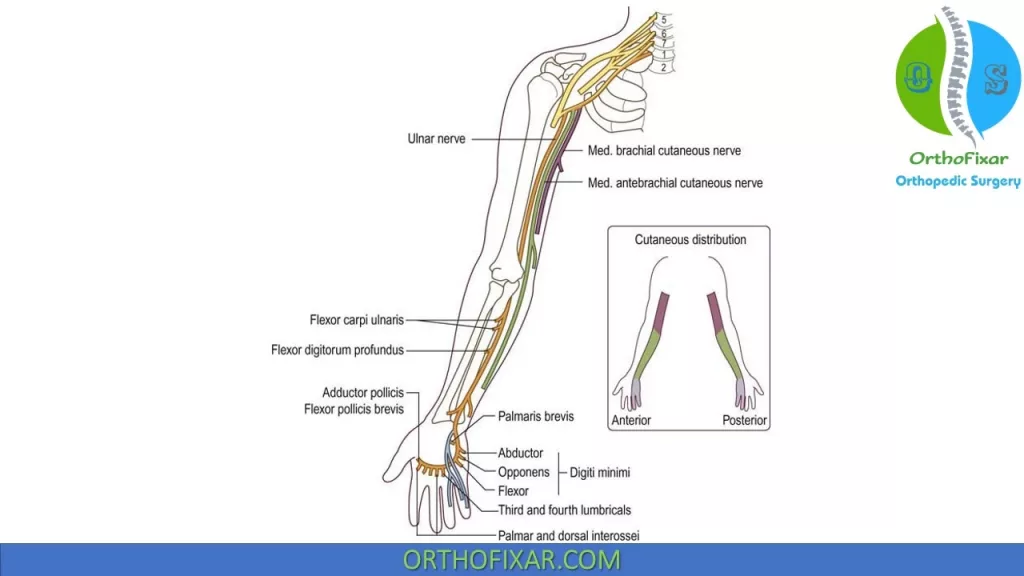 Reference
Kilgus M, Burg D, Loss M, Weishaupt D, Meyer VE. Das Wartenberg-Zeichen des Nervus ulnaris. Ein Beitrag zur Pathophysiologie und Differenzialdiagnose1 [Wartenberg's Sign of Ulnar Nerve Lesion. A Contribution to Pathophysiology and to the Differential Diagnosis]. Handchir Mikrochir Plast Chir. 2003 Jul;35(4):251-8. German. doi: 10.1055/s-2003-42134. PMID: 12968223.
Wartenberg R: Cheiralgia paresthetica (isolierte neuritis des ramus superficialis nervi radialis). Ztschr Ges Neurol Psychiatr 141:145–155,1932.

Mark Dutton, Pt . Dutton's Orthopaedic Examination, Evaluation, And Intervention, 3rd Edition Book.

Millers Review of Orthopaedics, 7th Edition Book.
Campbel's Operative Orthopaedics 13th edition book.
Last Reviewed
April 19, 2022
Contributed by
OrthoFixar
Orthofixar does not endorse any treatments, procedures, products, or physicians referenced herein. This information is provided as an educational service and is not intended to serve as medical advice.