Special Test
Shoulder Painful Arc Test
Painful Arc Test of the shoulder is used to detect the presence of the subacromial impingement. The pain occurs in abduction between 60° and 120°.
How do you perform the Painful Arc Test?
The patient stands and, while being observed by the clinician, is asked to actively abduct the involved arm in scapular plane to full elevation.
See Also: Neer Test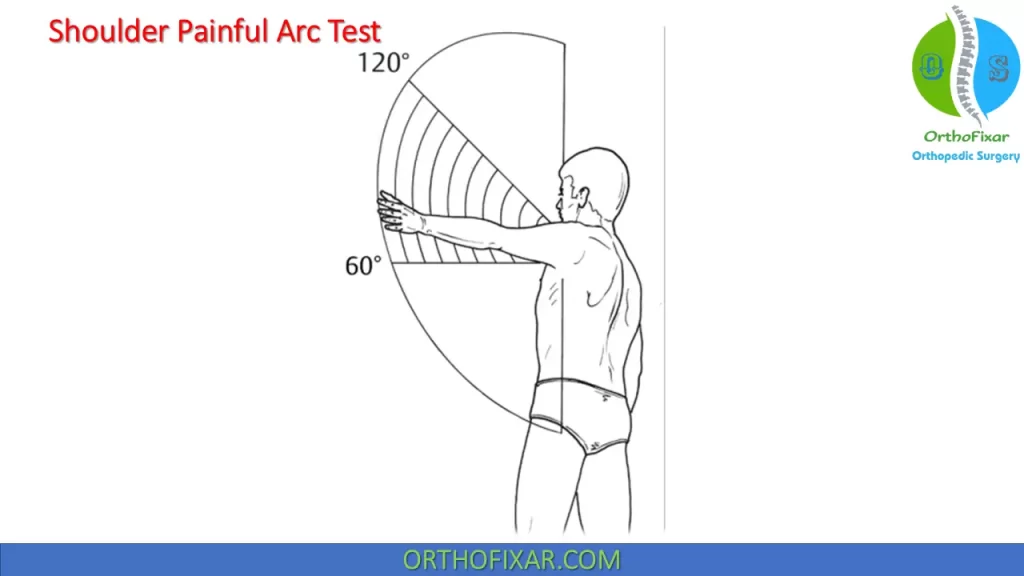 What is the positive Painful Arc Test?
A positive test for subacromial impingement is indicated if the patient reports shoulder pain in the 60–120-degree range (Where the supraspinatus tendon becomes impinged between the greater tubercle of the humerus and the acromion in this phase of the motion "subacromial impingement" ).
Pain outside this range is considered a negative test, and pain that increases in severity as the arm reaches 180 degrees is indicative of a disorder of the acromioclavicular joint pathology.
See Also: Subacromial Impingement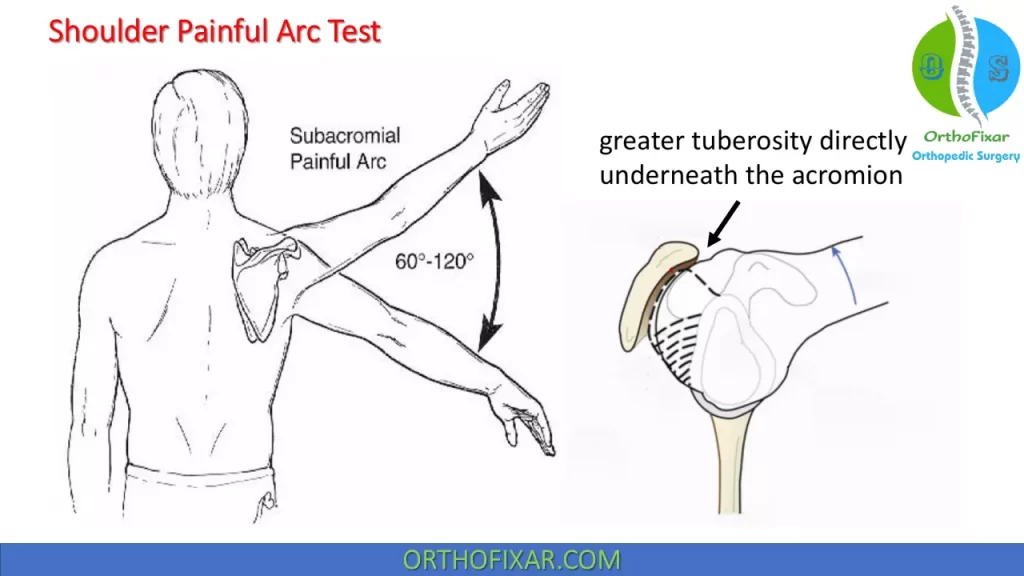 Accuracy
Hermann found that the painful arc test was positive in 48.9% of 50 patients with degenerative impingement.
Although this test is good at detecting subacromial impingement, a positive finding is unlikely to aid the clinician in determining a specific diagnosis as there are a number of conditions that can be provoked with arm elevation.
Since both the Neer impingement sign and the Hawkins–Kennedy test each has low specificity values, addition of the painful arc sign (which has a higher reported specificity) may improve overall diagnostic accuracy when all three maneuvers are used in a composite exam to diagnose subacromial impingement.
| Population | Reference Standard | Sens | Spec | +LR | -LR |
| --- | --- | --- | --- | --- | --- |
| Pooled estimates from four studies (n = 756) | Impingement syndrome diagnosed by arthroscopy and ultrasound | .53 (.31, .74) | .76 (.68, .84) | 2.3 (1.2, 4.1) | .62 (.37, 1.0) |
| 552 patients with shoulder pain | All impingement | .74 | .81 | 3.9 | .32 |
| 552 patients with shoulder pain | Bursitis | .71 | .47 | 1.3 | .62 |
| 552 patients with shoulder pain | Partial thickness rotator cuff tear | .67 | .47 | 1.3 | .70 |
| 125 painful shoulders | Subacromial impingement diagnosed via subacromial injection | .33 | .81 | 1.74 | .83 |
Notes
Initially till 45–60°, the structures are not pinched and hence the patient would be able to abduct with little difficulty. As the patient abducts further (60–120°), the structures impinge and he/she is often unable to abduct fully because of pain. If full abduction is possible, the pain diminishes after approximately 120° as the pinched soft tissues have passed under the acromion process.
In the evaluation of the active and passive ranges of motion, the patient can often avoid the painful arc by externally rotating the arm while abducting it. This increases the clearance between the acromion and the diseased tendinous portion of the rotator cuff , avoiding impingement in the range between 60 and 120°.
In addition to complete or incomplete rotator cuff tears, swelling and inflammation as a result of bursitis, scapulothoracic dyskinesias, abnormalities of the margin of the acromion, and occasionally osteoarthritis in the acromioclavicular joint lead to impingement with a painful arc.
Pain in the acromioclavicular joint occurs between 140 and 180° of abduction. Increasing abduction leads to increasing compression and torsion in the joint.
See Also: Scapulothoracic Dyskinesis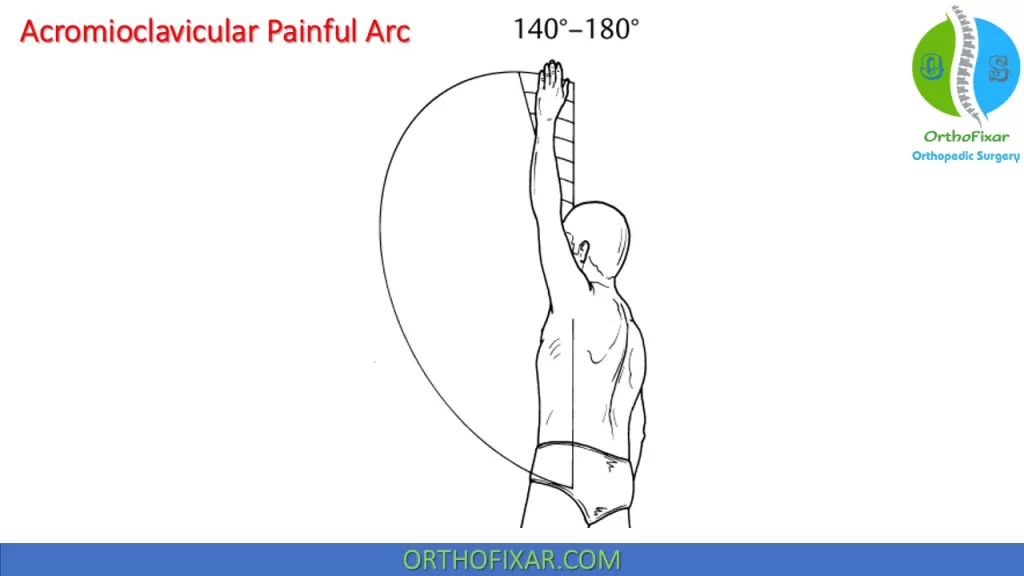 References
Kessel L, Watson M. The painful arc syndrome. Clinical classification as a guide to management. J Bone Joint Surg Br. 1977 May;59(2):166-72. doi: 10.1302/0301-620X.59B2.873977. PMID: 873977.
Hegedus EJ, Goode AP, Cook CE, Michener L, Myer CA, Myer DM, Wright AA. Which physical examination tests provide clinicians with the most value when examining the shoulder? Update of a systematic review with meta-analysis of individual tests. Br J Sports Med. 2012 Nov;46(14):964-78. doi: 10.1136/bjsports-2012-091066. Epub 2012 Jul 7. PMID: 22773322.
Park HB, Yokota A, Gill HS, El Rassi G, McFarland EG. Diagnostic accuracy of clinical tests for the different degrees of subacromial impingement syndrome. J Bone Joint Surg Am. 2005 Jul;87(7):1446-55. doi: 10.2106/JBJS.D.02335. PMID: 15995110.
Caliş M, Akgün K, Birtane M, Karacan I, Caliş H, Tüzün F. Diagnostic values of clinical diagnostic tests in subacromial impingement syndrome. Ann Rheum Dis. 2000 Jan;59(1):44-7. doi: 10.1136/ard.59.1.44. PMID: 10627426; PMCID: PMC1752990.
Hermann B, Rose DW: Stellenwert von Anamnese und klinischer Untersuchung beim degenerativen Impingement Syndrom im Vergleich zu operativen Befunden-eine prospektive Studie. Z Orthop Ihre Grenzgeb 134:166–170, 1996.
Akgun K, Karamehmetoglu SS, Sahin € U, et al: Subakromiyal sikisma € sendromu klinik tanisinda sikisma (Neer) testinin € onemi. Fizik Tedavi ve Rehabilitasyon Dergisi 22:5–7, 1997.
Netter's Orthopaedic Clinical Examination An Evidence-Based Approach 3rd Edition Book.
Dutton's Orthopaedic Examination, Evaluation, And Intervention 3rd Edition.
Last Reviewed
December 31, 2022
Contributed by
OrthoFixar
Orthofixar does not endorse any treatments, procedures, products, or physicians referenced herein. This information is provided as an educational service and is not intended to serve as medical advice.