Special Test
Roos Test
Roos Test is a provocative maneuver used to diagnosis of Thoracic Outlet Syndrome (TOS). It mainly induces dynamic compression of the neural structures of the brachial plexus.
This test is also referred to as the hands-up test, or the elevated arm stress test.
See Also: Thoracic Outlet Syndrome (TOS)
How do you perform the Roos Test?
The patient is positioned sitting. The arm is positioned in 90 degrees of shoulder abduction, and 90 degrees of elbow flexion. The patient is asked to perform slow finger clenching for 3 minutes. The radial pulse may be reduced or obliterated during this maneuver, and an infraclavicular bruit may be heard.
The patient is encouraged to describe any sensation felt during this process.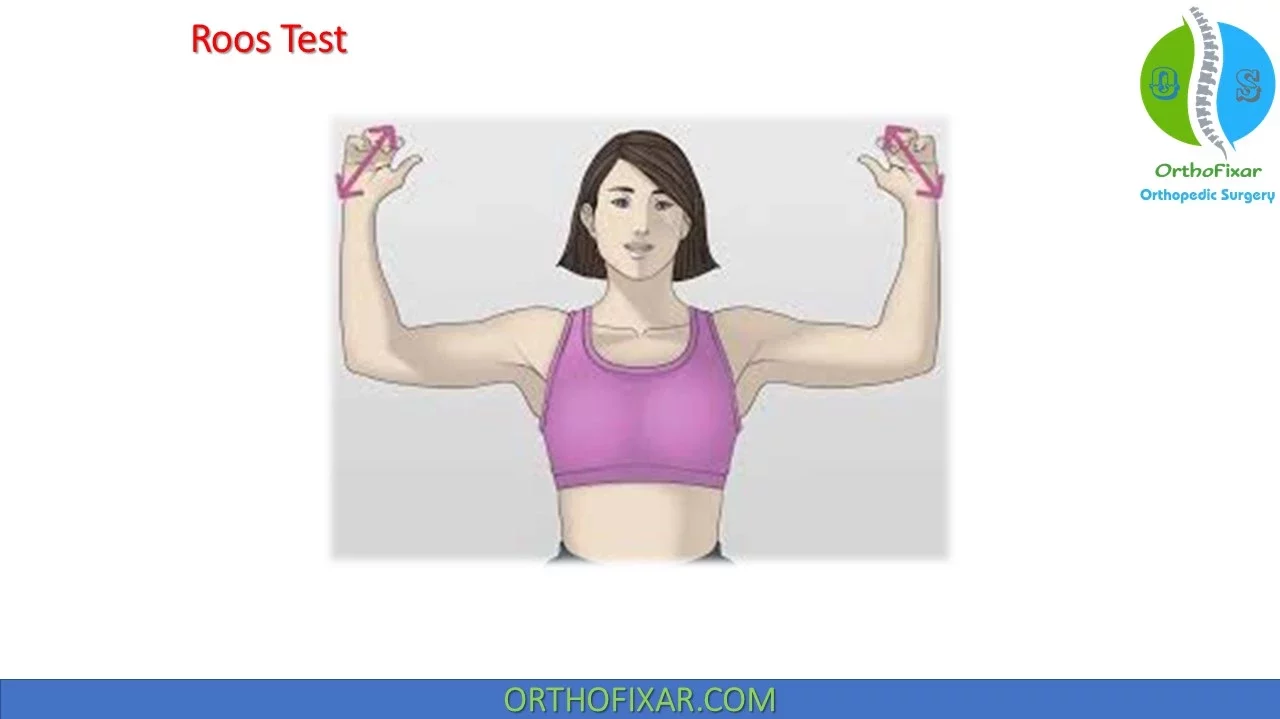 See Also:
What does a positive Roos Test mean?
If the patient is unable to maintain the arms in the start position for 3 minutes, diminished motor function of the hands, or reports pain, heaviness, or numbness and tingling, the test is considered positive for Thoracic Outlet Syndrome TOS on the involved side.
Accuracy
This test has been reported to produce a high rate of false positives on at least one occasion. The sensitivity of Roos test has been reported to range from 0.52 to 0.84 with a specificity between 0.30 and 1.00
Although the Roos Test is a neurological induced test, one study investigates the microvascular responses during the Roos maneuver in patients with suspected TOS, where the presence of symptoms was significantly associated with ischemia. The study found that the sensitivity was 62% and the specificity was 66% for this test.
A false positive Roos Test was observed in 77% in one study. This study concluded that current provocative maneuvers used to diagnose TOS result in a high false-positive rate in normal subjects and an even higher false-positive rate in CTS patients.
See Also: Brachial Plexus Anatomy
Notes
This test evaluates both neural and vascular structures and is considered to be the most accurate clinical test for assessing thoracic outlet syndrome.
The examiner may find muscle fatigue present when performing the Roos Test for an otherwise healthy population and should therefore use caution when documenting such findings with potential pathologically involved subjects.
Thoracic Outlet Syndrome is a compression of the neurovascular structures as they exit the thorax above the first rib is known as thoracic outlet syndrome. It has many origins. Compression can cause pain and paresthesias in the arm and shoulder. This syndrome is part of the differential diagnosis of shoulder pain. Its symptoms can easily be confused with much more common disorders such as rotator cuff tendinitis. Several maneuvers have been described to help diagnose this condition.
References
Roos DB. Congenital anomalies associated with thoracic outlet syndrome. Anatomy, symptoms, diagnosis, and treatment. Am J Surg. 1976 Dec;132(6):771-8. doi: 10.1016/0002-9610(76)90456-6. PMID: 998867.
Roos OB. Historical perspectives and anatomic considerations. Thoracic outlet syndrome. Semin Thorac Cardiovasc Surg. l 996;8(2) : 183-189.
Henni S, Hersant J, Ammi M, Mortaki FE, Picquet J, Feuilloy M, Abraham P. Microvascular Response to the Roos Test Has Excellent Feasibility and Good Reliability in Patients With Suspected Thoracic Outlet Syndrome. Front Physiol. 2019 Feb 21;10:136. doi: 10.3389/fphys.2019.00136. PMID: 30846945; PMCID: PMC6393400.
Nord KM, Kapoor P, Fisher J, Thomas G, Sundaram A, Scott K, Kothari MJ. False positive rate of thoracic outlet syndrome diagnostic maneuvers. Electromyogr Clin Neurophysiol. 2008 Mar;48(2):67-74. PMID: 18435210.
Plewa MC, Delinger M. The false-positive rate of thoracic outlet syndrome shoulder maneuvers in healthy subjects. Acad Emerg Med. 1998;5(4): 337–42.
Rayan GM, Jensen C. Thoracic outlet syndrome: provocative examination maneuvers in a typical population. J Shoulder Elbow Surg. 1995;4(2):113–7.
Dutton's Orthopaedic Examination, Evaluation, And Intervention 3rd Edition.
Sarvdeep S. Dhatt, Sharad Prabhakar – Handbook of Clinical Examination in Orthopedics.
Last Reviewed
December 31, 2022
Contributed by
OrthoFixar
Orthofixar does not endorse any treatments, procedures, products, or physicians referenced herein. This information is provided as an educational service and is not intended to serve as medical advice.