Procedure
Tennis Elbow Surgery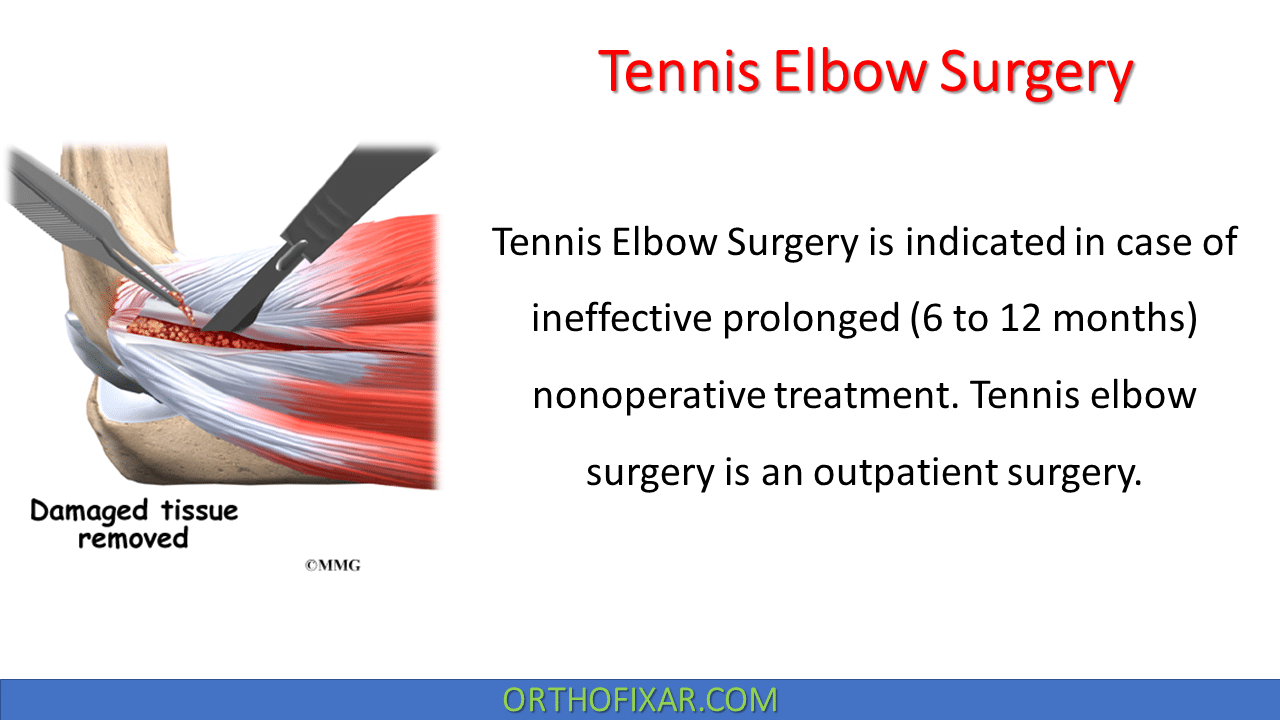 Tennis Elbow Surgery is indicated in case of ineffective prolonged (6 to 12 months) nonoperative treatment. Tennis elbow surgery is an outpatient surgery.
Tennis elbow is the most common cause of lateral elbow pain. It's characterized by pain near the lateral epicondyle that is aggravated by contraction of the extensor muscles, particularly when gripping an object. It commonly affects adults of working age and can affect the individual's ability to work and engage with other activities, including sport.
See Also: Lateral Epicondylitis
Tennis Elbow Surgery Steps
Create a gently curved incision, 5 cm in length, directly over the lateral epicondyle.
Cut through the deep fascia along the same line as the incision and carefully retract it. Locate the extensor carpi radialis longus and the origin of the extensor digitorum communis, which partially obstructs the origin of the deeper extensor carpi radialis brevis.
Lift the brevis portion of the conjoined tendon at the middle of the lateral epicondyle towards the elbow joint.
Identify and remove any diseased tissue that appears abnormal, such as fibrillated or discolored tissue with calcium deposits. This should be done while preserving the normal-appearing Sharpey fibers that are elevated.
In some cases, the disease may have spread to the origin of the extensor digitorum communis, in which case a portion of it can be excised. Entering the joint itself is not necessary unless preoperative evaluation indicates intraarticular processes like loose bodies, degenerative joint disease, effusion, or synovial thickening.
Use a rongeur or osteotome to decorticate a small area of the lateral epicondyle, ensuring that the joint is not penetrated and the articular cartilage remains undamaged.
Secure the remaining normal tendon to the fascia or periosteum by suturing or attaching it with nonabsorbable sutures through drill holes in the epicondyle. While suture anchors can be used successfully, we do not consider them necessary.
Close the interval between the extensor carpi radialis longus and extensor digitorum communis using absorbable sutures, covering the knots made for the extensor carpi radialis brevis repair to the bone if anchors are used.
Close the skin incision using absorbable 4-0 sutures and adhesive strips.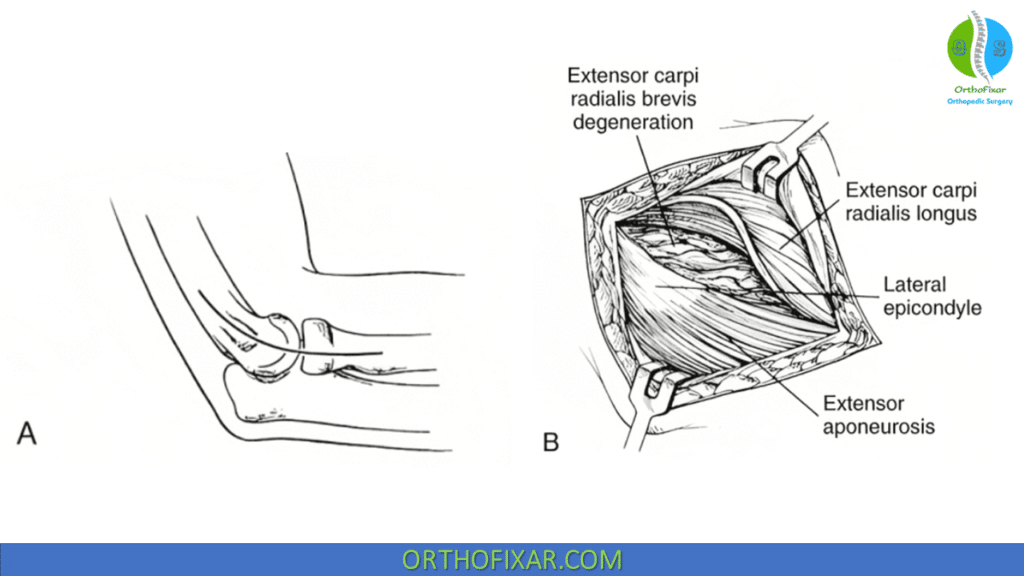 See Also: Tennis Elbow Injection
Aftercare
The splint is removed within the first week of tennis elbow surgery, and range-of-motion exercises are begun. 
After the wound has healed (10 to 14 days), therapy is continued, including edema control and rangeof-motion exercises, followed by strengthening exercises. 
Strenuous activity can be resumed within the limits of pain in 8 to 10 weeks, and full power should return in approximately 3 months. 
The rehabilitation protocol is not time dependent, but rather goal dependent, with patients passing from one phase to the next after certain goals have been met.
A systematic review suggest that tennis elbow surgery is no more effective than nonsurgical or sham interventions for patients who have already undergone a course of conservative treatment. 
References & More
Mercer's Textbook of Orthopaedics and Trauma, Tenth edition.
Bateman M, Littlewood C, Rawson B, Tambe AA. Surgery for tennis elbow: a systematic review. Shoulder Elbow. 2019 Feb;11(1):35-44. doi: 10.1177/1758573217745041. Epub 2017 Dec 11. PMID: 30719096; PMCID: PMC6348580. Pubmed
Last Reviewed
November 15, 2023
Contributed by
OrthoFixar
Orthofixar does not endorse any treatments, procedures, products, or physicians referenced herein. This information is provided as an educational service and is not intended to serve as medical advice.