Procedure
Sacrococcygeal Joint Injection
Sacrococcygeal Joint Injection is used as a treatment or diagnosis for coccydynia – strain of coccygeal ligaments, subluxation. Coccydynia can be caused by postnatal, prolonged sitting on hard surface or trauma, such as a fall onto the buttock.
coccydynia is characterized by pain localized over sacrococcygeal joint on sitting or bearing down; tender on joint line, coccyx might be subluxed.
Equipment Needed
Syringe: 1 ml
Needle: Blue, 23 gauge / 1 inch (25 mm)
Kenalog 40: 20 mg
Lidocaine: 0.5 ml 2%
Total volume: 1 ml
Related Anatomy
The ligaments at the sacrococcygeal joint line are usually tender and can be palpated both on the dorsal and ventral surfaces. The gloved finger palpates the angle of the coccyx rectally to check for subluxation of the bone.
See Also: Pelvic Anatomy
Sacrococcygeal Joint Injection Technique:
Have the patient lie face down with a small pillow beneath them.
Locate and mark the sensitive area on the upper side of the tailbone, along the joint line.
Gently insert the needle until it makes contact with the bone.
Disperse the solution around the painful ligaments by injecting it.
After coccyx injection, the individual ought to steer clear of sitting on rigid surfaces and instead employ a ring cushion for seating comfort. During a follow-up session, which typically occurs around 10 days later, there might be a need for coccyx manipulation to address any potential misalignment.
The anti-inflammatory properties of the steroid facilitate this manipulation process with reduced discomfort. The healthcare provider inserts a gloved finger into the rectum and applies a steady front-to-back motion using the other hand. On occasion, an audible clicking sound may be detected, and a few days down the line, noticeable pain relief becomes evident.
Pain in this area can be symptomatic of psychological or psychosexual distress, in which case the appropriate treatment and advice are required. With somatic pain, the protocol discussed appears to work either well or not at all. Surgery is not usually indicated or particularly successful.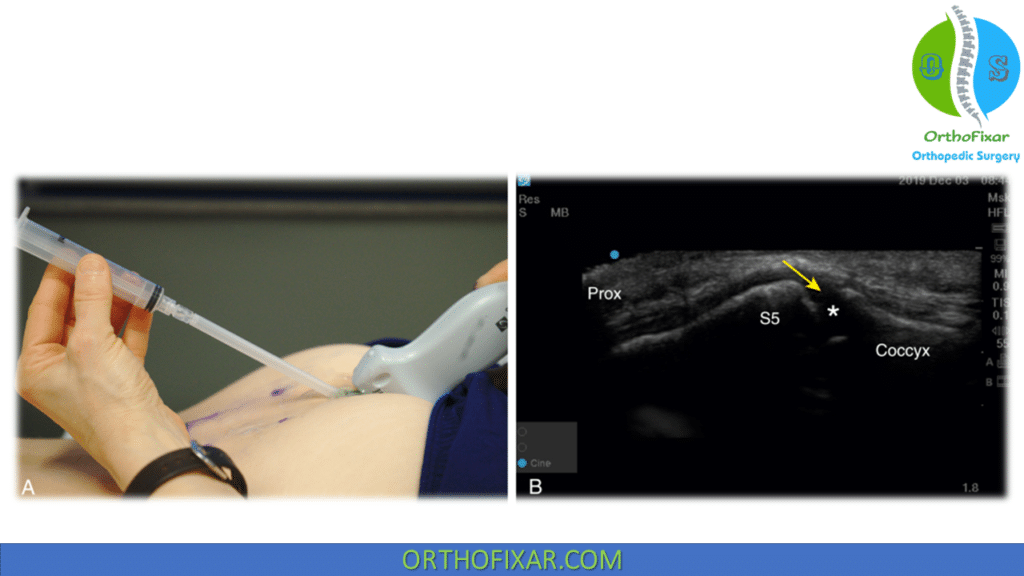 References & More
Injection Techniques in Musculoskeletal Medicine. A Practical Manual for Clinicians In Primary And Secondary Care. Fifth Edition
Last Reviewed
August 10, 2023
Contributed by
OrthoFixar
Orthofixar does not endorse any treatments, procedures, products, or physicians referenced herein. This information is provided as an educational service and is not intended to serve as medical advice.