Procedure
IT Band Injection
IT Band Injection is used as treatment option for chronic bursitis of the iliotibial band if conservative treatments failed.
IT Band chronic bursitis is characterised by pain on the outer side of the knee above the lateral femoral condyle; painful resisted abduction and passive adduction of leg. It's diagnosed usually doing Ober's test.
See Also: ITB Friction Syndrome
Related Anatomy
The iliotibial band (ITB) is a continuation of the tensor fascia lata, gluteus medius, and gluteal maximus, extending distally. It passes over the vastus lateralis and attaches to the Gerdy tubercle on the lateral tibial plateau and partly to the supracondylar ridge of the lateral femur.
An additional extension called the iliopatella band connects the lateral patella, preventing medial patellar movement. The ITB functions as a knee extensor when the knee is flexed less than 30 degrees, but it acts as a knee flexor when flexed beyond 30 degrees. With increasing degrees of flexion, the ITB is believed to move to a more posterior position in relation to the lateral femoral epicondyle.
The bursa lies deep to the iliotibial band, just above the lateral condyle of the femur, and is approximately the size of a golf ball.
Equipment Needed
Syringe: 2 ml
Needle: Blue, 23 gauge / 1.25 inches (30 mm)
Kenalog 40: 20 mg
Lidocaine: 1.5 ml, 2%
Total volume: 2 ml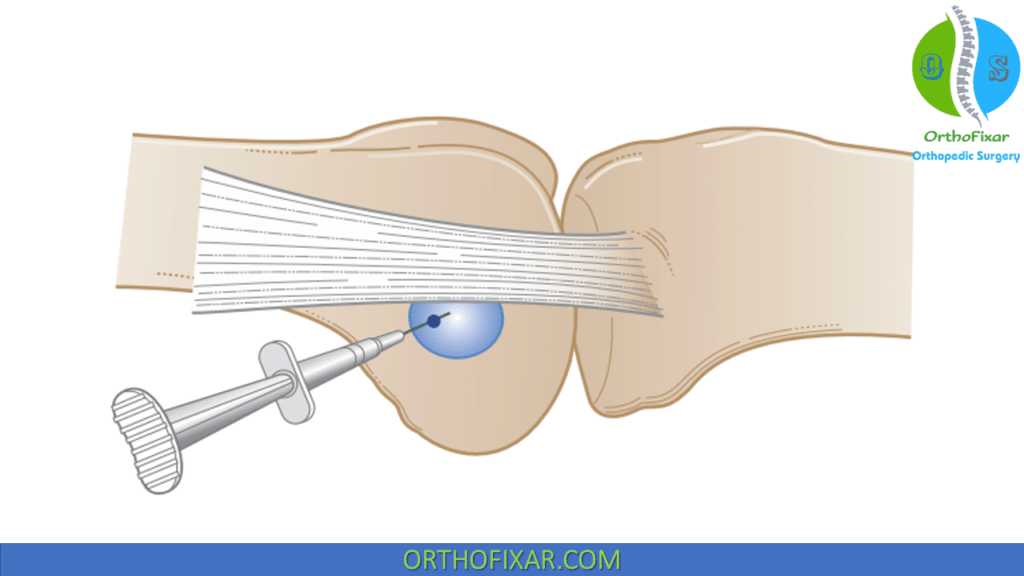 IT Band Injection Technique
Patient sits with knee supported,
Identify and mark tender area on lateral side of femur,
Insert needle into bursa, passing through tendon to touch bone,
Deposit solution as a bolus.
See Also: Snapping Hip Syndrome
Absolute rest should be maintained for about 10 days after IT Band Injection, and then a stretching and strengthening program initiated. Footwear and running technique should be assessed and corrected if necessary.
The lower end of the iliotibial tract itself can be irritated, but invariably the bursa is also at fault. If both lesions are suspected, infiltration of both at the same time can be performed by peppering a small amount into the tendinous insertion and injecting a bolus of remaining fluid into the bursa beneath.
Surgical intervention is only for refractory cases despite nonoperative management and IT band injection for more than 6 months. There are several surgical options including percutaneous or open ITB release, ITB lengthening with a Z-plasty, open ITB bursectomy, and arthroscopic ITB debridement.
References & More
Hadeed A, Tapscott DC. Iliotibial Band Friction Syndrome. [Updated 2022 May 30]. In: StatPearls [Internet]. Treasure Island (FL): StatPearls Publishing; 2022 Jan-. Available from: https://www.ncbi.nlm.nih.gov/books/NBK542185/
Injection Techniques in Musculoskeletal Medicine. A Practical Manual for Clinicians In Primary And Secondary Care. Fifth Edition
Last Reviewed
March 14, 2023
Contributed by
OrthoFixar
Orthofixar does not endorse any treatments, procedures, products, or physicians referenced herein. This information is provided as an educational service and is not intended to serve as medical advice.