Procedure
Gluteal Bursa Injection
Gluteal Bursa Injection with corticosteroid is used to treat chronic bursitis of the gluteal bursa that results from Overuse or fall onto buttock.
Chronic bursitis is characterized by pain and tenderness over the upper lateral quadrant of the buttock; painful passive flexion, abduction adduction; resisted abduction and extension.
Related Anatomy
Gluteal bursae are variable in number, size and shape. They can lie deep to the gluteal muscles on the blade of the ilium and also between the layers of the three muscles. Palpation for the center of the painful site guides the placement of the needle, but comparison between the two sides is essential because this area is always tender.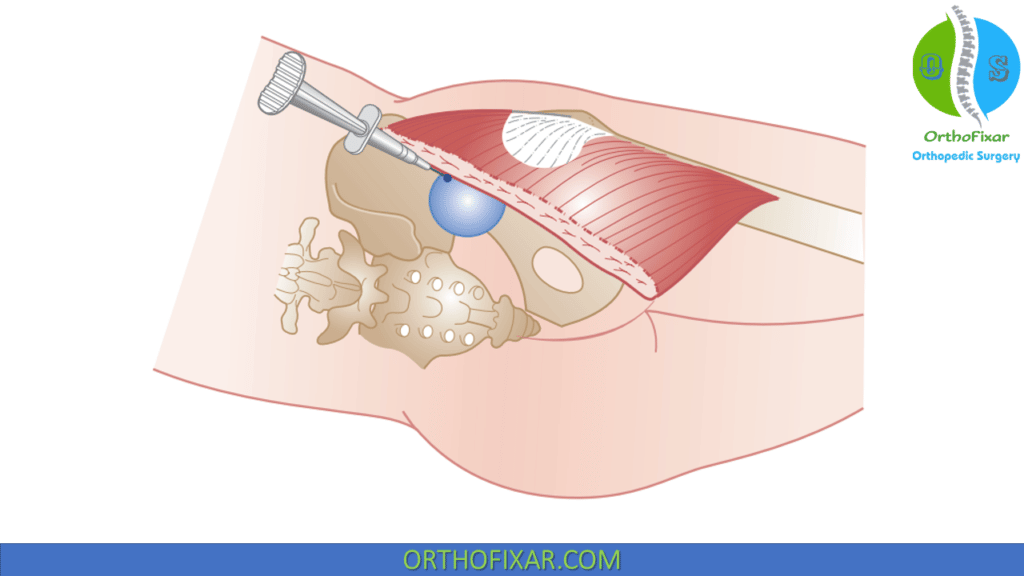 Equipment Needed
Syringe: 5 ml
Needle: Spinal , 22 gauge / 3.5 inches (90 mm)
Kenalog 40: 40 mg
Lidocaine: 4 ml, 1%
Total volume: 5 ml
Gluteal Bursa Injection Technique
Patient lies on unaffected side, with lower leg extended and upper leg flexed
Identify and mark centre of tender area in upper outer quadrant of buttock
Insert needle perpendicular to skin until it touches bone of ilium
Inject solution in areas of no resistance while moving the needle in a circular manner, out towards surface; imagine needle point walking up a spiral staircase.
There are no major blood vessels or nerves in the area of the bursae, so the injection is straightforward. Feeling for a loss of resistance beneath and within the glutei guides the clinician in depositing the fluid. Pain referred from the lumbar spine or sacroiliac joint may be mistaken for gluteal bursitis. The mere presence of tenderness midbuttock, which is normal in most individuals, should not be considered diagnostic of an inflamed bursa.
For large individuals, a longer spinal needle might be required.
References & More
Injection Techniques in Musculoskeletal Medicine. A Practical Manual for Clinicians In Primary And Secondary Care. Fifth Edition
Last Reviewed
December 2, 2022
Contributed by
OrthoFixar
Orthofixar does not endorse any treatments, procedures, products, or physicians referenced herein. This information is provided as an educational service and is not intended to serve as medical advice.