Procedure
Trochanteric Bursitis Injection
Trochanteric bursitis injection is used as a treatment method for acute or chronic bursitis that is characterized by Pain and tenderness over greater trochanter; painful passive hip abduction, adduction, possibly flexion and extension; resisted abduction. It should be considered for patients who failed conservative management
Related Anatomy
The trochanteric bursa lies over the greater trochanter of the femur. It is approximately the size of a golf ball and is usually tender to palpation.
See Also: Hip joint Anatomy
Equipment Needed
Syringe: 2 ml
Needle: Blue , 23 gauge / 1.25 inches (30 mm)
Kenalog 40: 20 mg
Lidocaine: 1.5 ml, 2%
Total volume: 2 ml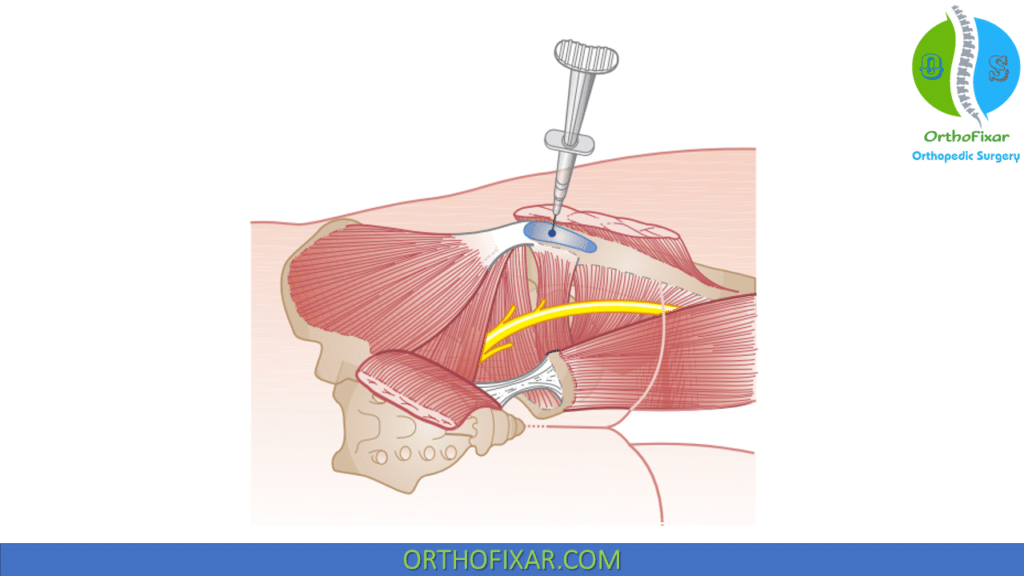 Trochanteric Bursitis Injection Technique
Patient lies on unaffected side, with lower leg flexed and upper leg extended,
Identify and mark centre of the tender area over greater trochanter,
Insert needle perpendicularly at this point and advance to touch bone,
Inject by feeling for area of no resistance, and introduce fluid as a bolus.
The patient should avoid overuse until they are pain free, with gradual return to normal activity. In the thin, older patient, lying on the same side every night on a hard mattress may be the cause; the trochanter can be padded with a large ring of sticky felt, and a change of lying position is encouraged. The mattress might also need to be replaced. Stretching of the iliotibial band may help.
Notes
A fall or direct blow onto the trochanter may cause a haemorrhagic bursitis. This calls for immediate aspiration.
Severe pain over the trochanter with rapid onset and exquisite tenderness to palpation may be caused by acute calcific bursitis, similar to that seen in the shoulder. This may be visible on x-ray and often responds extremely well to injection therapy.
In resistant or recurrent cases, consider imaging to exclude tears in the short rotator muscles of the hip.
Greater trochanteric bursitis is considered a self-limiting condition but may cause significant pain and functional impairment. Although conservative management with NSAIDs, activity modification, physical therapy, and weight reduction is often successful, trochanteric bursitis injection with corticosteroid are commonly performed to reduce pain and improve functionality.
Absolute contraindications include:
Patient refusal,
Active systemic infection,
Cellulitis over the injection site,
In patients who are significantly immunocompromised.
The risk of hemarthrosis is low, and anticoagulation medications may be continued without changes. Laboratory testing for coagulation is not required. However, patients with a recently documented supratherapeutic International Normalized Ratio (INR) should reschedule the procedure until after the INR has returned to therapeutic levels.
References & More
Le DT, Shah S. Greater Trochanteric Bursitis Injection. [Updated 2022 May 1]. In: StatPearls [Internet]. Treasure Island (FL): StatPearls Publishing; 2022 Jan-. Available from: https://www.ncbi.nlm.nih.gov/books/NBK573083/
Seidman AJ, Taqi M, Varacallo M. Trochanteric Bursitis. [Updated 2022 Nov 20]. In: StatPearls [Internet]. Treasure Island (FL): StatPearls Publishing; 2022 Jan-. Available from: https://www.ncbi.nlm.nih.gov/books/NBK538503/
Injection Techniques in Musculoskeletal Medicine. A Practical Manual for Clinicians in Primary and Secondary Care. Fifth Edition.
Last Reviewed
December 23, 2022
Contributed by
OrthoFixar
Orthofixar does not endorse any treatments, procedures, products, or physicians referenced herein. This information is provided as an educational service and is not intended to serve as medical advice.