Procedure
Frozen Shoulder Injection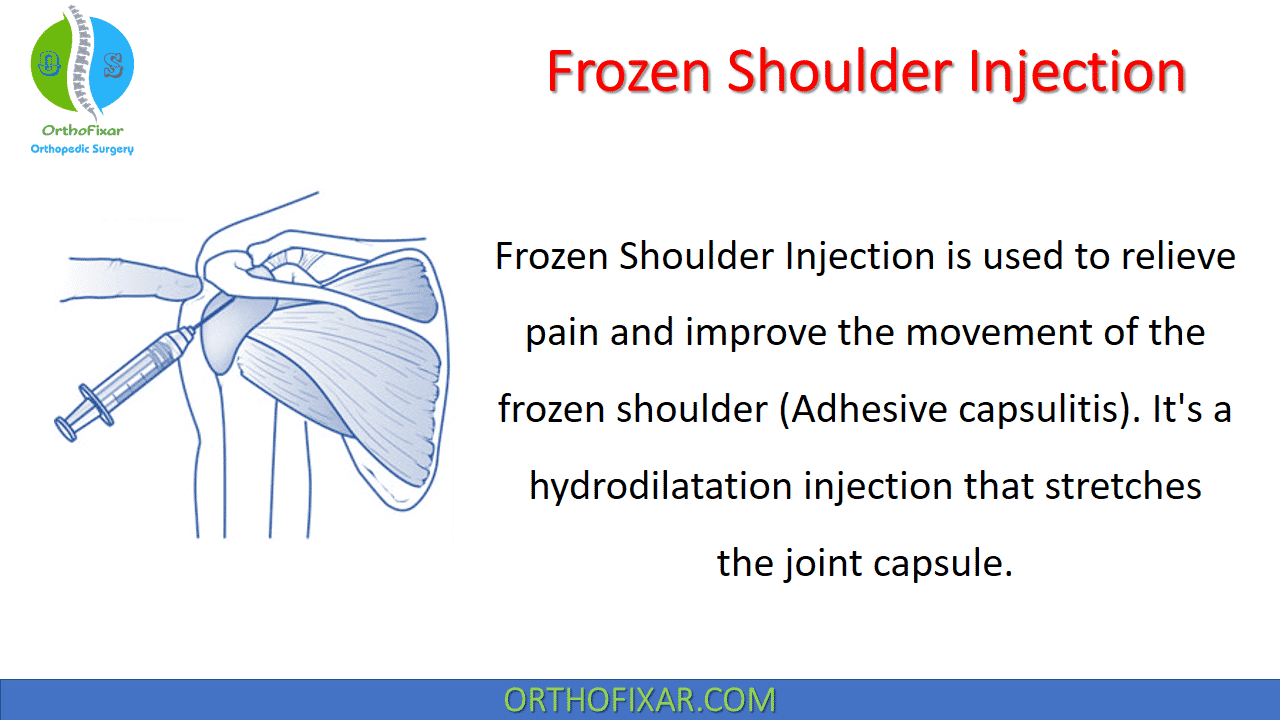 Frozen Shoulder Injection is used to relieve pain and improve the movement of the frozen shoulder (Adhesive capsulitis). It's a hydrodilatation injection that stretches the joint capsule.
There are two types of Frozen Shoulder Injection:
Steroid injection for frozen shoulder
Saline injection for frozen shoulder.
See Also: Shoulder Injection Techniques
The shoulder joint is surrounded by a large capsule, and the easiest and least painful approach is posteriorly, where there are no major blood vessels or nerves. An imaginary oblique line running anteriorly from the posterior angle of the acromion to the coracoid process passes through the shoulder joint. The needle follows this line, passing through the deltoid, infraspinatus and posterior capsule. The end point should be the sticky feel of cartilage on the head of the humerus or the glenoid.
Equipment Needed
Syringe
Needle
Kenalog 40
Lidocaine
Total volume
5 ml Green
21 gauge
1.5–2 inches
(40–50 mm)
40 mg
4 ml, 1%
5 ml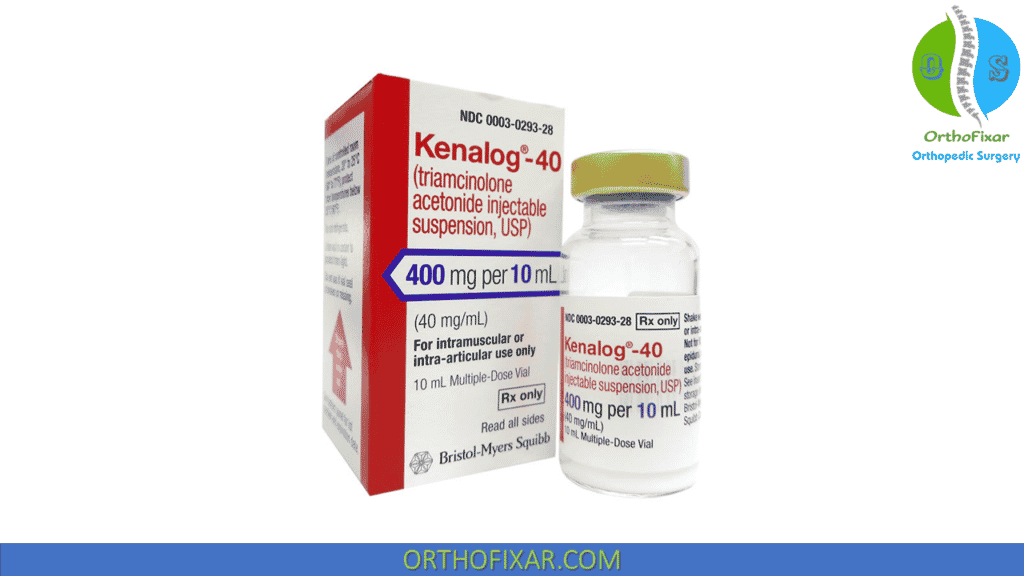 Frozen Shoulder Injection Technique
Patient sits with arms folded, thus opening up posterior joint space.
Identify posterior angle of acromion with thumb and coracoid process with index finger.
Insert needle directly below posterior angle and pass anteriorly and obliquely towards coracoid process until needle gently touches intraarticular cartilage
Inject solution as a bolus.
40 mg of Adcortyl with 40 mg of 1% LA can be used in large shoulders where more volume is required. Smaller patients may require only 30 mg.
After frozen shoulder injection, maintain mobility with pendular and stretching exercises within the pain-free range, progressing to greater stretching when pain reduces. Temporary sling support and oral analgesia can help in the acute stage. Strong passive stretching may commence when the pain abates. A strengthening and stabilizing rotator cuff program is then started, together with postural correction.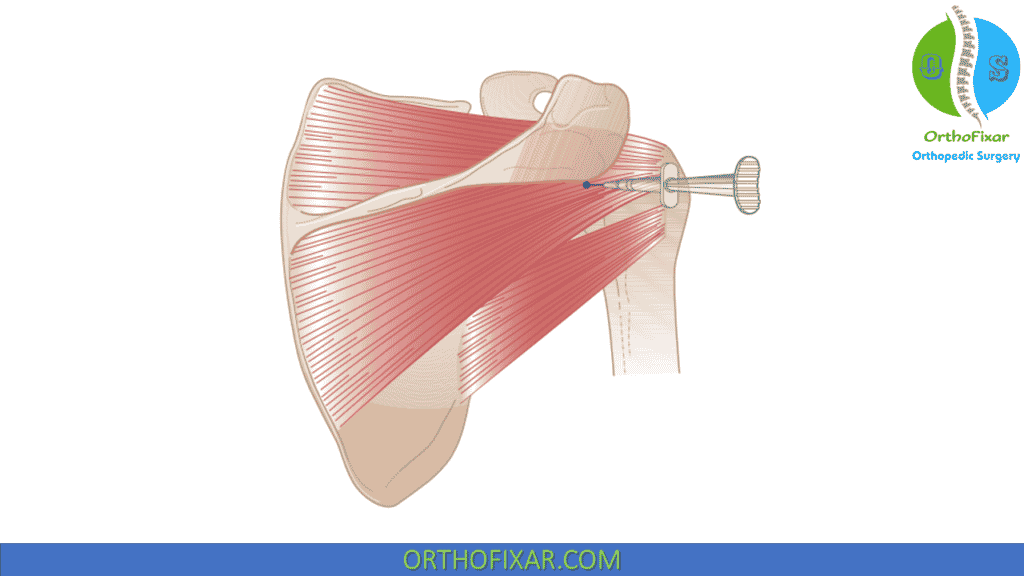 Notes
Frozen shoulder typically affects patients aged 40 to 60. In older patients, or those with obvious features of OA elsewhere, consider an x-ray for associated glenohumeral OA (looks normal in frozen shoulder). The less the radiation of pain and the earlier the joint is treated, the more dramatic may be the relief of symptoms.
Usually one injection for frozen shoulder suffices in the early stages but more can safely be given at increasing intervals; in advanced capsulitis, 4 to 6 injections may be given over about 2 months. Warn the patient that a repeat dose might be needed if symptoms are severe.
If there is resistance to the injection, the needle has probably been inserted too laterally and must be repositioned more medially.
Rarely, the posterior approach is not effective, so an anterior approach is used; the arm is held in slight lateral rotation and the needle inserted anteriorly between the coracoid process and the lesser tuberosity of the humerus, aiming posteromedially towards the spine of the scapula with the same dose and volume are used. The disadvantages to this approach are that the patient can see the needle advancing, the flexor skin surfaces are more sensitive and there are more neurovascular structures on the anterior aspect of the shoulder.
A number of conditions can coexist shoulder and neck and shoulder problems may interact, adding to potential diagnostic confusion. Reassessment after treating what appears to be the likeliest lesion may reveal another lesion. Judicious use of imaging may help. There is inconclusive evidence to support or refute the use of these injections.
Studies
Shoulder Intra articular steroid injection versus placebo 
Two studies specifically examined steroid injection for frozen shoulder alone or compared it with a placebo injection. In Roh et al's study , significant improvement in pain score at four weeks was observed in diabetic patients who received intra-articular steroid injections, as compared to those who did not receive any injection (p = 0.020), although no significant difference was seen beyond four weeks.
There were significant improvements in functional score (based on ASES) (p = 0.042), forward elevation (p = 0.030) and internal rotation (p = 0.045) in those who had corticosteroid injections at 12 weeks, but not at 24 weeks. The limitations of this study included a small sample size (n = 45) and an absence of outcome assessor blinding, which could have introduced observation bias.
Shoulder Intra articular steroid injection versus physiotherapy 
Three studies compared steroid injection with physiotherapy. In van der Windt et al's study, corticosteroid injection was compared to physiotherapy, with a follow-up period of 52 weeks. However, they did not include a placebo group. The study found significant differences for all outcomes in favour of corticosteroid injection at all follow-up sessions, with the exception of severity rating of the main complaint and abduction, in which smaller differences were observed between the groups at 26 and 52 weeks.
The authors also demonstrated treatment success (defined as complete recovery or much improvement) at seven weeks in 77% of patients treated with corticosteroid injections, as compared with 46% of those treated with physiotherapy (difference between groups 31%, 95% confidence interval [CI] 14%–48%).
Shoulder Intra articular steroid injection versus NSAID 
Only one study specifically compared intra-articular corticosteroid injection with oral NSAIDs. In this study, both the steroid injection and NSAID groups showed significant improvement for pain and ROM (24 weeks vs. two weeks, p = 0.001). At 24 weeks, there were no significant differences between intra-articular corticosteroid injection and oral NSAIDs for all outcomes. There were, however, a number of limitations in this study: unclear adequacy of allocation concealment; the absence of a placebo group for comparison; outcome assessors that were not blinded; and a high loss to follow-up rate (24%).
Comparison of intra articular steroid injection dosages
Yoon et al's study compared intra-articular triamcinolone 40 mg (high-dose group) and intra-articular triamcinolone 20 mg (low-dose group) with a placebo group. At 12 weeks, both the high- and low-dose groups showed significant improvements compared to the placebo group, in terms of pain (p < 0.001), disability (p < 0.001) and passive ROM of flexion (p < 0.01 and p = 0.08, respectively), abduction (p < 0.001) and internal rotation (p < 0.001 and p = 0.005, respectively). There was no statistically significance difference between the high- and low-dose groups for all outcomes at 12 weeks.
References
Koh KH. Corticosteroid injection for adhesive capsulitis in primary care: a systematic review of randomised clinical trials. Singapore Med J. 2016 Dec;57(12):646-657. doi: 10.11622/smedj.2016146. Epub 2016 Aug 29. PMID: 27570870; PMCID: PMC5165171.
Roh YH, Yi SR, Noh JH, et al. Intra-articular corticosteroid injection in diabetic patients with adhesive capsulitis: a randomized controlled trial. Knee Surg Sports Traumatol Arthrosc. 2012;20:1947–52.
Bal A, Eksioglu E, Gulec B, et al. Effectiveness of corticosteroid injection in adhesive capsulitis. Clin Rehabil. 2008;22:503–12.
van der Windt DA, Koes BW, Devillé W, et al. Effectiveness of corticosteroid injections versus physiotherapy for treatment of painful stiff shoulder in primary care: randomised trial. BMJ. 1998;317:1292–6. 
Ryans I, Montgomery A, Galway R, Kernohan WG, McKane R. A randomized controlled trial of intra-articular triamcinolone and/or physiotherapy in shoulder capsulitis. Rheumatology (Oxford) 2005;44:529–35.
Dehghan A, Pishgooei N, Salami MA, et al. Comparison between NSAID and intra-articular corticosteroid injection in frozen shoulder of diabetic patients;a randomized clinical trial. Exp Clin Endocrinol Diabetes. 2013;121:75–9. 
Yoon SH, Lee HY, Lee HJ, Kwack KS. Optimal dose of intra-articular corticosteroids for adhesive capsulitis: a randomized, triple-blind, placebo-controlled trial. Am J Sports Med. 2013;41:1133–9.
Last Reviewed
December 17, 2022
Contributed by
OrthoFixar
Orthofixar does not endorse any treatments, procedures, products, or physicians referenced herein. This information is provided as an educational service and is not intended to serve as medical advice.