Procedure
Caudal Epidural Injection
Caudal Epidural Injection with steroid is used to treat acute or chronic low back pain or sciatica that can be caused by lifting heavy weights, prolonged sitting or insidious.
Acute or chronic low back pain or sciatica is characterized by central or bilateral pain in low back, with or without sciatica or root signs, and/or symptoms; painful flexion and usually side flexion away from pain.
In most individuals, the spinal cord terminates at the level of L1, while the thecal sac ends at S2. The purpose of this injection is to administer an anti-inflammatory solution through the sacral hiatus and into the canal. By doing so, the solution reaches the posterior aspect of the intervertebral disc, the anterior aspect of the dura mater, and any affected nerve roots in the central region.
At the apex of an equilateral triangle drawn from the posterior superior spines on the ileum to the coccyx, there are two palpable prominences known as the sacral cornua. The canal entrance is guarded by a thick ligament, and the needle placement takes into account the varying angle of the canal's curve.
See Also: Spondylolisthesis: Causes, Symptoms & Treatment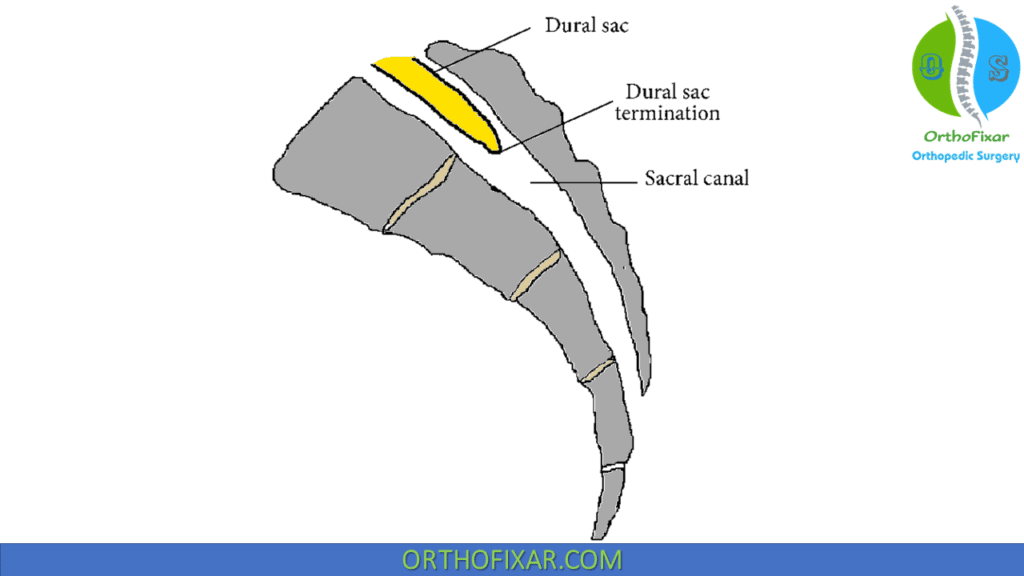 Equipment Needed
Syringe: 5 ml
Needle: Green, 21 gauge / 1.5–2 inches (40–50 mm)
Adcortyl: 40 mg
Total volume: 4 ml
Caudal Epidural Injection Technique
Position the patient lying face down with a small pillow for support.
Locate the sacral cornua, situated at the base of an imaginary triangle, using your thumb.
Introduce a needle between the cornua and pass it horizontally through the ligament.
Advance the needle a short distance along the canal, adjusting the angle to match the curve of the sacrum.
Ensure that the needle has not penetrated the thecal sac or a blood vessel by performing aspiration.
Slowly administer the solution into the epidural space.
If using a larger volume, place your flat hand on the sacrum to feel for any possible swelling caused by a suprasacral injection.
Recommend that the patient maintain an active lifestyle while staying mindful of their pain thresholds and suggest reevaluating the situation approximately ten days from now. If the initial caudal steroid injection provides only partial relief, it can be administered again as long as improvement persists.
Additionally, it is important to address the underlying causes of the back pain, such as weight management, posture, work ergonomics, proper lifting methods, exercise regimens, and strengthening the abdominal muscles.
Fluoroscopy-Guided Caudal Epidural Injection
Due to the limitations of the blind technique, some experts have suggested that caudal epidural injections should be performed under fluoroscopic guidance.
Typically, the patient is positioned in a prone position for a fluoroscopy-guided caudal epidural block. Using a lateral view on the fluoroscopy, the sacral hiatus, which is characterized by a sudden drop-off at the end of the S4 lamina, can be identified. This allows for visualization and navigation of the needle trajectory into the sacral canal. By injecting contrast medium under fluoroscopy, the correct placement of the needle tip within the sacral epidural space can be confirmed, and any intravascular or intrathecal needle tip placements can be detected.
Fluoroscopy guidance has significantly improved the success rate of caudal epidural blocks and is now considered the standard method for performing caudal blocks. However, the routine use of fluoroscopy for caudal epidural blocks is limited by factors such as radiation exposure, cost, and the need for specialized space.
Ultrasound-Guided Caudal Injection
The technique of ultrasound-guided caudal injection was initially introduced by Klocke and colleagues in 2003. Since then, it has gained significant popularity and has shown consistently high success rates, ranging from 96.9% to 100% in multiple studies conducted on diverse ethnic populations.
To perform Ultrasound-Guided Caudal Injection, the patient can be positioned either in the prone or lateral decubitus position. Typically, a 7–13 MHz linear transducer is suitable for most caudal epidural injections. However, in obese patients, a 2–5 MHz curved transducer might be required.
Initially, the ultrasound transducer is placed transversely at the midline to obtain a transverse view of the sacral hiatus. In this view, two sacral cornua can be observed as hyperechoic structures. Between these cornua, two band-like hyperechoic structures are visible. The superficial structure corresponds to the sacrococcygeal ligament (SCL), while the deeper one represents the dorsal surface of the sacral bone. The sacral hiatus, which is the target area, appears as a hypoechoic region between these two band-like structures.
Once the transverse view is obtained, the ultrasound transducer is rotated 90 degrees to acquire a longitudinal view of the sacral hiatus. Using this view, the block needle is inserted using the "in-plane" technique. Real-time ultrasound imaging allows visualization of the needle as it pierces the SCL and enters the sacral hiatus.
However, the needle cannot be seen beyond the apex of the sacral hiatus. Therefore, to prevent dural puncture, it is recommended to limit the advancement of the needle tip beyond the apex of the sacral hiatus to a maximum of 5 mm. This precaution is necessary because the distance between the apex of the sacral hiatus and the termination of the dural sac can be less than 6 mm in some cases.
Note
If there is any clear fluid or blood extracted during the procedure, it will be halted, and another attempt can be made after a few days. Sometimes, accessing the canal can be challenging, possibly due to a divided or very narrow canal, or because the sacrum is deeply curved. In such instances, a small quantity of local anesthetic can be injected into the ligament to enhance comfort while repositioning the needle.
If the affected level is above the typical L5-S1 level or if the patient is of larger build, a greater volume may be necessary. We suggest using 40 mg of Adcortyl or adding up to 9 ml of normal saline to the Kenalog in these situations.
In a randomized controlled trial study: Caudal epidural steroid injections seem to be effective when treating patients with low back pain and sciatica. They are easy to perform, less technically demanding, and with low complications compared with conservative treatment. Caudal epidural injections may offer an interesting alternative approach to managing low back pain and sciatica.
References & More
Injection Techniques in Musculoskeletal Medicine. A Practical Manual for Clinicians In Primary And Secondary Care. Fifth Edition
Murakibhavi VG, Khemka AG. Caudal epidural steroid injection: a randomized controlled trial. Evid Based Spine Care J. 2011 Nov;2(4):19-26. doi: 10.1055/s-0031-1274753. PMID: 23230402; PMCID: PMC3506149.
Kao SC, Lin CS. Caudal Epidural Block: An Updated Review of Anatomy and Techniques. Biomed Res Int. 2017;2017:9217145. doi: 10.1155/2017/9217145. Epub 2017 Feb 26. PMID: 28337460; PMCID: PMC5346404.
Renfrew D. L., Moore T. E., Kathol M. H., El-Khoury G. Y., Lemke J. H., Walker C. W. Correct placement of epidural steroid injections: fluoroscopic guidance and contrast administration. American Journal of Neuroradiology. 1991;12(5):1003–1007 [PubMed] [Google Scholar]
Barham G., Hilton A. Caudal epidurals: the accuracy of blind needle placement and the value of a confirmatory epidurogram. European Spine Journal. 2010;19(9):1479–1483. doi: 10.1007/s00586-010-1469-8. [PubMed] [Google Scholar]
Landers M. H., Aprill C. N. Epidural steroid injections. In: Lennard T. A., Vivian D. G., Walkowski S. D., Singla A. K., editors. Pain Procedures in Clinical Practice. 3rd. Elsevier Health Sciences; 2011. pp. 313–356. [Google Scholar]
Sullivan W. J., Willick S. E., Chira-Adisai W., et al. Incidence of intravascular uptake in lumbar spinal injection procedures. Spine. 2000;25(4):481–486. doi: 10.1097/00007632-200002150-00015. [PubMed] [CrossRef] [Google Scholar]
Chen C. P., Wong A. M., Hsu C.-C., et al. Ultrasound as a screening tool for proceeding with caudal epidural injections. Archives of Physical Medicine and Rehabilitation. 2010;91(3):358–363. doi: 10.1016/j.apmr.2009.11.019. [PubMed] [CrossRef] [Google Scholar]
Nikooseresht M., Hashemi M., Mohajerani S. A., Shahandeh F., Agah M. Ultrasound as a screening tool for performing caudal epidural injections. Iranian Journal of Radiology. 2014;11(2) doi: 10.5812/iranjradiol.13262.e13262 [PMC free article] [PubMed] [CrossRef] [Google Scholar]
Chen C. P. C., Tang S. F. T., Hsu T.-C., et al. Ultrasound guidance in caudal epidural needle placement. Anesthesiology. 2004;101(1):181–184. doi: 10.1097/00000542-200407000-00028. [PubMed] [CrossRef] [Google Scholar]
Last Reviewed
July 18, 2023
Contributed by
OrthoFixar
Orthofixar does not endorse any treatments, procedures, products, or physicians referenced herein. This information is provided as an educational service and is not intended to serve as medical advice.