Post
Green Classification of Trigger finger
Trigger finger is a Stenosing tenosynovitis caused by inflammation of the flexor tendon sheath, it happened mostly at the level of the A1 pulley.
There are 5 Annular Pulleys (A Pulley) 3 Cruciform pulleys (C Pulley). The most two important A pulleys are A2 and A4 pulleys. Trigger finger is classified by Green into 4 grades:
Extensor Tendon Injury of the Hand
Extensor tendon injury of the Hand is among the most common presented injuries to the ER. The most common injured finger is the long (third) finger. Read More
Green Classification of Trigger finger
In Green classification, the trigger finger condition is classified into 4 grades, begin with pain and end with locked finger in flexion position:
| Grade | Description |
| --- | --- |
| Grade I | Pain and tenderness at the A1 pulley. |
| Grade II | Catching of digit. |
| Grade III | Locking of digit; passively correctable. |
| Grade IV | Fixed, locked digit. |
Green Classification of Trigger finger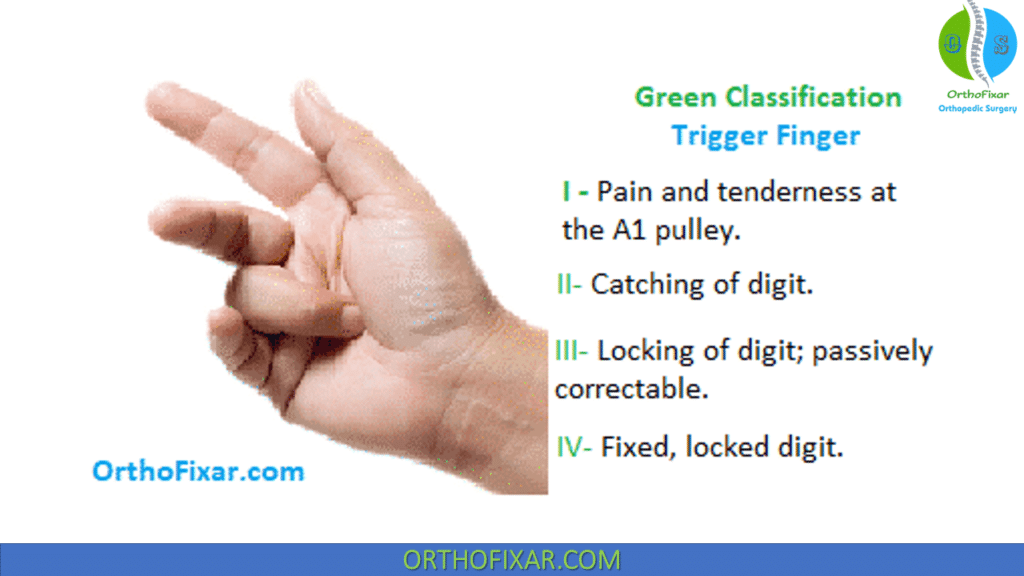 De Quervain Tenosynovitis
De Quervain Tenosynovitis is a stenosing tenosynovitis of the abductor pollicis longus and extensor pollicis brevis tendons at the 1st dorsal compartment of the wrist. It was first described by Fritz de Quervain in 1895.. Read More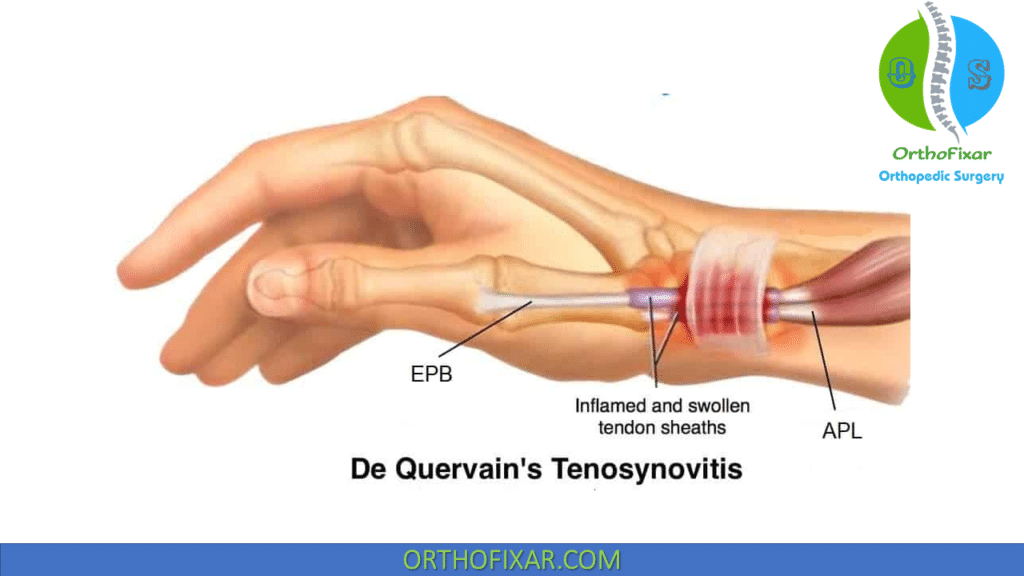 References & More
Millers Review of Orthopaedics -7th Edition Book.
Merry SP, O'Grady JS, Boswell CL. Trigger Finger? Just Shoot! J Prim Care Community Health. 2020 Jan-Dec;11:2150132720943345. doi: 10.1177/2150132720943345. PMID: 32686570; PMCID: PMC7372603.
Green D, Hotchkiss R, Pederson W, Wolfe S. Green's Operative Hand Surgery. 5th ed. Churchill Livingstone; 2005.
Last Reviewed
February 12, 2023
Contributed by
OrthoFixar
Orthofixar does not endorse any treatments, procedures, products, or physicians referenced herein. This information is provided as an educational service and is not intended to serve as medical advice.