Post
Nail Diseases
Nail Diseases include a wide range of diseases that could be due to systemic diseases or local factors affecting the nail.
Nail Diseases Diagnosis
The nails should be inspected to see if they are healthy and pink. Local trauma to the nails seldom involves more than one or two digits. The nails should be checked for finger nail infection or whether they appear ridged, which could indicate a RA dysfunction.
Clubbed nails are an indication of hypertrophy of underlying structures.
The presence of a paronychia or a pale paronychia should prompt the clinician to probe the axilla and neck lymph nodes for tenderness and swelling.
Beau lines are transverse furrows that begin at the lunula and progress distally as the nail grows. They result from a temporary arrest of growth of the nail matrix occasioned by trauma or systemic stress. With the knowledge that nails grow about 0.1 mm/day, by measuring the distance between the Beau lines and the cuticle, one may be able to approximately determine the date of the stress. For example, if the distance is 5 mm, the stress event occurred approximately 50 days before.
See Also: Hand Anatomy
Spoon nails (koilonychias) may occur in a form of iron deficiency anemia (Plummer–Vinson syndrome), coronary disease, and with the use of strong detergents.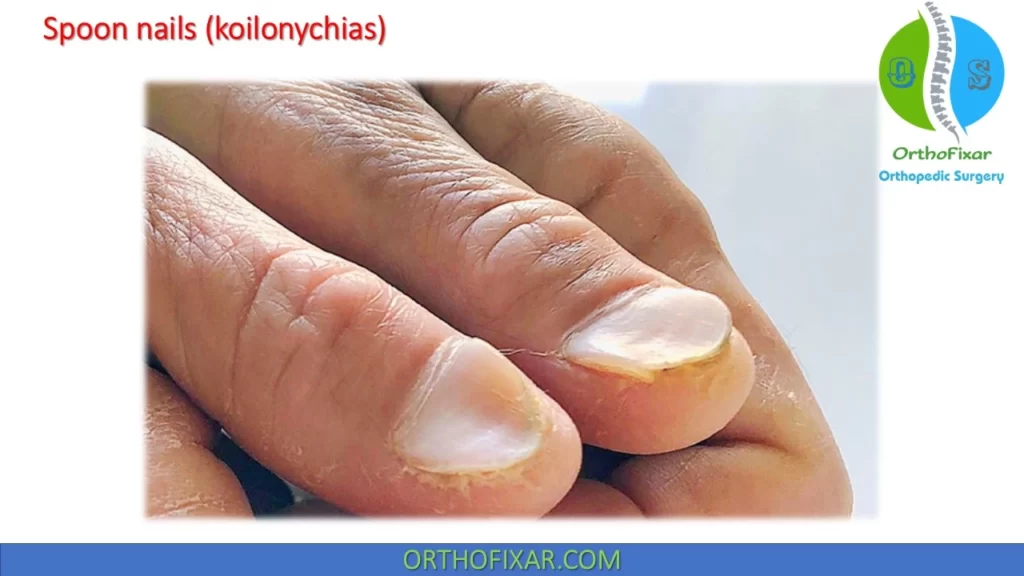 Clubbing of the nails, characterized by a bulbous enlargement of the distal portion of the digits, may occur in association with cardiovascular disease, subacute endocarditis, advanced cor pulmonale, and pulmonary disease.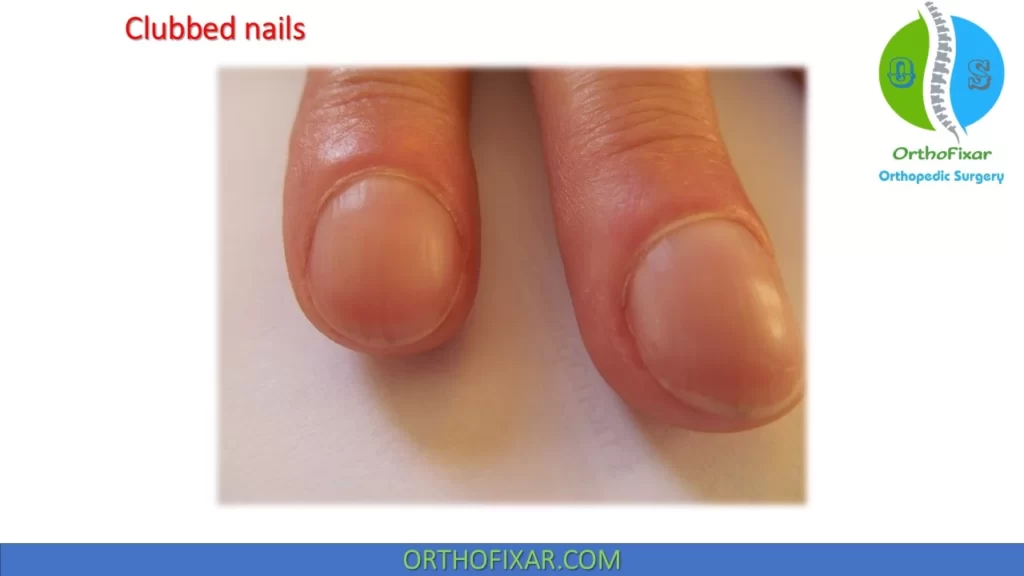 Glossary of Nail Pathology
| Nail Disease | Description | Occurrence |
| --- | --- | --- |
| Beau lines | Transverse lines or ridges marking repeated disturbances of nail growth | Systemic diseases, toxic or nutritional deficiency states of many types, trauma (from manicuring) |
| Defluvium unguium (onychomadesis) | Complete loss of nails | Certain systemic diseases such as scarlet fever, syphilis, leprosy, alopecia areata, and exfoliative dermatitis; dermatoses such as nail infection, toenail psoriasis, eczema; arsenic poisoning. |
| Diffusion of lunula unguis | Spreading of lunula | Dystrophies of the extremities |
| Eggshell nails | Nail plate thin, semitransparent bluish white, with a tendency to curve upward at the distal edge | Syphilis |
| Fragilitas unguium | Friable or brittle nails | Dietary deficiency, local trauma |
| Hapalonychia | Nails very soft, split easily | Following contact with strong alkalis; endocrine disturbances, malnutrition, syphilis, chronic arthritis |
| Hippocratic nails | Watch-glass nails associated with drumstick fingers | Chronic respiratory and circulatory diseases, especially pulmonary tuberculosis; hepatic cirrhosis |
| Koilonychia | "Spoon nails"; nails are concave on the outer surface | Dysendocrinisms (acromegaly), trauma, dermatoses, syphilis, nutritional deficiencies, hypothyroidism |
| Leukonychia | White spots or striations or rarely the whole nail may turn white (congenital type) | Local trauma, hepatic cirrhosis, nutritional deficiencies, and many systemic diseases |
| Mees lines | Transverse white bands | Hodgkin granuloma, arsenic and thallium toxicity, high fevers, local nutritional derangement |
| Moniliasis of nails | Infections (usually paronychial) caused by yeast forms (Candida albicans) | Occupational (common in food handlers, dentists, dishwashers, and gardeners) |
| Onychatrophia | Atrophy or failure of development of nails | Trauma, infection, dysendocrinism, gonadal aplasia, and many systemic disorders. |
| Onychauxis | Nail plate is greatly thickened | Mild persistent trauma, systemic diseases such as peripheral stasis, peripheral neuritis, syphilis, leprosy, hemiplegia, or at times may be congenital |
| Onychia | Inflammation of the nail matrix causing deformity of the nail plate | Trauma, infection, many systemic diseases |
| Onychodystrophy | Any deformity of the nail plate, nail bed, or nail matrix | Many diseases, trauma, or chemical agents (poisoning, allergy) |
| Onychogryposis | "Claw nails"; extreme degree of hypertrophy, sometimes with horny projections arising from the nail surface | May be congenital or related to many chronic systemic diseases (see "Onychauxis") |
| Onycholysis | Loosening of the nail plate beginning at the distal or free edge | Trauma, injury by chemical agents, many systemic diseases |
| Onychophagia | Nail biting | Neurosis |
| Onychorrhexis | Longitudinal ridging and splitting of the nails | Dermatoses, nail infections, many systemic diseases, senility, injury by chemical agents, hyperthyroidism |
| Onychoschizia | Lamination and scaling away of nails in thin layers | Dermatoses, syphilis, injury by chemical agents |
| Onychotillomania | Alteration of the nail structures caused by persistent neurotic picking of the nails | Neurosis |
| Pachyonychia | Extreme thickening of all the nails; the nails are more solid and more regular than in onychogryposis | Usually congenital and associated with hyperkeratosis of the palms and soles |
| Pterygium Nail | Thinning of the nail fold and spreading of the cuticle over the nail plate | Associated with vasopastic conditions such as Raynaud phenomenon and occasionally with hypothyroidism |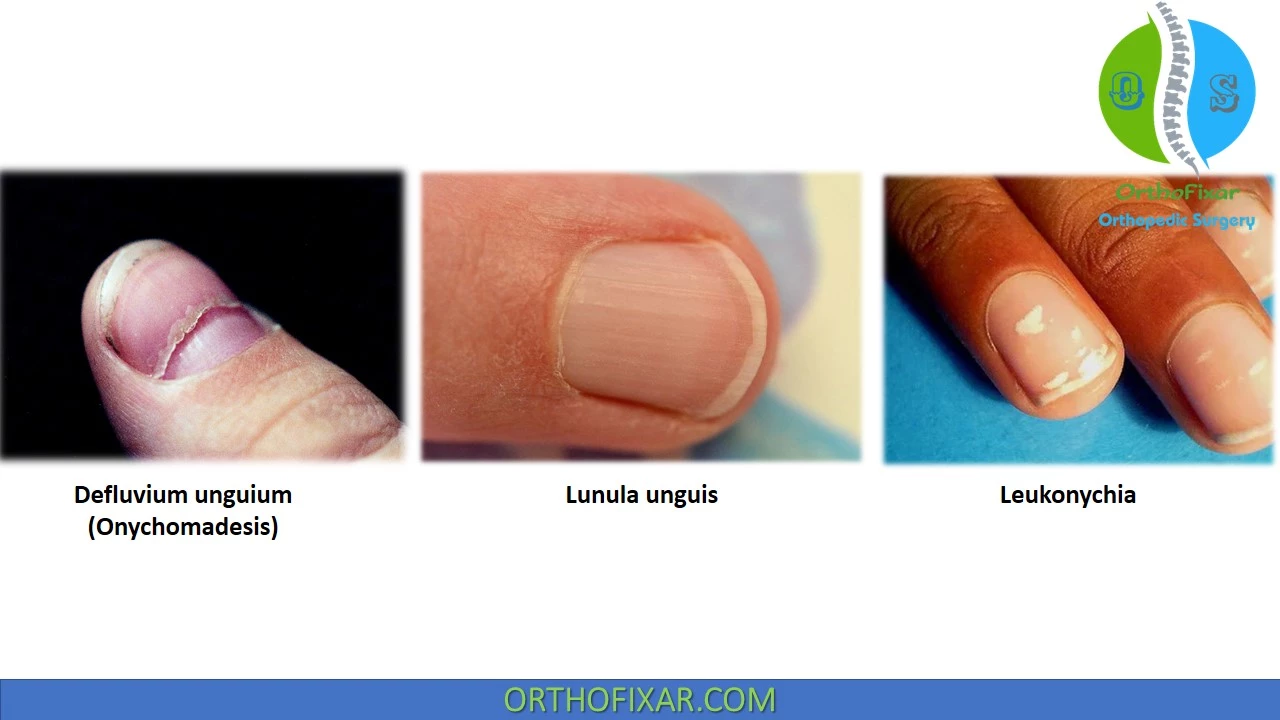 References
Berry TJ: The Hand as a Mirror of Systemic Disease. Philadelphia, PA: FA Davis Co, 1963; Judge RD, Zuidema GD, Fitzgerald FT: General appearance. In: Judge RD, Zuidema GD, Fitzgerald FT, eds. Clinical Diagnosis, 4th ed. Boston, MA: Little, Brown and Company, 1982:29–47.
Judge RD, Zuidema GD, Fitzgerald FT: General Appearance. In: Judge RD, Zuidema GD, Fitzgerald FT, eds. Clinical Diagnosis, 4th ed. Boston, MA: Little, Brown and Company, 1982:29–47.
Wollina U, Nenoff P, Haroske G, Haenssle HA. The Diagnosis and Treatment of Nail Disorders. Dtsch Arztebl Int. 2016 Jul 25;113(29-30):509-18. doi: 10.3238/arztebl.2016.0509. PMID: 27545710; PMCID: PMC5527843.
Bodman MA, Krishnamurthy K. Onychomycosis. [Updated 2021 Aug 3]. In: StatPearls [Internet]. Treasure Island (FL): StatPearls Publishing; 2022 Jan-. Available from: https://www.ncbi.nlm.nih.gov/books/NBK441853/
Rathod DG, Sonthalia S. Spoon Nails. [Updated 2021 Dec 20]. In: StatPearls [Internet]. Treasure Island (FL): StatPearls Publishing; 2022 Jan-. Available from: https://www.ncbi.nlm.nih.gov/books/NBK559311/
Abdullah L, Abbas O. Common nail changes and disorders in older people: Diagnosis and management. Can Fam Physician. 2011 Feb;57(2):173-81. PMID: 21321168; PMCID: PMC3038811.
Dutton's Orthopaedic Examination, Evaluation, And Intervention 3rd Edition.
Last Reviewed
July 11, 2023
Contributed by
OrthoFixar
Orthofixar does not endorse any treatments, procedures, products, or physicians referenced herein. This information is provided as an educational service and is not intended to serve as medical advice.