Special Test
Prone Knee Flexion Test
Prone Knee Flexion Test for Lumbar Spine is used to differentiates between lumbar spine pain and sacroiliac joint pain.
How do you do the Prone Knee Flexion Test?
Place the patient in prone position.
The examiner bends the patient's knee and tries to bring the heel as far as possible toward the buttocks.
First the patient should passively give way, but then try to extend the leg against the resistance of the examiner's hand.
See Also: Lasegue Test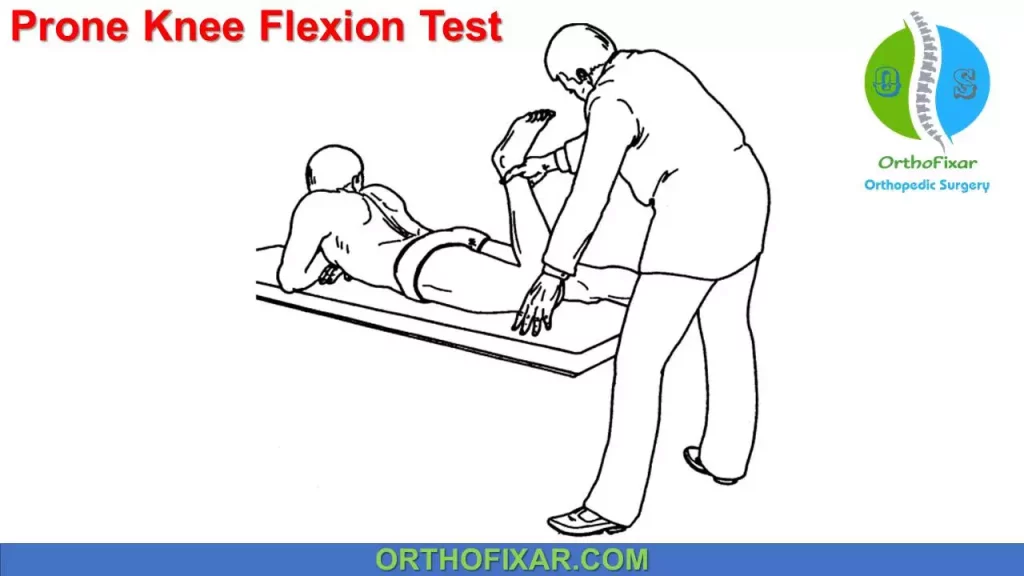 What does a positive Prone Knee Flexion Test mean?
Prone Knee Flexion Test for Lumbar Spine is considered positive when there is a feeling of tension first in the sacroiliac joint, then in the lumbosacral junction, and lastly in the lumbar spine.

Pain in the sacroiliac joint or in the lumbosacral or lumbar areas without radicular, radiating pain suggests degenerative changes and/or ligament insufficiency.

Increase in radicular pain indicates intervertebral disk injury.
Unilateral nerve root pain in the lumbar spine, in the buttock region, and over the posterior thigh suggest L2/ L3 nerve root injury.
During this test, the femoral nerve will also be stretched. The occurrence of pain and/ or paresthesia in the anterior thigh indicates tight quadriceps, quadriceps lesion, or femoral nerve irritation.
This test should be performed when there is suspicion of changes in the pelvic ligaments and intervertebral disks.
Prone Knee Flexion Test Accuracy
Cibulka and colleagues examined 219 patients with and without low back and sacroiliac joint mediated pain to examine the sensitivity, the specificity, and the positive and negative predictive values of four commonly used SIJ tests: the standing flexion test, PSIS palpation while seated, the long sitting test, and the prone knee flexion test. SIJ dysfunction was considered positive if at least three of the four tests were positive.
The combination of these tests yielded a sensitivity of 82 %, a specificity of 88 %, a positive predictive value of 86 %, and a negative addictive value of 84 %.
However, because the individual test results were not documented, no conclusion can be made about isolated validity.
Reference
Clinical Tests for the Musculoskeletal System, Third Edition book.
Cibulka MT, Koldehoff R: Clinical usefulness of a cluster of sacroiliac joint tests in patients with and without low back pain. J Orthop Sports Phys Ther 29:83–89; discussion 90–92, 1999.
L D Herron, H C Pheasant: Prone knee-flexion provocative testing for lumbar disc protrusion. L D Herron et al. Spine (Phila Pa 1976). Jan-Feb 1980. PMID: 6444765
Last Reviewed
July 19, 2023
Contributed by
OrthoFixar
Orthofixar does not endorse any treatments, procedures, products, or physicians referenced herein. This information is provided as an educational service and is not intended to serve as medical advice.