Special Test
Lhermitte Sign
Lhermitte Sign (also called Lhermitte's phenomenon) is an electric shock like sensation that occurs on neck flexion. It differentiates between spinal cord lesions and peripheral nerve root lesions.
The sensation radiates down the spine, often into the legs, arms, and sometimes to the trunk.
It was first introduced by Pierre Marie and Chatelin in 1917. Then it was named after Jean Lhermitte who was a French neurologist.
See Also: Lasegue Test (Straight Leg Raise Test)
How do you perform the Lhermitte Sign?
The patient sits with outstretched legs on the examination table.
The examiner grasps the patient's foot with one hand and places the other on the back of the patient's head.
The examiner then simultaneously flexes the outstretched leg at the hip and increasingly flexes the cervical spine.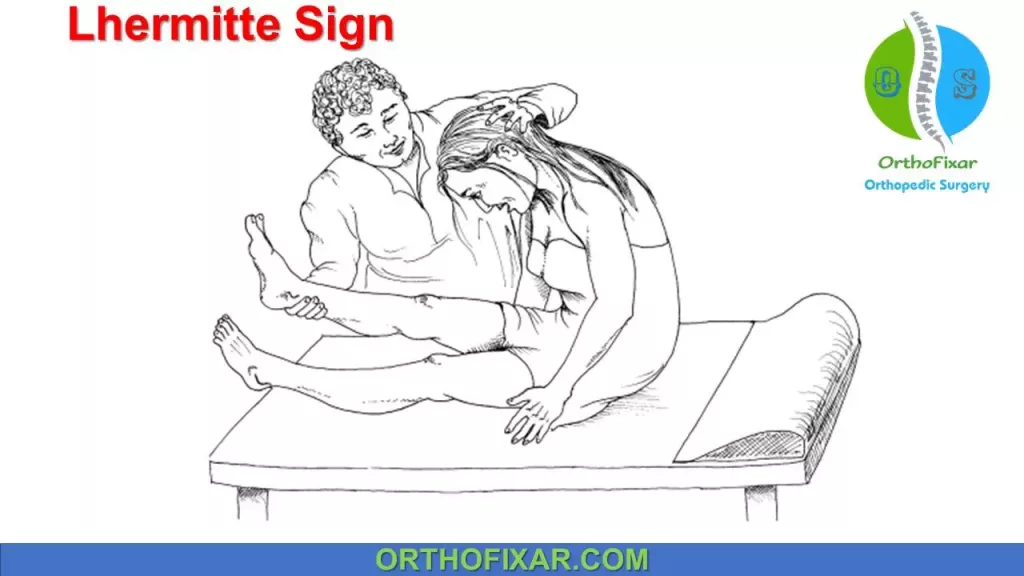 What does a positive Lhermitte Sign mean?
The Lhermitte test is positive if an acute pain or electric shock like sensation occurs that radiates into the upper or lower extremity, this suggests dural or meningeal irritation of the spinal cord (root irritation) or possibly cervical myelopathy.
A positive Lhermitte sign can indicate stenosis of the cervical spinal canal, where the patient describes a sudden, generalized electric shock in the arms and trunk, especially when inclining the head.
If the patient were to actively bend the head toward the breast, then this would be the Soto-Hall test.
Maximally flexing the cervical spine places strong tension on the spinal cord.
Lhermitte's Sign Causes
Multiple sclerosis (MS)
Cervical spondylitis
Transverse myelitis
Behcet's disease
Sub-acute combined degeneration of the cord
Radiation myelopathy
Arnold-Chiari malformation
High-dose chemotherapy
Discontinuation syndrome associated with SSRIs Selective serotonin reuptake inhibitor
Trauma
Arachnoiditis
Syringomyelia
Vitamin B12 deficiency
Disc herniation
Spinal cord compression
Cisplatin neurotoxicity
Nitric oxide toxicity
Systemic lupus erythematosus
Parasitic invasion of spinal cord
Post-dural puncture headache
Herpes-zoster infection
Sensitivity & Specificity
There are a few studies available on Lermitte's sign and more research need to be done ensure its sensitivity and specificity. One study1 found the following:
Sensitivity: 3 – 17%

Specificity: 97%

(for non-specific compressive myelopathy)
Notes
Lhermitte Sign in MS (multiple sclerosis) is described as an electric shock by some patients of MS. This sensation occurs when the neck is moved in a wrong way or rather flexed. It can also travel down to the spine, arms, and legs, and sometimes the trunk.
Spinal stenosis is usually of bony origin from pronounced spondylosis and spondylarthritis as a result of a degenerative intervertebral disk injury.
Early symptoms of spinal stenosis are:
Abnormal sensations in the hands,
Gait disorders,
Clumsiness of the hands (disturbances of fine motor function, writing and grip).
Differential diagnosis for patients with a positive Lhermitte Sign include:
Irritated cervical root syndrome
Multiple sclerosis
Spinal tumor.
Amyotrophic lateral sclerosis.
Transverse myelitis
Trauma.
McDonald 2 postulated that there is an increased mechano sensitivity to traction on the cervical cord of injured axons located within the posterior (dorsal) columns. Although a herniated disk is an anteriorly placed lesion and the spino thalamic tract is usually more affected than the posterior columns, flexion of the neck will produce stretching of the posterior aspects of the cord, but not the anterior part at the site of the impairment, and this may explain this particular symptom.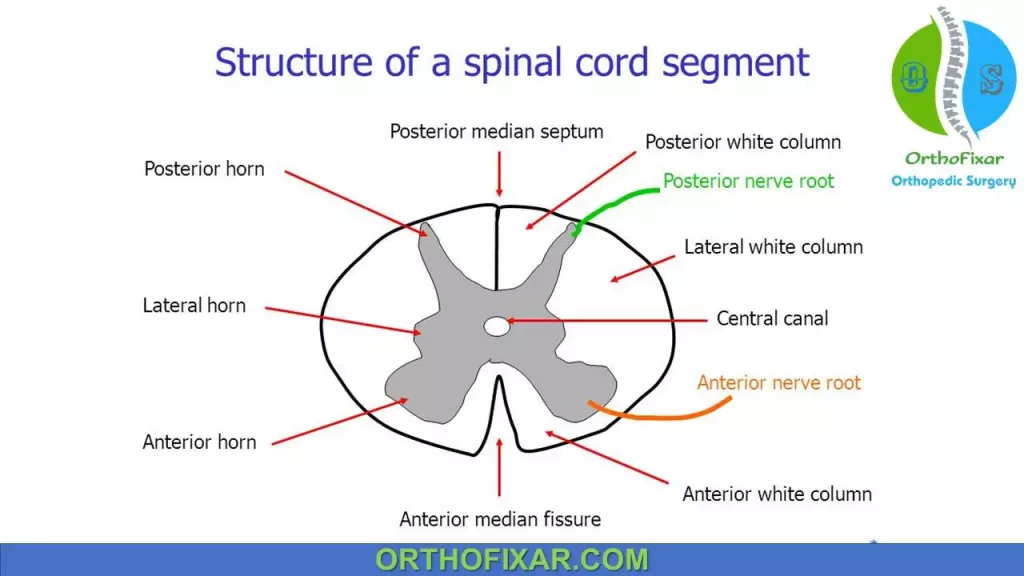 References
Khare S, Seth D. Lhermitte's Sign: The Current Status. Ann Indian Acad Neurol. 2015 Apr-Jun;18(2):154-6. doi: 10.4103/0972-2327.150622. PMID: 26019410; PMCID: PMC4445188.
Smith KJ, McDonald WI. Spontaneous and mechanically evoked activity due to central demyelinating lesion. Nature. 1980 Jul 10;286(5769):154-5. doi: 10.1038/286154a0. PMID: 7402307.
Khare S, Seth D. Lhermitte's Sign: The Current Status. Ann Indian Acad Neurol. 2015 Apr-Jun;18(2):154-6. doi: 10.4103/0972-2327.150622. PMID: 26019410; PMCID: PMC4445188.
Lhermitte JJ, Bollak NM (1924). "Les douleurs à type décharge électrique consécutives à la flexion céphalique dans la sclérose en plaques. Un cas de la sclérose multiple". Revue neurologique. 2: 56–57.
Marie P, Chatelin C (1917). "Sur certains symptômes vraisemblablement d'origine radiculaire chez les blessés du crâne". Rev Neurol. 31: 336.
Clinical Tests for the Musculoskeletal System, Third Edition book.
Mark Dutton, Pt . Dutton's Orthopaedic Examination, Evaluation, And Intervention, 3rd Edition Book.
Last Reviewed
May 18, 2023
Contributed by
OrthoFixar
Orthofixar does not endorse any treatments, procedures, products, or physicians referenced herein. This information is provided as an educational service and is not intended to serve as medical advice.