Special Test
Homans Sign Test
Homans Sign is used to check for deep vein thrombosis (DVT) which causes calf pain. It's sometimes called dorsiflexion sign. This sign was first described by John Homans in 1941 who was an American surgeon.
How do you assess the Homan's sign?
The Homans Sign test is performed with the patient in supine position. The examiner lifts the affected leg and rapidly dorsiflexes the patient's foot with the knee extended. This maneuver is repeated with the patient's knee flexed while the examiner simultaneously palpates the calf.
See Also: Thomas Test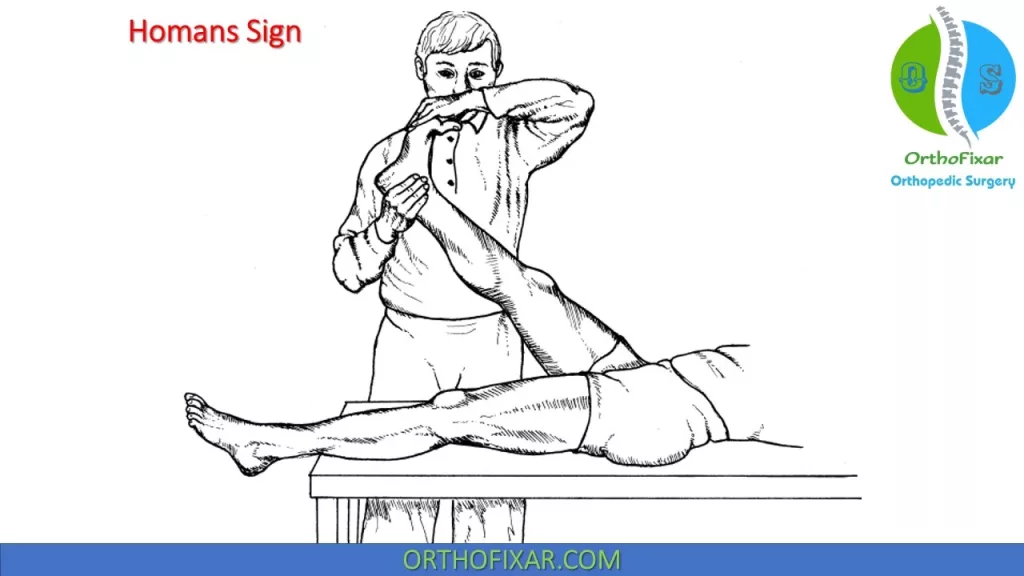 Positive Homans Sign
Homans Sign (DVT) is positive "if pain is occurring upon dorsiflexion of the foot with the knee extended and flexed indicating deep vein thrombosis (DVT)".
The explanation of the Homans sign is that the passive, abrupt and forced dorsiflexion of the ankle with knee flexion causes mechanical traction on the posterior tibial vein. This traction stimulates the pain sensitive structures in the lower limb.
Pain may also be elicited on palpation of the calf in conjunction with the passive stretch.
A positive finding indicates a life-threatening condition that should be addressed by appropriate medical personnel immediately
Accuracy & Releability
The sensitivity of homans sign for DVT has been questioned because deep vein thrombosis may not always produce an abnormal Homans test.
Homans sign test sensitivity and specificity is considered low as a DVT Test; but it can be of value if used in addition to more accurate diagnostic procedures like ultrasonography and venography 2.
Homans sign test Sensitivity: 10-54%
Homans sign test Specificity: 39-89%
In one study involving control subjects and patients with lower limb thrombosis, phlebography was used to evaluate certain clinical parameters, one of which was Homans sign. The results showed that all the clinical signs were inconsistent. Homans sign test was seen in only 1/3 rd of patients with actual thrombosis. On the other hand, it was seen in 21% of subjects without thrombosis as well.
Homans sign though unreliable holds great historical importance. Thus it continues to be practiced in medical colleges and private physician clinics across the world because of its easy technique and simple demonstrability.
See Also: DVT Tests
Notes:
Calf pain with the knee extended can also be caused by intervertebral disk disease (radicular symptoms) or muscle contractures.
Obviously, injury to the gastrocsoleus complex may also be aggravated by Homans test.
Another case that is seen in women who after chronically wearing high heels start wearing flat shoes. In these women, sometimes due to mechanical traction in the lower limb, a positive Homans sign test can be demonstrated.
The performance of the Homans sign test may increase the risk of producing a pulmonary embolism (PE).
More accurate diagnostic DVT Tests other than Homans sign include:
Contrast venography,
Doppler and B-mode ultrasound,
Venous duplex imaging,
Impedance plethysmography,
I-125 fibrinogen uptake.
Deep venous thrombosis (DVT)
Acute deep venous thrombosis ranks with acute arterial occlusion as one of the most serious and dramatic vascular emergencies.
Deep venous thrombosis (DVT) occurs in 45% to 57% of patients who undergo hip arthroplasty without prophylaxis.
Factors contributing to thrombosis include:
vessel wall,
blood flow,
and coagulation characteristics.
A DVT most commonly appears in the lower extremity and is typically classified as being either:
proximal (affecting the popliteal and thigh veins)
or distal (affecting the calf veins).
Proximal DVT is the more dangerous form of lower extremity DVT because it is more likely to cause lifethreatening PE.
Thrombosis in the deep veins of the leg is less symptomatic yet involves a far greater risk of embolism than thrombosis in the superficial veins.
DVT Symptoms include:
Swelling in the extremity (primarily in the left leg at the vascular spur in the pelvic veins),
often associated with spontaneous pain in the groin,
pain radiating into the leg upon coughing or straining,
local blue discoloration of the skin,
in some cases elevated temperature and pulse are important signs.
A pulmonary infarction will often be the first clinical symptom, but typical early signs of deep venous thrombosis may also occur, these include: spots that are painful to palpation, extending from the sole of the foot (Payr) to, in certain cases, the groin (Rielander), and pain upon compression of the calf (Lowenberg) when a blood pressure cuff is applied and pumped up to 100 mm Hg (13.3 kPa). However, these thrombosis signs are nonspecific and should by no means be regarded as conclusive.
The unilateral edema that usually occurs develops gradually and begins in the malleolar region.
Additional characteristic findings include distended congested peripheral veins in the affected extremity (Pratt "warning" veins), evidence of superficial collateral veins, and an expanding edema, which is dependent on the size and localization of the thrombosis.
In patients with chronic venous disease, a number of test methods are helpful in evaluating the function of the deep veins and perforating veins.
What are the DVT Warning Signs?
Early signs of deep venous thrombosis include:
Tenderness to palpation on the medial aspect of the thigh (sartorius, gracilis).
Tenderness to palpation in the knee (muscular insertions and medial joint cavity).
Pain on compression of the calf (Lowenberg).
Pain in the calf on dorsi exion of the foot (Homans sign).
Tenderness to palpation.
Groin pain.
Tenderness to palpation along the adductor canal.
Pratt warning sign.
Meyer pressure points along the greater saphenous vein.
Pain in the sole of the foot, Payr sign: pressing or tapping the sole of the foot with the edge of the hand.
Certain patients are at increased risk for DVT:
Strong risk factors for DVT include:
fracture (pelvis, femur, and tibia),
hip or knee replacement:
major general surgery,
major trauma,
spinal cord injury.
See Also: Pelvic Fractures
Moderate DVT risk factors include:
arthroscopic knee surgery,
central venous lines,
chemotherapy,
congestive heart or respiratory failure,
hormone replacement therapy,
malignancy,
oral contraceptive therapy,
cerebrovascular accident,
pregnancy/ postpartum,
previous venous thromboembolism,
thrombophilia.
Weak DVT risk factors include:
bed rest greater than 3 days immobility due to sitting (e.g., prolonged air travel),
increasing age,
laparoscopic surgery,
obesity,
pregnancy/ antepartum,
varicose veins.
A recent study indicated that up to 60% of patients undergoing total hip replacement surgery may develop a DVT without preventative treatment.
Musculoskeletal conditions that may mimic symptoms associated with DVT include:
hematoma,
myositis,
tendinitis,
Baker's cyst,
synovitis,
osteomyelitis,
tumors.
Prevention of DVT:
Methods of prevention may be classified as pharmacological and nonpharmacological.
Pharmacological prevention includes:
anticoagulant drugs such as low-dose Coumadin (warfarin),
low molecular weight heparin LMWH,
adjusted dose heparin,
heparinantithrombin III combination.
These drugs work by altering the body's normal blood-clotting process.
Second tier drugs include dextran, aspirin, and low-dose subcutaneous heparin.
Nonpharmacological prevention attempts to counteract the effects of immobility, including:
calf and foot/ ankle exercises,
compression stockings.
A recent study has shown that substantial hyperemia (a mean 22% increase in venous outflow) occurs after the performance of active ankle pumps for 1 minute, and venous outflow remains greater than the baseline level for 30 minutes reaching a maximum 12 minutes after these exercises.
Although this does not provide sufficient evidence that exercise alone prevents DVT, it suggests that the active ankle pump does influence venous hemodynamics.
Finally, inferior vena cava (IVC) filters and Greenfield filters may be employed with a patient who has a contraindication to anticoagulation, previous complications with anticoagulants, or if anticoagulants have proved ineffective in the past.
Reference
McGee, Steven (2012). Evidence-Based Physical Diagnosis. Philadelphia, USA: Saunders. pp. 472–473.
Ambesh P, Obiagwu C, Shetty V. Homans sign for deep vein thrombosis: A grain of salt? Indian Heart J. 2017 May-Jun;69(3):418-419. doi: 10.1016/j.ihj.2017.01.013. Epub 2017 Jan 23. PMID: 28648447.
Shafer N, Duboff S. Physical signs in the early diagnosis of thrombophlebitis. Angiology. 1971 Jan;22(1):18-30. doi: 10.1177/000331977102200105. PMID: 4925428.
Mathewson M. A Homan's sign is an effective method of diagnosing thrombophlebitis in bedridden patients. Crit Care Nurse. 1983 Jul-Aug;3(4):64-5. PMID: 6554175.
Weinmann EE, Salzman EW. Deep-vein thrombosis. N Engl J Med. 1994 Dec 15;331(24):1630-41. doi: 10.1056/NEJM199412153312407. PMID: 7772110.
Levi M, Hart W, Büller HR. Fysische diagnostiek–het teken van Homans [Physical examination–the significance of Homan's sign]. Ned Tijdschr Geneeskd. 1999 Sep 11;143(37):1861-3. Dutch. PMID: 10526599.
Pini M, Ria L, Pattacini C, Tagliaferri A, Poti R. Il segno di Homans rivisitato: è attendibile la diagnosi clinica di trombosi venosa profonda? [Homan's sign revisited: is the clinical diagnosis of deep venous thrombosis reliable?]. Recenti Prog Med. 1984 Jul-Aug;75(7-8):650-7. Italian. PMID: 6505364.
Urbano, FL: Homans' sign in the diagnosis of deep vein thrombosis. Hosp Physician, March:22, 2001.
Homans J. Thrombophlebitis in the legs. New Engl J Med. 1938;218:594–599.
Homans J. Diseases of the veins. New Engl J Med. 1944;231:51–60.
Haeger K. Problems of acute deep venous thrombosis. I. The interpretation of signs and symptoms. Angiology. 1969 Apr;20(4):219-23. doi: 10.1177/000331976902000406. PMID: 5778113.
McGee, Steven (2012). Evidence-Based Physical Diagnosis. Philadelphia, USA: Saunders. pp. 472–473.
Clinical Tests for the Musculoskeletal System 3rd Edition.
Dutton's Orthopaedic Examination, Evaluation, And Intervention 3rd Edition.
Sarvdeep S. Dhatt, Sharad Prabhakar – Handbook of Clinical Examination in Orthopedics.
Last Reviewed
September 1, 2023
Contributed by
OrthoFixar
Orthofixar does not endorse any treatments, procedures, products, or physicians referenced herein. This information is provided as an educational service and is not intended to serve as medical advice.