Special Test
Hoffman Sign for Upper Motor Neuron
Hoffman Sign is a neurological examination used to assess the presence of an upper motor neuron lesion from spinal cord compression. It's also referred to as the digital reflex, the snapping reflex, Tromner sign and jakobson sign.
Hoffman Sign is the upper limb equivalent of the Babinski sign.
How do you perform the Hoffman Sign?
To elicit the Hoffmann sign, the patient's relaxed hand is held with the wrist dorsiflexed and fingers partially flexed. With one hand, the examiner holds the partially extended middle finger between his index finger and thumb or between his index and middle fingers. With a sharp, forcible flick of the other thumb, the examiner nips or snaps the nail of the patient's middle finger, forcing the distal finger into sharp, sudden flexion followed by sudden release
Denno and Meadows devised a dynamic version of Hoffman test to assist in the diagnosis of early spondylotic cervical myelopathy, which involved the patient performing repeated flexion and extension of the head before being tested for the Hoffman sign.
See Also: Spurling Test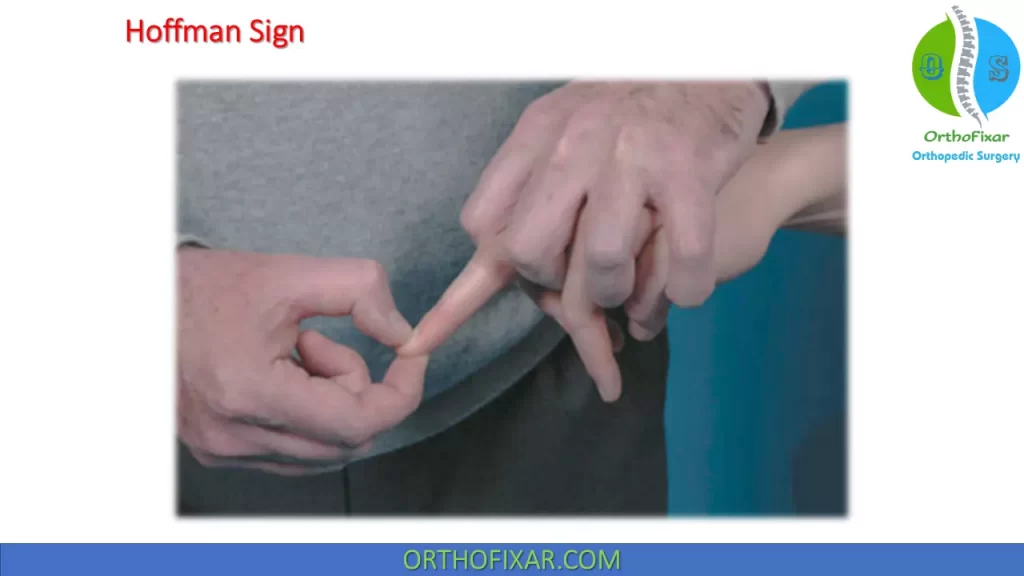 What is the positive Hoffman Sign meaning?
A positive test is adduction and opposition of the thumb and slight flexion of the fingers.
If only the thumb or only the index finger responds, the sign is incomplete.
The Hoffman sign is not necessarily pathologic and is often present to some degree in normal individuals. It's only of clinical significance when markedly active or very asymmetric. A very active, complete Hoffmann sign, especially if unilateral or associated with other reflex abnormalities or a consistent history, is certainly suggestive if not diagnostic of corticospinal tract involvement.
Accuracy
There are no known studies assessing the interexaminer reliability of this test, and its significance remains disputed in the literature.
| Study Description | Sensitivity | Specificity |
| --- | --- | --- |
| Retrospective study of 67 patients, seen during a 4-year period, with cervical pathology requiring surgical correction | 0 | 0 |
| 16 asymptomatic patients with a positive Hoffmann sign were prospectively studied with cervical radiographs and MRI | 94% | – |
| 36 patients with cervical myelopathy who had had MRI | 82% | – |
| 165 patients, of whom 124 had imaging of the spinal canal | 58% | 74% |
References
Gilman S: The physical and neurologic examination. In: Gilman S, ed. Clinical Examination of the Nervous System. New York, NY: McGrawHill, 2000:15–34.
Denno JJ, Meadows GR. Early diagnosis of cervical spondylotic myelopathy. A useful clinical sign. Spine (Phila Pa 1976). 1991 Dec;16(12):1353-5. doi: 10.1097/00007632-199112000-00001. PMID: 1771463.
Sung RD, Wang JC. Correlation between a positive Hoffmann's reflex and cervical pathology in asymptomatic individuals. Spine (Phila Pa 1976). 2001 Jan 1;26(1):67-70. doi: 10.1097/00007632-200101010-00013. PMID: 11148648.
Wong TM, Leung HB, Wong WC: Correlation between magnetic resonance imaging and radiographic measurement of cervical spine in cervical myelopathic patients. J Orthop Surg 12:239–242, 2004.
Glaser JA, Curé JK, Bailey KL, Morrow DL. Cervical spinal cord compression and the Hoffmann sign. Iowa Orthop J. 2001;21:49-52. PMID: 11813951; PMCID: PMC1888193.
Dutton's Orthopaedic Examination, Evaluation, And Intervention 3rd Edition.
Sarvdeep S. Dhatt, Sharad Prabhakar – Handbook of Clinical Examination in Orthopedics. An Illustrated Guide-Springer Singapore.
Last Reviewed
April 8, 2023
Contributed by
OrthoFixar
Orthofixar does not endorse any treatments, procedures, products, or physicians referenced herein. This information is provided as an educational service and is not intended to serve as medical advice.