Procedure
Trigger Finger Injection
Trigger Finger Injection with corticosteroids is a method of treatment for Trigger Finger which is an inflammatory condition that narrowing the retinacular sheath of the tendon, and therefor leads to an entrapment of the tendon at A1 pulley.
Trigger Finger causes painful clicking and sometimes locking of finger or thumb, with inability to extend actively; a tender nodule can be palpated, usually at base of the digit.
See Also: Trigger Finger
Related Anatomy
Trigger finger is caused by enlargement of a nodule within the flexor tendon sheath, which then becomes inflamed and painful. It usually occurs at the joint lines where the tendon is tethered down by the ligaments and can occur in any digit, but more often is found in the thumb or index finger.
See Also: Hand Anatomy
Equipment Needed
Syringe: 1 ml
Needle: Orange, 25 gauge | 0.5 inch (16 mm)
Kenalog 40: 10 mg
Lidocaine: 0.25 ml, 2%
Total volume: 0.5 ml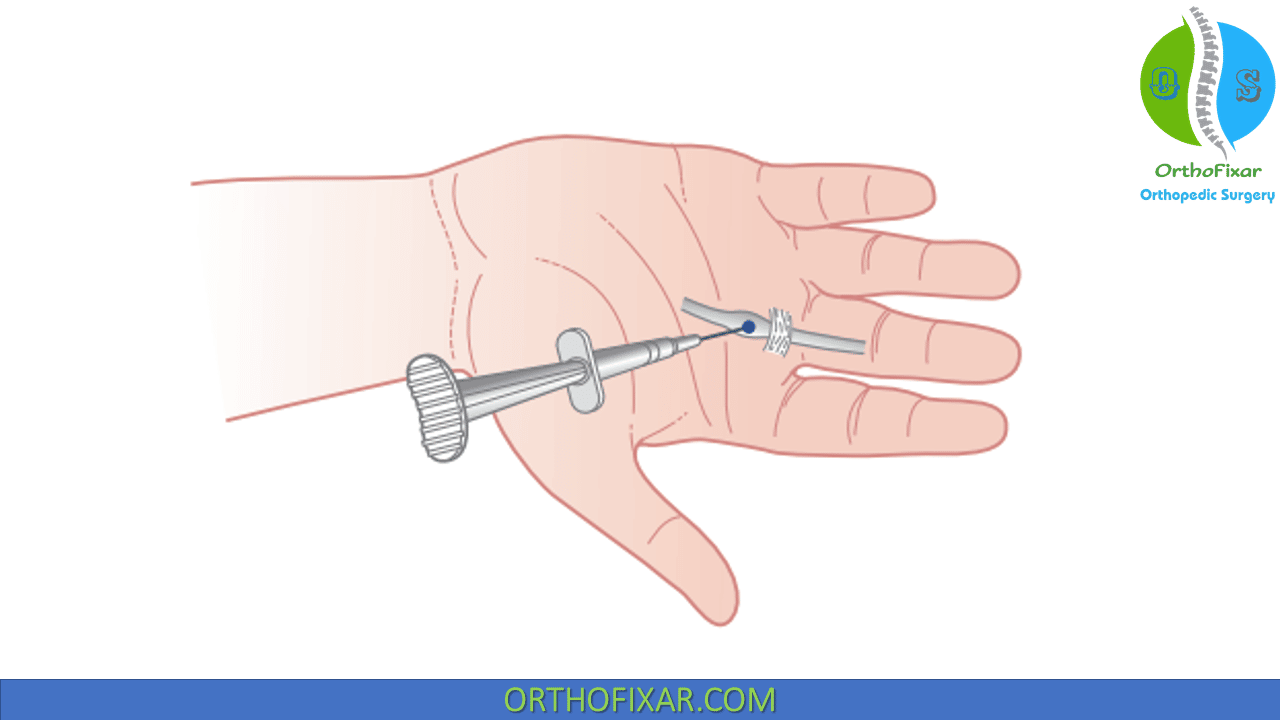 Trigger Finger Injection Technique
Trigger finger injection procedure includes the following steps:
The Patient places hand palm up
Identify and mark nodule
Insert needle perpendicularly into nodule
Deposit half of the solution in a bolus into nodule
Angle needle distally into sheath
Deposit remaining solution into sheath
No particular restriction is placed on the patient's activities except for relative rest for a few days after trigger finger injection procedure.
See Also: Hand Flexor Tendon Injury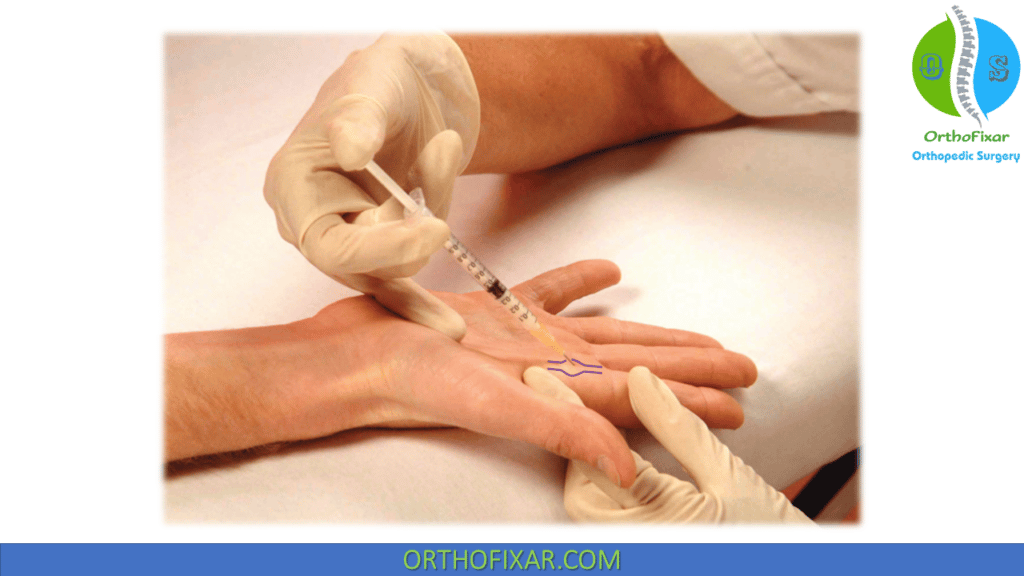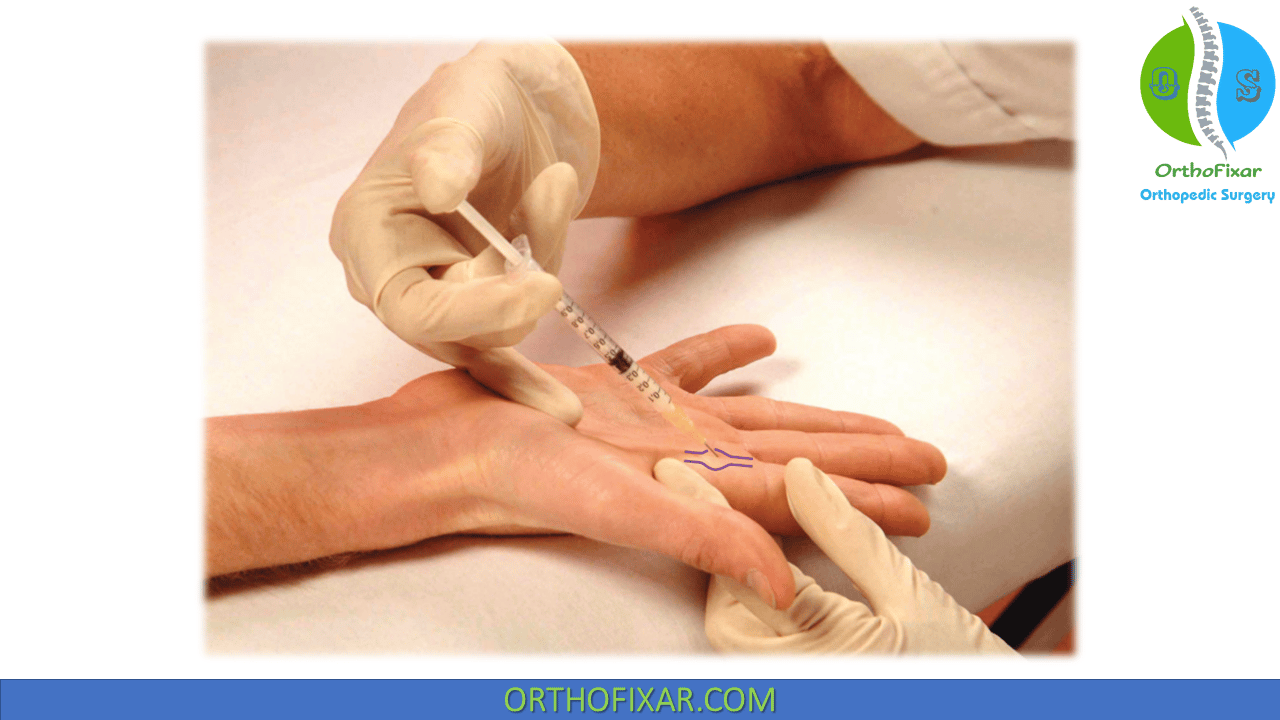 Notes
The trigger finger injection is invariably effective. Although the nodule usually remains, it can continue to be asymptomatic indefinitely. Occasionally, a slight pop is felt as the needle penetrates the nodule. When the needle is in a tendon, a rubbery resistance is felt.
Some clinicians insert the needle alone first and then ask the patient to flex their finger; if the needle moves, this proves that the correct site has been reached and the syringe can then be attached, but this may involve delay and discomfort to the patient, Other clinicians like to bend the needle before inserting it into the tendon sheath, but there is a slight risk that the needle may snap.
The response rate to steroid injection for trigger finger is lower in patients with diabetes and rheumatoid arthritis, but up to 60% of diabetic patients are successfully treated with steroid injections. The success rate is lower if multiple digits are involved. Patients with insulin-dependent diabetes and patients with non-insulin-dependent diabetes had worse prognoses after corticosteroid injection for trigger digit than patients without diabetes.
A single corticosteroid trigger finger injection may be offered as the first line in treatment of adult trigger digits, but percutaneous release is a safe alternative. Surgery should be the next line if the injection fails, symptoms recur or the patient chooses.
Thirty-nine percent of second and third corticosteroid trigger finger injections yield long-term relief. Although most patients ultimately require surgical release, 50% of patients receiving repeat trigger injections realize 1 year or more of symptomatic relief. Repeat injections of trigger fingers should be considered in patients who prefer nonsurgical treatment.
References
Modified from British Society for Surgery of the Hand. Recommendations for Treatment of Trigger Digit in Adults. 2014
Amirfeyz R, McNinch R, Watts A, Rodrigues J, Davis TRC, Glassey N, Bullock J. Evidence-based management of adult trigger digits. J Hand Surg Eur Vol. 2017 Jun;42(5):473-480. doi: 10.1177/1753193416682917. Epub 2016 Dec 21. PMID: 28488453.
Chang CJ, Chang SP, Kao LT, Tai TW, Jou IM. A Meta-analysis of Corticosteroid Injection for Trigger Digits Among Patients With Diabetes. Orthopedics. 2018 Jan 1;41(1):e8-e14. doi: 10.3928/01477447-20170727-02. Epub 2017 Aug 4. PMID: 28776635.
Dardas AZ, VandenBerg J, Shen T, Gelberman RH, Calfee RP. Long-Term Effectiveness of Repeat Corticosteroid Injections for Trigger Finger. J Hand Surg Am. 2017 Apr;42(4):227-235. doi: 10.1016/j.jhsa.2017.02.001. PMID: 28372638; PMCID: PMC5382803.
Last Reviewed
May 18, 2023
Contributed by
OrthoFixar
Orthofixar does not endorse any treatments, procedures, products, or physicians referenced herein. This information is provided as an educational service and is not intended to serve as medical advice.