Procedure
Treatment of Medial Malleolus Fracture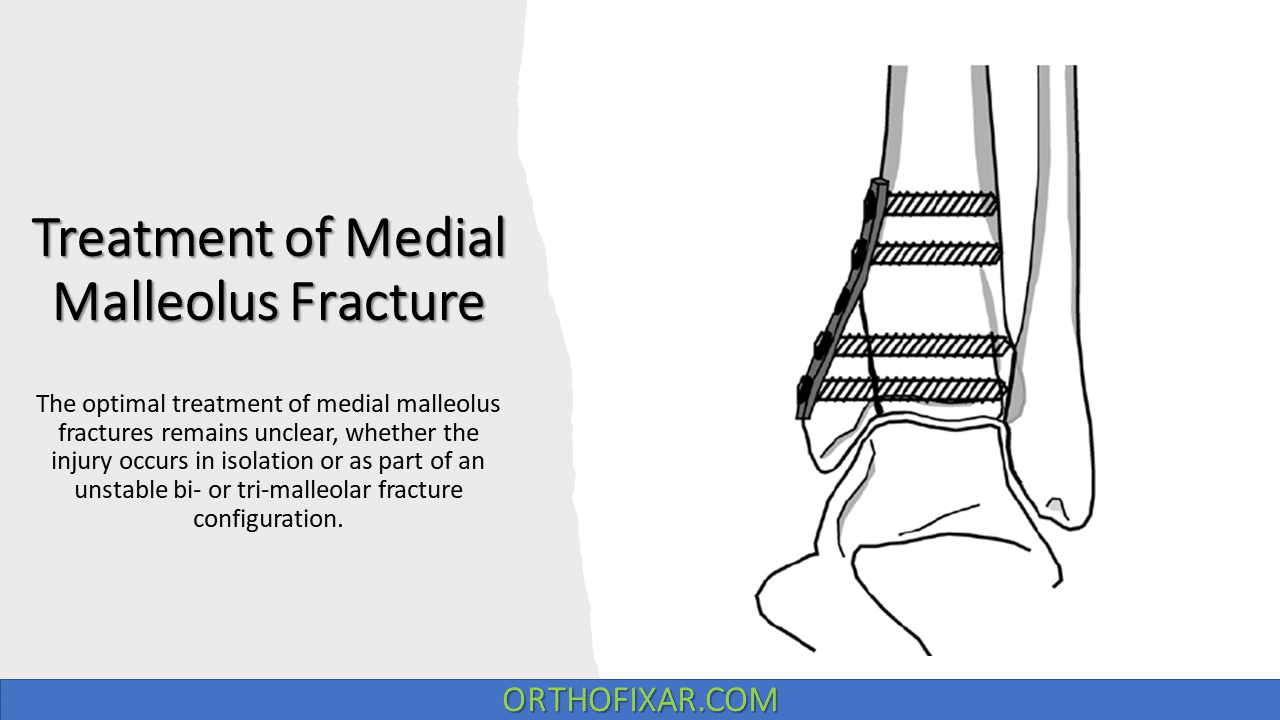 The optimal treatment of medial malleolus fractures remains unclear, whether the injury occurs in isolation or as part of an unstable bi- or trimalleolar fracture configuration. But it's recommended to open reduction and fixation of medial malleolar fractures that are part of an unstable injury.
Treatment of Medial Malleolus Fracture Procedure Steps
Anteromedial Incision:
Begin the incision approximately 2 cm proximal to the fracture line and extend it distally and slightly posteriorly ending it approximately 2 cm distal to the tip of the medial malleolus.
This incision is preferred in surgical treatment of medial malleolus fracture due to two reasons:
Minimizes the risk of damaging the posterior tibial tendon and its sheath.
Provides clear visibility of the articular surfaces, especially the anteromedial aspect of the joint, facilitating accurate alignment of the fracture.
Note: Extending the incision distally may not be possible if there are associated foot injuries to be treated.
See Also: Anteromedial Approach to Ankle Joint
See Also: Ankle Anatomy
Skin Handling:
Handle the skin with care, ensuring the flap remains intact with its underlying subcutaneous tissue. The blood supply to this area of the skin is poor, so careful handling is necessary to prevent skin sloughing. Also protect the greater saphenous vein and its accompanying nerve.
Removal of Interposed Tissue:
Usually, the distal fragment of the medial malleolus is displaced distally and anteriorly, with a small fold of periosteum often interposed between the fracture surfaces.
Use a curet or periosteal elevator to remove this fold from the fracture site, exposing the small serrations of the fracture.
Debridement:
Remove small, loose osseous or chondral fragments and preserve and support large osteochondral fragments with a bone graft.
Temporary Fixation:
Use a bone-holding clamp or towel clip to bring the detached malleolus into the normal position.
While holding it in place, internally fix it with two 2-mm smooth Kirschner wires drilled across the fracture site as temporary fixation devices.
Fracture Reduction and Fixation:
Verify fracture reduction using anteroposterior and lateral radiographs. If the reduction is satisfactory, proceed as follows:
Remove one of the Kirschner wires.
Insert a 4-mm lag screw.
Remove and replace the remaining Kirschner wire.
Alternatively, a drill with a 2.5- and a 3.5-mm bit can be used to create a path for the screws. Bicortical lag screw fixation may require a long pelvic drill bit.
Carefully inspect the joint interior, particularly the superomedial corner, to ensure the screw has not crossed the articular surface.
Verify the position of the screw and the fracture using radiographs.
See Also: Lateral Malleolus Fracture Treatment
Medial Malleolus Fracture Fixation Alternatives:
If the medial malleolar fragment is very small or comminuted, screw fixation may not be possible. In such cases, use several Kirschner wires or tension band wiring for fixation.
Large vertical fractures with proximal comminution may require a buttress plate to prevent loss of reduction. A small, one-third tubular plate is usually sufficient.
When applying bulky hardware, exercise extreme caution to avoid wound complications in the area with poor skin coverage.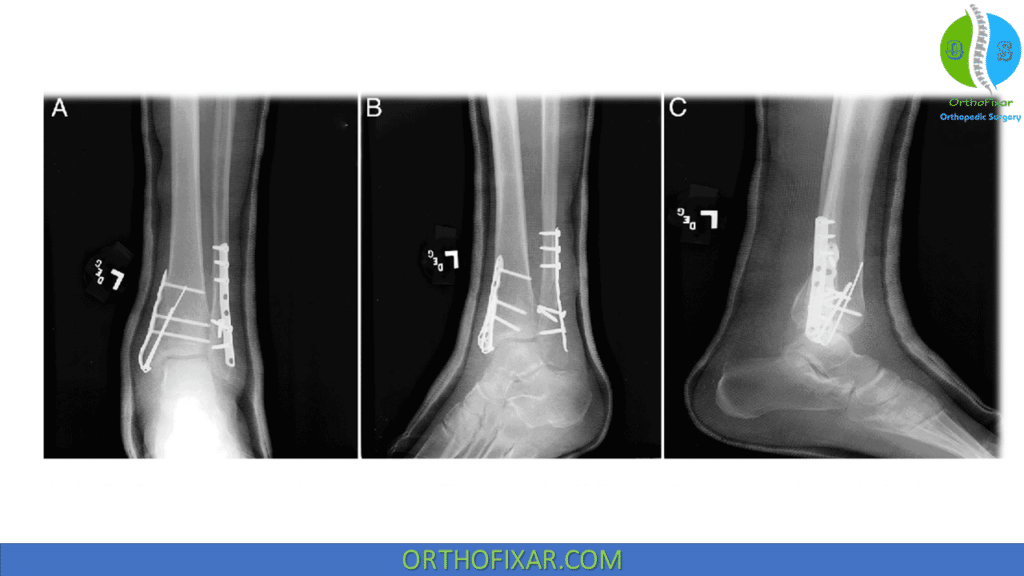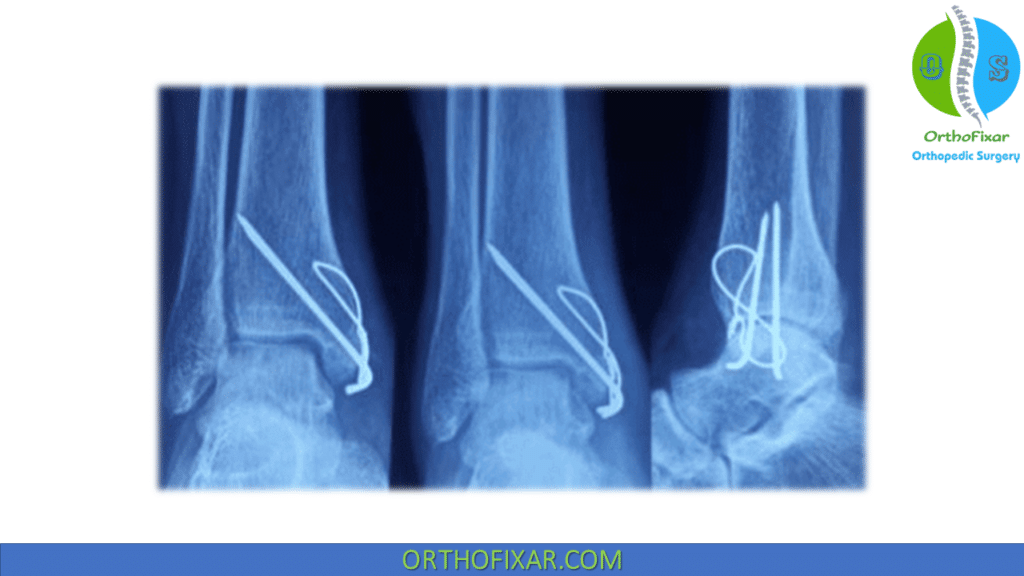 Aftercare
To immobilize the ankle after medial malleolus fracture fixation, a posterior plaster splint is applied in a neutral position and elevated.
If the bone quality is satisfactory and the fixation is secure, the splint can be replaced with a removable splint or fracture boot during the first postoperative visit. Range of motion exercises are initiated, while weight bearing is limited for 6 weeks. After this period, partial weight bearing can commence if the fracture is healing properly and progress accordingly.
However, if skin conditions, bone quality, or other factors impede secure fixation, the fracture requires extended protection. In such cases, the patient is fitted with either a short-leg or a long-leg non-weight-bearing cast, depending on the stability of the fixation. If a long-leg cast is initially used, it can be converted to a short-leg cast after 4 to 6 weeks. Weight bearing on the ankle is strictly prohibited until the fracture shows adequate healing progress (8 to 12 weeks). At this stage, a short-leg walking cast is worn, and weight bearing is gradually increased. The cast is removed once the fracture has fully united.
References & More
Carter TH, Duckworth AD, White TO. Medial malleolar fractures: current treatment concepts. Bone Joint J. 2019 May;101-B(5):512-521. doi: 10.1302/0301-620x.101B5.BJJ-2019-0070. PMID: 31038989. Pubmed
Campbel's Operative Orthopaedics 12th edition Book.
Last Reviewed
November 13, 2023
Contributed by
OrthoFixar
Orthofixar does not endorse any treatments, procedures, products, or physicians referenced herein. This information is provided as an educational service and is not intended to serve as medical advice.