Procedure
Ankle Steroid Injection
Ankle Steroid Injection is used as treatment option in case of chronic capsulitis that maybe caused by trauma or fracture after many years later.
Chronic capsulitis of the ankle joint is characterized by pain at front of or within the ankle; CP: more passive plantarflexion than dorsiflexion with hard end feel.
Equipment Needed
Syringe: 2.5 ml
Needle: Blue, 23 gauge, 1.25 inches (30 mm)
Kenalog 40: 30 mg
Lidocaine: 1.75 ml, 2%
Total volume: 2.5 ml
Related Anatomy
The easiest and safest entry point to the ankle joint is at the junction of the tibia and fibula, just above the talus. A small triangular space can be palpated here.
See Also: Ankle Anatomy
Ankle Steroid Injection Technique
Patient lies with knee bent to 90 degrees and foot slightly plantarflexed,
Identify and mark small triangular space by passively flexing and extending ankle while palpating gap between base of tibia and fibula,
Insert needle here, angling slightly medially and proximally into joint space,
Deposit solution as a bolus.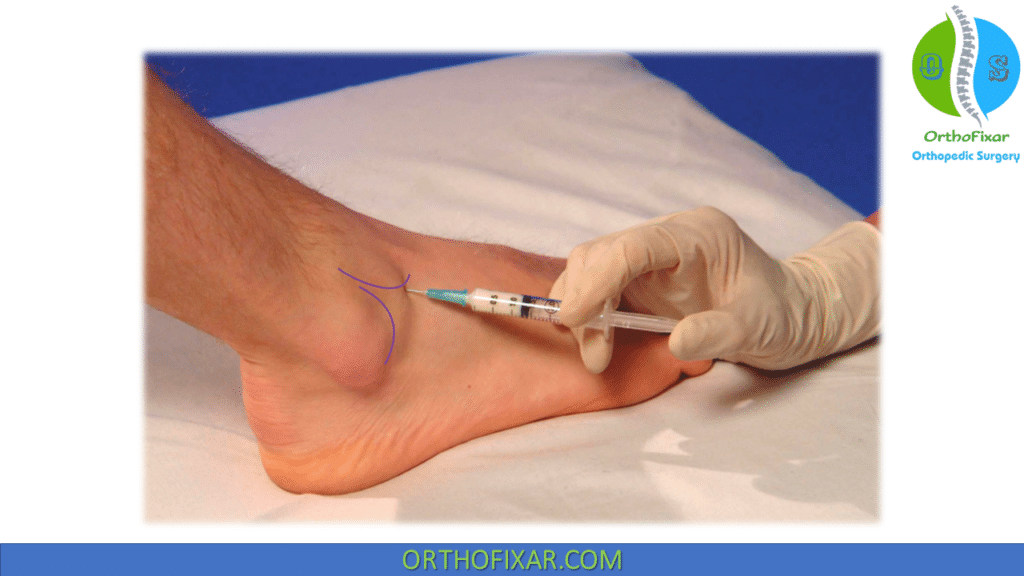 Excessive weight-bearing activities should be avoided until symptoms ease. Advise the patient that heavy overuse will cause a recurrence of symptoms, and therefore long distance running should be curtailed.
Weight control is also advised, and footwear should be assessed to ensure correct support; appropriate insoles often help maintain pain-free walking. Initiate passive joint mobilization and strengthening of the dorsiflexors and evertors, and assess muscle balance around the ankle because this is often a contributing factor.
Notes
Ultrasound and fluoroscopy are used to guide ankle injection. The ankle joint can be reached through the dorsal aspect, taking care to avoid the dorsalis pedis artery located between the tibialis anterior and extensor digitorum tendons. Utilizing ultrasound guidance makes it simpler to avoid the tendons. The ultrasound probe can be positioned longitudinally or transversely to assist with needle placement. There are two options for approaching the joint: anterior-medial or anterolateral.
The ankle joint rarely causes problems except after severe trauma or fracture, and then often many years later.
The Ankle Steroid Injection is often successful in giving reasonably prolonged pain relief, provided excessive weight bearing is avoided.
Ankle Steroid Injection can be repeated if necessary at intervals of at least 3 months with an annual x-ray to monitor degenerative changes.
References
Injection Techniques in Musculoskeletal Medicine. A Practical Manual for Clinicians In Primary And Secondary Care. Fifth Edition
Drakonaki EE, Allen GM, Watura R. Ultrasound-guided intervention in the ankle and foot. Br J Radiol. 2016;89(1057):20150577. doi: 10.1259/bjr.20150577. Epub 2015 Nov 5. PMID: 26537692; PMCID: PMC4985963.
Last Reviewed
May 12, 2023
Contributed by
OrthoFixar
Orthofixar does not endorse any treatments, procedures, products, or physicians referenced herein. This information is provided as an educational service and is not intended to serve as medical advice.