Procedure
Achilles Tendon Injection
Achilles Tendon Injection is used for Chronic tendinitis that is caused by overuse especially in maturing person.
Achilles chronic tendinitis is characterized by pain at posterior aspect of ankle on both sides of tendon; painful resisted plantarflexion standing on one foot or from full dorsiflexion. Differential diagnosis includes Achilles bursitis, referred from S1, early sign of ankylosing spondylitis and gout.
The Achilles tendon lies at the end of the gastrocnemius as it inserts into the posterior surface of the calcaneus. It is a large dense tendon and is affected usually at the midpoint.
Equipment Needed
Syringe: 2 ml
Needle: Blue, 23 gauge / 1.25 inches (30 mm)
Kenalog 40: 20 mg
Lidocaine: 1.5 ml, 2%
Total volume: 2 ml
Achilles Tendon Injection Technique
Patient lies prone, with foot held in dorsiflexion over end of the bed. This keeps tendon under tension to facilitate procedure,
Identify and mark tender area of tendon, usually midpoint along the sides,
Insert needle on medial side and angle parallel to tendon. Slide needle along side of tendon, taking care not to enter into tendon itself,
Deposit half of the solution while slowly withdrawing needle,
Insert needle on lateral side and repeat procedure with remaining solution.
See Also: Achilles Tendinitis | Causes & Treatment
After Achilles tendon injection, absolute avoidance of any overuse is essential until pain free. In the case of the committed athlete, or if scanning shows significant degenerative changes, a conservative physiotherapeutic approach should be used. This might include an eccentric exercise programme, a glyceryl trinitrate patch, taping, orthotics, deep friction and/or electrotherapy. Retraining in the causal activity is usually necessary.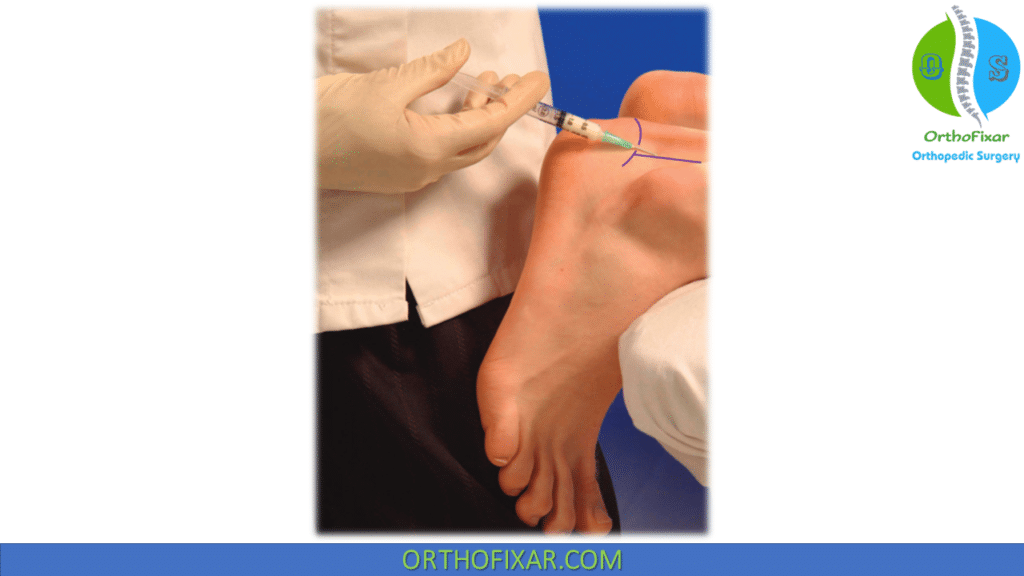 Notes
It is absolutely contraindicated to infiltrate the body of the tendon because this is a large, weight-bearing, relatively avascular tendon, with a known propensity to rupture.
Although there have been reports of tendon rupture after Achilles tendon injection here, this has usually occurred as a result of repeated bolus injections of large doses and volumes into the body of a degenerated tendon, followed by excessive exercise postinjection. Because of this recognized risk, we recommend always scanning the tendon before injecting to ascertain the extent of any degeneration.
Tears and degenerative changes within the substance of the tendon would be an absolute contraindication to Achilles tendon injection. This challenging disorder can frustrate both patients and clinicians.
References & More
Injection Techniques in Musculoskeletal Medicine. A Practical Manual for Clinicians In Primary And Secondary Care. Fifth Edition
Magnan B, Bondi M, Pierantoni S, Samaila E. The pathogenesis of Achilles tendinopathy: a systematic review. Foot Ankle Surg. 2014 Sep;20(3):154-9. doi: 10.1016/j.fas.2014.02.010. Epub 2014 Mar 12. PMID: 25103700.
Daftary A, Adler RS. Sonographic evaluation and ultrasound-guided therapy of the Achilles tendon. Ultrasound Q. 2009 Sep;25(3):103-10. doi: 10.1097/RUQ.0b013e3181b738a6. PMID: 19730050.
Kakkos GA, Klontzas ME, Koltsakis E, Karantanas AH. US-guided high-volume injection for Achilles tendinopathy. J Ultrason. 2021 Jun 7;21(85):e127-e133. doi: 10.15557/JoU.2021.0021. Epub 2021 Jun 18. PMID: 34258037; PMCID: PMC8264817.
Last Reviewed
June 1, 2023
Contributed by
OrthoFixar
Orthofixar does not endorse any treatments, procedures, products, or physicians referenced herein. This information is provided as an educational service and is not intended to serve as medical advice.