Procedure
Pes Anserine Bursa Injection
Pes anserine bursa injection is used to treat the chronic bursitis that is seen in overuse sports, especially dancers or runner.
Pes anserine chronic bursitis is characterized by Pain, localized tenderness and possible visible or palpable swelling just proximal to insertion of medial flexors of knee; painful resisted knee flexion. DD include individual sartorius, gracilis or semitendinosis tendon lesions.
Related Anatomy
The pes anserine, or so-called goose's foot, is the combined tendon of insertion of the sartorius, gracilis and semitendinosis. It attaches on the medial side of the tibia, just below the knee joint line. The bursa lies immediately under the tendon, just posterior to its insertion into the tibia, and is normally very tender to palpation.
See Also: Knee Muscles Anatomy
Equipment Needed
Syringe: 2 ml
Needle: Blue, 23 gauge / 1.25 inches (30 mm)
Kenalog 40: 20 mg
Lidocaine: 1.5 ml, 2%
Total volume: 2 ml
Pes Anserine Bursa Injection Technique
Patient sits with knee supported,
Identify pes anserine tendon by flexing knee against resistance. Follow easily palpated flexor tendons distally to where they disappear at insertion into tibia. Mark tender area slightly proximal to insertion
Insert needle into centre of this area, through tendon to touch bone,
Deposit solution as a bolus.
See Also: Popliteus Tendinitis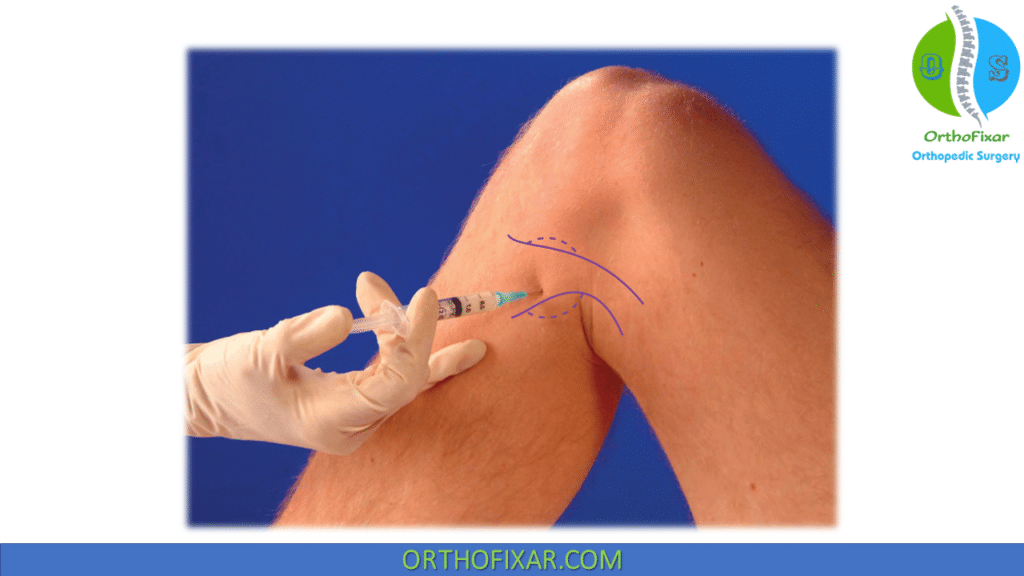 After Pes Anserine Bursa Injection, avoid overuse activities until pain free. A change in the causal activity and possible footwear correction or advice from a podiatrist may need to be considered.
Remember that the bursa is extremely tender to palpation in everyone, so always compare palpation with the other knee.
Initial treatment includes nonsteroidal anti-inflammatory drugs (NSAIDs) or ice to reduce inflammation and pain. Rehabilitation of these patients includes increasing the stretching, flexibility, and endurance of PA muscles. Use of short-term knee orthosis may be suitable for reducing the pain.
Surgical intervention is usually reserved for cases that fail conservative treatment over long periods. Incision and drainage of the bursae can relieve the symptoms, but bursal excision has also been reported in the literature. Underlying conditions should be addressed, as in cases of exostosis that should be excised.
A study suggests that ultrasound-guided pes anserinus bursa injection is more accurate and effective than blind injection in patients with PATB.
References & More
Injection Techniques in Musculoskeletal Medicine. A Practical Manual for Clinicians In Primary And Secondary Care. Fifth Edition.
Mohseni M, Mabrouk A, Graham C. Pes Anserine Bursitis. [Updated 2023 Jan 16]. In: StatPearls [Internet]. Treasure Island (FL): StatPearls Publishing; 2023 Jan-. Available from: https://www.ncbi.nlm.nih.gov/books/NBK532941/
Mun JU, Cho HR, Bae SM, Park SK, Choi SL, Seo MS, Lim YS, Rn SHW, Kim YU. Effect of polydeoxyribonucleotide injection on pes anserine bursitis: A case report. Medicine (Baltimore). 2017 Oct;96(43):e8330. doi: 10.1097/MD.0000000000008330. PMID: 29069005; PMCID: PMC5671838.
Lee JH, Lee JU, Yoo SW. Accuracy and efficacy of ultrasound-guided pes anserinus bursa injection. J Clin Ultrasound. 2019 Feb;47(2):77-82. doi: 10.1002/jcu.22661. Epub 2018 Oct 30. PMID: 30378129.
Last Reviewed
April 9, 2023
Contributed by
OrthoFixar
Orthofixar does not endorse any treatments, procedures, products, or physicians referenced herein. This information is provided as an educational service and is not intended to serve as medical advice.