Post
Distal Humerus Fracture
Distal humerus fractures in adult are uncommon injuries and constitute only 2% of all fractures. Most of them are peri-articular fractures and have a risk of associated neurovascular injury. Extension of the fracture line into the articular surface in these fractures mandates a rigid anatomical reduction so that secondary arthritis and stiffness can be avoided.
Intercondylar fractures are the most common type of fractures of the adult distal humerus. Comminution is common in these fractures. Fracture fragments are often displaced by unopposed muscle pull at the medial (flexor mass) and lateral (extensor mass) epicondyles, which rotate the articular surfaces.
Distal Humerus Fracture Classification
Distal Humerus Fracture can be classified based on the location of the fracture line and involvement
of articular elements:
supracondylar,
transcondylar intercondylar,
condylar,
capitellum,
trochlear,
lateral epicondylar
medial epicondylar fractures.
Every part of the previous fracture has its own classification.
Mehne and Matta have descriptively classified bi-columnar fractures based on the configuration of fracture lines into:
High T fracture;
low T fracture;
Y fractures;
H fractures;
medial L fracture;
lateral L fractures.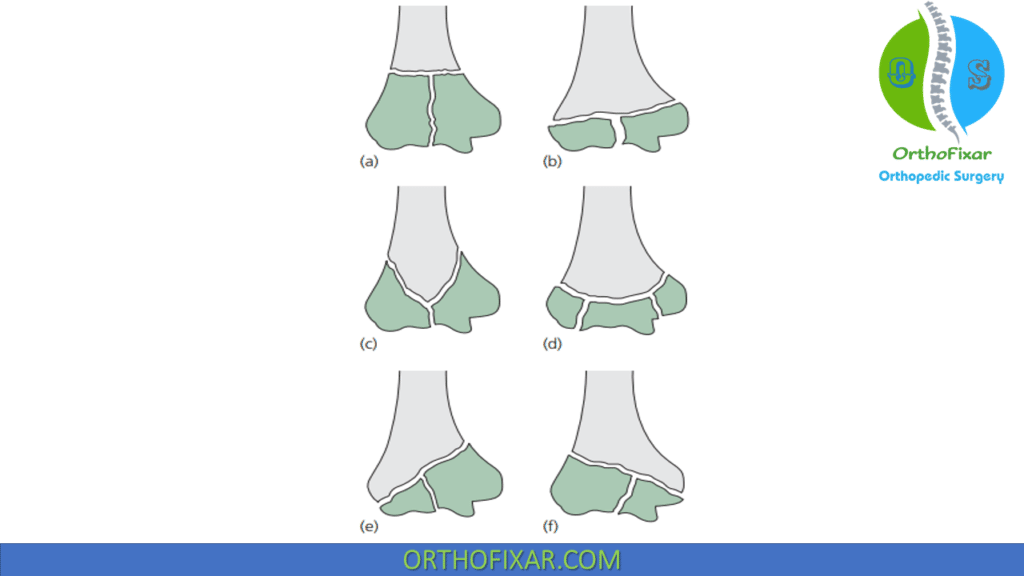 Related Anatomy
The distal humerus is roughly triangular in shape, with the medial and lateral columns forming the two sides and the base formed by the articular elements (trochlea and the capitellum). The corners of the triangle are formed by the condyles.
The capitellum articulates with the radius and the trochlea with the ulna. Their articulating surfaces project distally and anteriorly at an angle of 45°. The centres of the arcs of rotation of each condyle lie on the same horizontal axis, and relative malalignment between them interferes with the flexion–extension arc. The longitudinal axis of the forearm is placed at 4–8° of valgus compared with the arm (carrying angle).
See Also: Proximal Humerus Fracture
Injury Mechanism
In younger patients, the distal humerus fractures result from a high energy trauma such as high-velocity road traffic accidents and falling from height onto the elbow joint.
In elderly patients, these fractures usually result from low-energy trauma such as simple fall onto the elbow joint.
Clinical Evaluation
Diagnosis is usually straightforward as most patients with these fractures present with a clear history of injury associated with pain, swelling, displacement and crepitus. Highvelocity injuries can be associated with extensive soft tissue damage.
A careful neurovascular evaluation is essential because of the close proximity of the brachial artery and the median, ulnar and radial nerves. Severe swelling can cause an increase in forearm compartment pressure with the risk of compartment syndrome, resulting in Volkmann's ischaemic contracture. Serial neurovascular examinations with compartment pressure monitoring may be necessary in such patients.
Radiology
Standard anteroposterior and lateral views of the elbow are usually sufficient, and additional oblique radiographs may be helpful for further fracture definition.
In complex fractures, CT helps in defining the fracture fragments clearly and is useful in preoperative planning.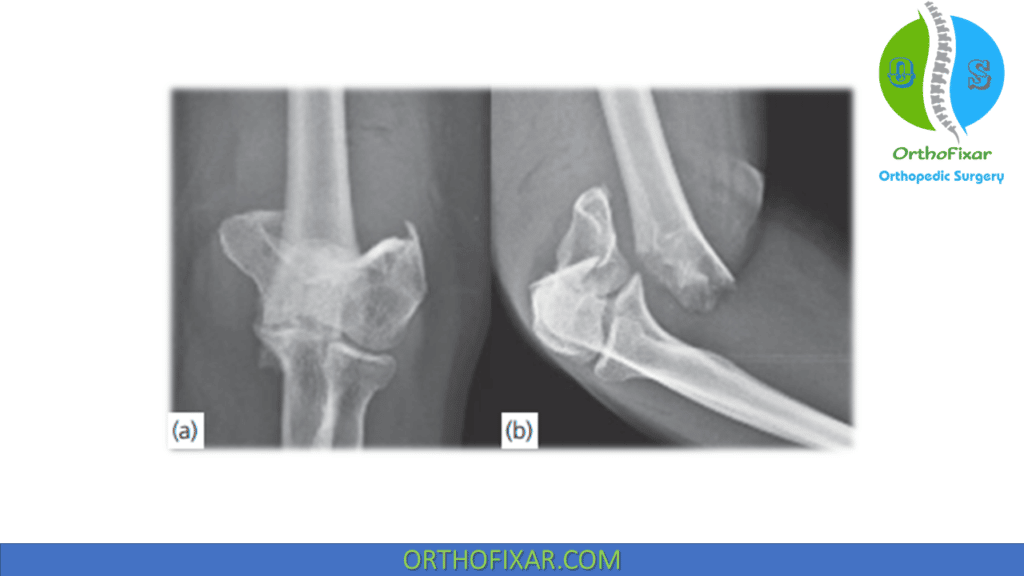 See Also: Distal Radius Fractures
Distal Humerus Fracture Treatment
Distal Humerus Fracture Treatment must be individualized according to:
the patient's age,
bone quality,
degree of comminution.
Non-operative treatment is indicated only when:
the fractures are undisplaced,
in elderly patients with severe osteopenia and comminution
in patients with significant comorbid conditions precluding operative management.
Non-operative options for displaced fractures include cast immobilization, traction with an olecranon pin or the 'bag of bones' technique, in which the arm is placed in a collar and cuff with as much flexion as possible after initial reduction. Early active mobilization is started once pain subsides.
As most of distal humerus fractures involve the joint, operative treatment for anatomical reduction and stable fixation of the fragments is usually required. Restoration of articular surface alignment and a stable internal fixation that allows early mobilization of the joint are vital to achieve good functional outcomes.
The goals of operative treatment are to restore articular congruity and to secure the supracondylar component.
The fracture anatomy can be exposed either by elevating the triceps tendons as a tongue or by an olecranon osteotomy and reflecting the triceps. Usually, dual plate fixation with one plate to stabilize the medial and lateral columns is required. Reduction of intercondylar elements and interfragmentary screw fixation is achieved, followed by alignment of the reconstructed articular fragments with the metaphyseal segment with dual plate fixation.
In patients with severe comminution or osteoporosis, specially designed locking plate constructs give good results. A total elbow arthroplasty (semi-constrained) may be considered in markedly comminuted fractures and in fractures in osteoporotic bone.
Complications
Post-traumatic arthritis can occur in fractures in which the articular congruity has not been established.
Failure of fixation can also occur as a result of a comminuted fracture pattern, leading to pain and stiffness of the joint.
Iatrogenic neurovascular injury
Infection.
References & More
Mercer's Textbook of Orthopaedics and Trauma, Tenth edition.
Ring D, Jupiter JB, Gulotta L. Articular fractures of the distal part of the humerus. J Bone Joint Surg Am. 2003 Feb;85(2):232-8. doi: 10.2106/00004623-200302000-00008. PMID: 12571299.
Mehne DK, Matta J. Bicolumn fractures of the adult humerus. Presented at the 53rd Annual Meeting of the American Academy of Orthopaedic Surgeons, 1986, New Orleans, LA.
Garcia JA, Mykula R, Stanley D. Complex fractures of the distal humerus in the elderly. Journal of Bone and Joint Surgery (British) 2001;84B:812–16.
Last Reviewed
December 2, 2022
Contributed by
OrthoFixar
Orthofixar does not endorse any treatments, procedures, products, or physicians referenced herein. This information is provided as an educational service and is not intended to serve as medical advice.