Special Test
Waddell Signs
Waddell Signs or Waddell Nonorganic Signs are group of eight clinical physical signs to detect psychogenic, or "non-organic," low back pain in patients.
Waddell Signs were first described by Professor Gordon Waddell in 1980. Waddell initially developed these signs as a method to identify patients with low back pain who were likely to experience a poor surgical outcome from lower back surgery.
Waddell Signs
Waddell Nonorganic Signs include the following:
Tenderness (Superficial or Nonanatomic)
Tenderness is not related to a particular structure. It may be superficial (tender to a light pinch over a wide area) or deep tenderness felt over a wide area (may extend over many segmental levels).
Simulation tests (axial loading in rotation)
These tests give the client the impression that diagnostic tests are being performed. Slight pressure (axial loading) applied to the top of the head or passive rotation of the shoulders & pelvis in the same direction produces complaints of LBP.
Distraction tests (SLR)
A positive clinical test (straight leg raise) is confirmed by testing the structures in another position. By appearing to test the plantar reflex in sitting, the examiner may actually lift the leg higher than that of the supine SLR.
See Also: Straight Leg Raise Test
Regional disturbances (weakness or sensory)
When the dysfunction spans a widespread region of the body (sensory or motor) that cannot be explained via anatomical relationships. This may be demonstrated by the client "giving way" or cogwheel resistance during strength testing of many major muscle groups or reporting diminish sensation in a non dermatomal pattern (stocking effect).
Overreaction
Disproportionate responses via verbalization, facial expressions, muscle tremors, sweating, collapsing, rubbing affected area, or emotional reactions.
Any positive test in 3 or more categories results in an overall Waddell Score.
Reliability
In 1998, Main and Waddell stated that these physical signs have been misinterpreted and misused both clinically and medico-legally. In their article, they emphasize the importance of viewing back pain within a psychosocial context. They state that behavioral signs may be a response affected by fear from injury and development of chronic incapacity and are not a test of credibility. They conclude that patients displaying Waddell signs may require both physical management of their physical pathology as well as careful therapy for the psychosocial and behavioral aspects of their illness.
See Also: Neck Disability Index
Somatosensory Amplification Rating Scale (SARS)
The Somatosensory Amplification Rating Scale (SARS) is a version of the Waddell's signs, which has been modified to allow for a more accurate appraisal of the patient with exaggerated illness behavior.
It is important to remember that the Waddell and the SARS assessment tools are designed not to detect whether patients are malingering, but only to indicate whether they have symptoms of a nonorganic origin.
SARS scores of 5 or greater are indicative of inappropriate illness behavior. The higher the score, the greater the exaggerated behavior.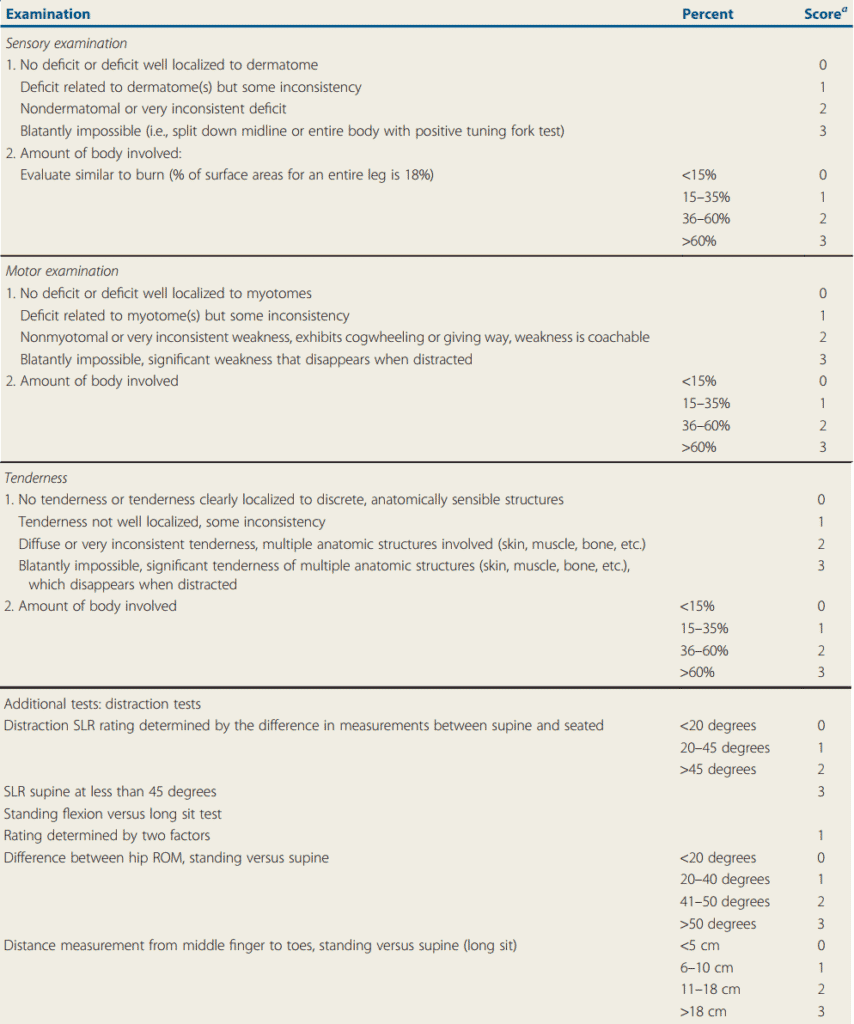 References
D'Souza RS, Dowling TJ, Law L. Waddell Sign. 2022 Apr 30. In: StatPearls [Internet]. Treasure Island (FL): StatPearls Publishing; 2022 Jan–. PMID: 30137776.
Waddell G, McCullochJA, Kummel E, et al: Nonorganic physical signs in low-back pain. Spine 5:117–125, 1980.
Barsky AJ, Goodson JD, Lane RS, et al.: The amplification of somatic symptoms. Psychosom Med 50:510–519, 1988.
WernekeMW,Harris DE, Lichter RL: Clinical effectiveness of behavioral signs for screening low-back pain patients in a work oriented physical rehabilitation program. Spine 18:2412, 1993.
Kenna O, Murtagh A: The physical examination of the back. Aust Fam Physician 14:1244–1256, 1985.
Dutton's Orthopaedic Examination, Evaluation, And Intervention 3rd Edition.
Last Reviewed
June 23, 2022
Contributed by
OrthoFixar
Orthofixar does not endorse any treatments, procedures, products, or physicians referenced herein. This information is provided as an educational service and is not intended to serve as medical advice.