Special Test
Mortons Neuroma Test
What is Mortons Neuroma Test?
Mortons Neuroma Test (or Mulder Click Test) is used To detect the presence of interdigital neuroma (Morton's neuroma) in the foot.
It's also called Metatarsal Squeeze Test or Morton Neuroma Squeeze Test.
See Also: Mortons Neuroma
How do you test for Morton's neuroma?
Morton Test is performed with the Patient is in seated position.
The examiner grasps the patient's forefoot in a pincer grip and compresses it.
This pushes the adjacent metatarsal heads against each other.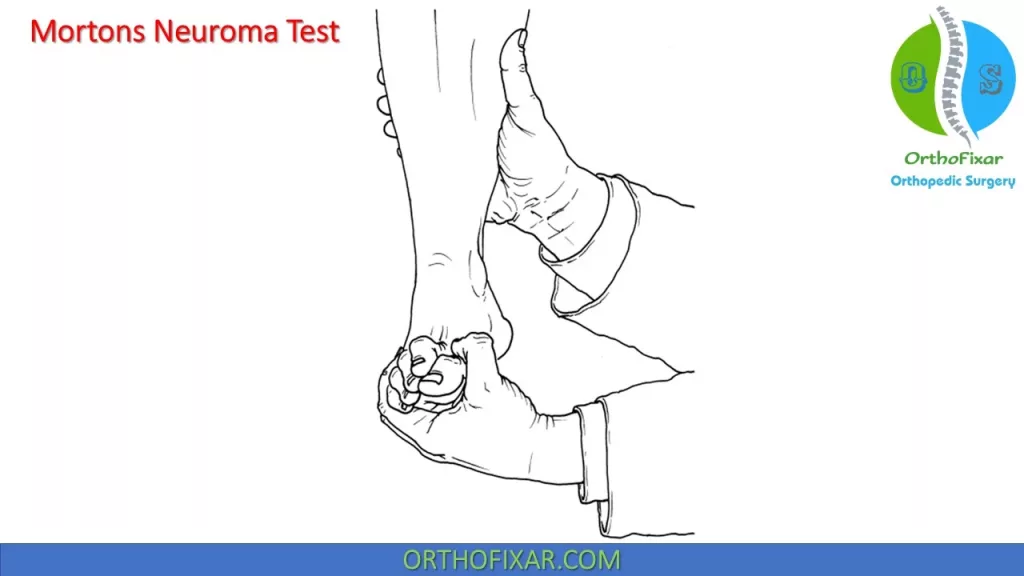 What does a positive Morton's Neuroma Test mean?
Where an interdigital neuroma is present, pushing the metatarsal heads against one another will cause pain with occasional paresthesia radiating into the adjacent toes.
Small fibroma like hardened areas between the toes will also be palpable and will displace, sometimes with a clicking sound, as the forefoot is compressed.
Sensitivity & Accuracy
A Comparative Study 1 by Devendra Mahadevan to assess the diagnostic accuracy of 7 clinical tests for Morton's neuroma (MN) compared with ultrasonography (US) on Forty patients (54 feet), he found that the Sensitivity & Accuracy of Mortons Neuroma Test was:
Sensitivity: 61%
Accuracy: 62%
Digital Nerve Stretch Test
Digital Nerve Stretch Test is another neurological test that's used to evaluate Morton's neuralgia.
The patient lies supine. Both ankles are held in full dorsi flexion, while the examiner fully dorsi flexes the lesser toes passively on either side of the suspected web space bilaterally.
The test is positive if the patient complains of burning pain over the plantar surface at the level of the affected metacarpal head with radiation into the respective toe(s). The patient often complains of "electric" pain on standing and when "toeing off" while walking with radiation into the toes, occasionally associated with hypesthesia of the affected toe(s). Even the pressure from narrow shoes can trigger the pain.
One study showed that the digital nerve stretch test showed 100% sensitivity, with a 95% positive predictive value for Morton's neuroma and neuritis.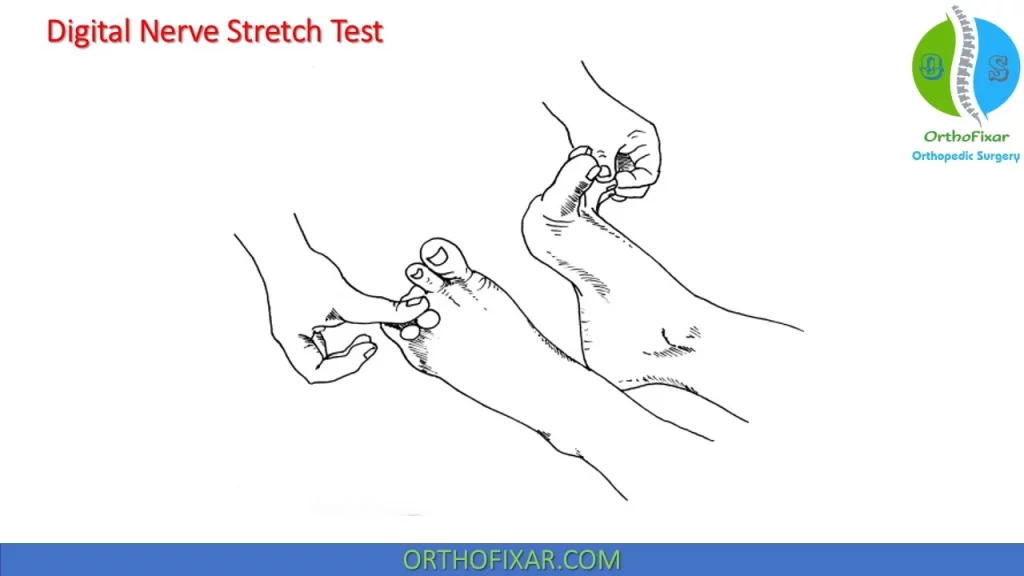 Notes
Morton's neuroma is a spindle-shaped bulb that develops in a plantar nerve. Painful interdigital neuromas usually develop in the second or third interdigital fold; neuromas in the first or fourth interdigital fold are rare.
It manifests with metatarsalgia and sometimes numbness and tingling between 3rd and 4th toes.
Patients present with pain on walking, well-localized and patients wearing shoes note that taking the shoes off relieves the pain. Some patients feel sitting cross legged causing pain.
Injection of a local anesthetic through the deep transverse metatarsal ligament can confirm the diagnosis by anesthetizing the neuroma.
A pain provocation test of the interdigital space from the plantar side is the Hohmann maneuver.
The reproduction of pain with this maneuver indicates the presence of a neuroma or a stress fracture.
Further irritation of the nerve may be produced by reciprocally moving the first and fifth metatarsals up and down in opposite directions. If this compression of the metatarsal heads reproduces the patient's characteristic pain, it is highly suggestive of the presence of an interdigital neuroma.
References
Mahadevan D, Venkatesan M, Bhatt R, Bhatia M. Diagnostic Accuracy of Clinical Tests for Morton's Neuroma Compared With Ultrasonography. J Foot Ankle Surg. 2015 Jul-Aug;54(4):549-53. doi: 10.1053/j.jfas.2014.09.021. PMID: 25432459.
MULDER JD. The causative mechanism in morton's metatarsalgia. J Bone Joint Surg Br. 1951 Feb;33-B(1):94-5. doi: 10.1302/0301-620X.33B1.94. PMID: 14814167.
D. J. Cloke, M. E. Greiss: The digital nerve stretch test: A sensitive indicator of Morton's neuroma and neuritis. December 2006Foot and Ankle Surgery 12(4):201-203.
Cashley DG, Cochrane L. Manipulation in the Treatment of Plantar Digital Neuralgia: A Retrospective Study of 38 Cases. J Chiropr Med. 2015 Jun;14(2):90-8. doi: 10.1016/j.jcm.2015.04.003. Epub 2015 Jun 24. PMID: 26257593; PMCID: PMC4523570.
Clinical Tests for the Musculoskeletal System 3rd Edition.
Dutton's Orthopaedic Examination, Evaluation, And Intervention 3rd Edition.
Last Reviewed
February 2, 2022
Contributed by
OrthoFixar
Orthofixar does not endorse any treatments, procedures, products, or physicians referenced herein. This information is provided as an educational service and is not intended to serve as medical advice.