Special Test
Lichtman Test Midcarpal Instability
The Lichtman test is a provocative test for midcarpal instability. It was described by David M Lichtman1.
How it's Performed?
The patient's forearm is positioned in pronation and the hand is held relaxed and supported by the clinician.
The clinician gently moves the patient's hand from radial to ulnar deviation while compressing the carpus into the radius.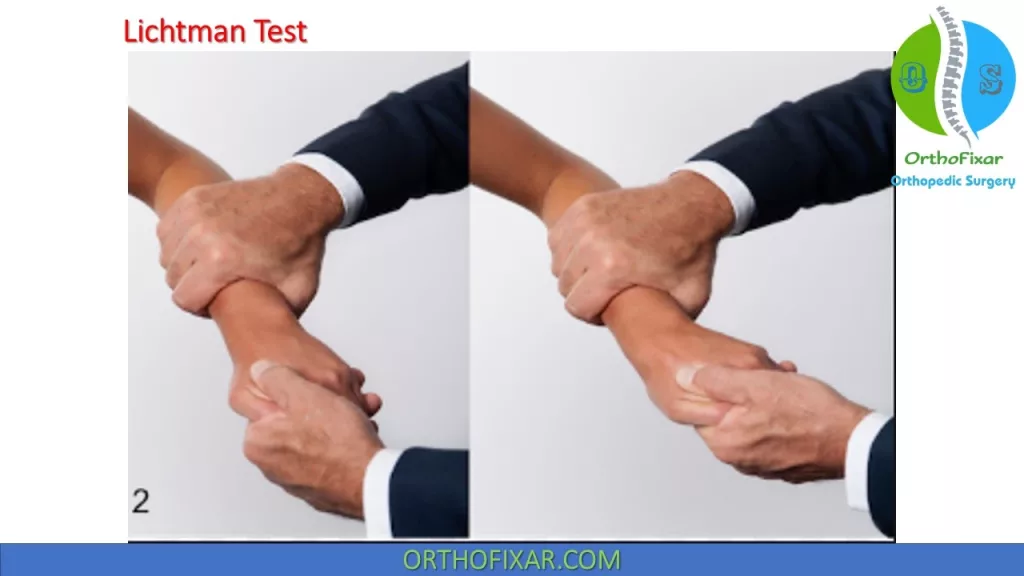 What does a positive Lichtman Test mean?
A positive Lichtman Test is when the midcarpal row appears to jump or snap from an anteriorly (palmarly) subluxed position to the height of the proximal row.
Notes
Normally as the wrist moves from radial to ulnar deviation, the proximal carpal row rotates smoothly from flexion to extension while the distal row translates from palmar to dorsal.
With midcarpal instability, the proximal row remains flexed and the distal row remains volarly translated longer than normal during ulnar deviation. As ulnar deviation progresses, the softtissue and bony restraints cause a sudden "catchup" of the proximal row into extension and the distal row into dorsal translation, which is often an audible or palpable "clunk".
The presences of palmar translation or a clunk alone without the reproduced symptoms are not considered positive, because they can occur in normal asymptomatic patients.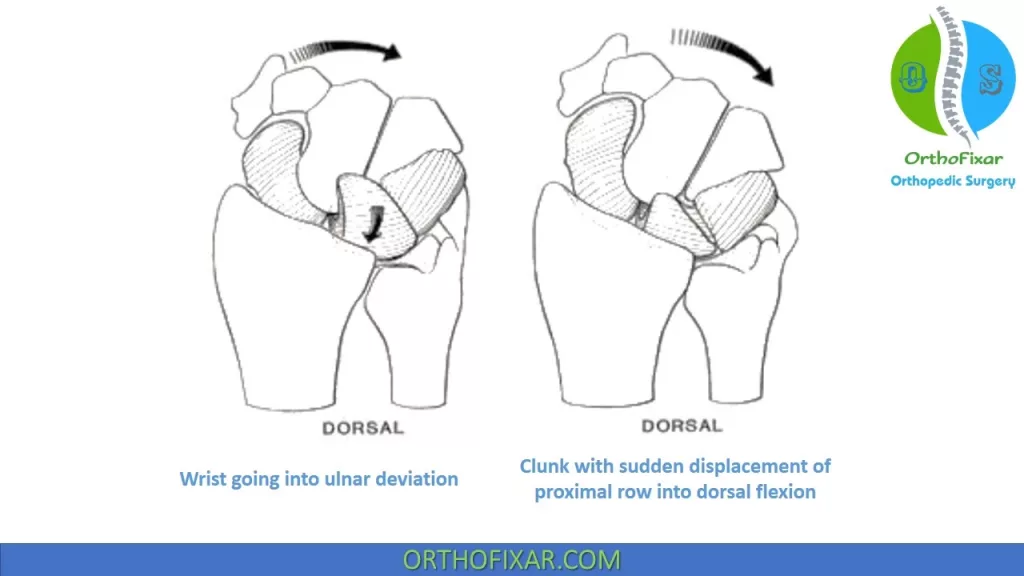 Midcarpal instability:
Midcarpal instability This usually emerges as a chronic problem, associated with generalized ligamentous laxity. The proximal and distal rows become unstable through the midcarpal joint.
Treatment includes proprioceptive training (a gyroscopic device can help). Intractable symptoms may respond to arthroscopic shrinkage of the capsule with a diathermy probe. The alternative of a ligament reconstruction is unreliable, and midcarpal fusion causes very significant loss of movement (about 50%)
Reference
David M Lichtman, Eric S Wroten:Understanding midcarpal instability. J Hand Surg Am. 2006 Mar;31(3):491-8. doi: 10.1016/j.jhsa.2005.12.014. PMID: 16516747
Waggy C: Disorders of the wrist. In: Wadsworth C, ed. Orthopaedic Physical Therapy Home Study Course – The Elbow, Forearm, and Wrist. La Crosse, WI: Orthopaedic Section, APTA, Inc. 1997.
Dutton's Orthopaedic Examination, Evaluation, And Intervention 3rd Edition.
Last Reviewed
July 18, 2023
Contributed by
OrthoFixar
Orthofixar does not endorse any treatments, procedures, products, or physicians referenced herein. This information is provided as an educational service and is not intended to serve as medical advice.