Approach
Anterior Approach to the Clavicle
Anterior Approach to the Clavicle can be used in any type of clavicle midshaft fractures for anterior or superior clavicle plating.
Clavicle anterior approach indications include the following:
1. Open reduction and internal fixation of fractures
2. Reconstruction of the sternoclavicular and the acromioclavicular joints in case of dislocation
3. Drainage of sepsis
4. Biopsy and excision of tumors
5. Osteotomy for malunion
The brachial plexus and subacromial vessels can also be approached via this surgical approach, where osteotomy of the clavicle is required.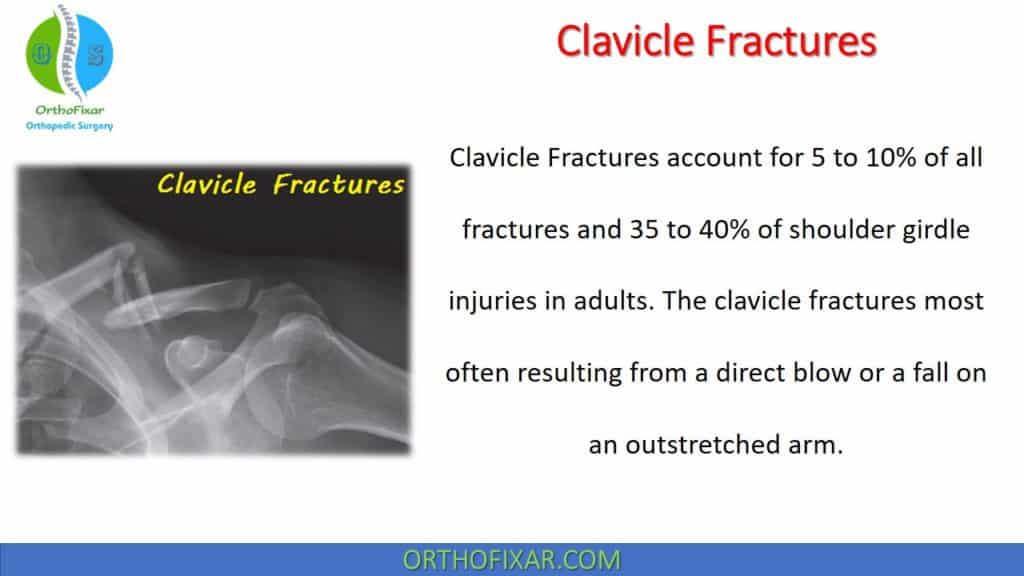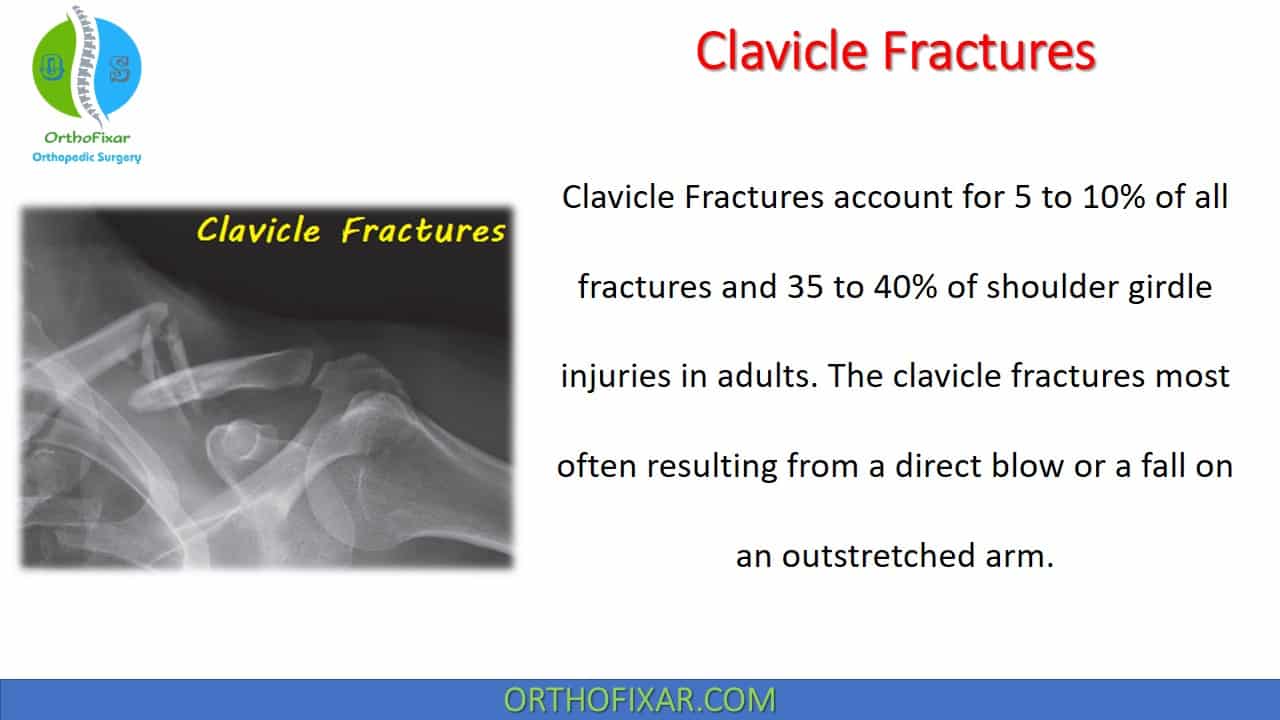 The clavicle fractures most often resulting from a direct blow or a fall on an outstretched arm, it's one of the most frequently fractures in the body.
Read More >>>
Position of the Patient
The patient is placed supine on the operating table. Break the table and elevate the head end, so as to elevate the shoulder area. Place a sandbag between the medial border of the scapula and the spine.
Landmarks and Incision
The sternal notch is the most medial landmark of the incision.
Make an incision following the S-shaped clavicular anatomy, beginning from the medial end.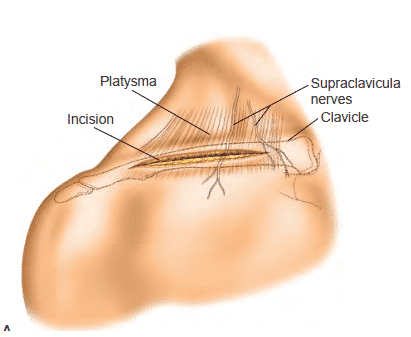 Internervous plane
There is no internervous plane for clavicle anterior approach because the approach is directly onto the subcutaneous surface of the clavicle.
Superficial dissection
Deepen the skin incision through the platysma to reach the subcutaneous surface of the clavicle.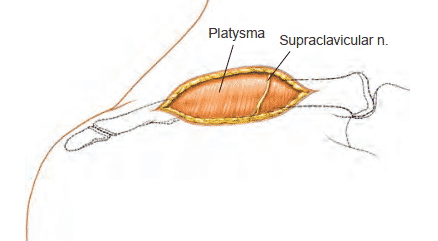 Deep dissection
Gently strip soft tissues off the subcutaneous surface of the clavicle in an epi-periosteal plane.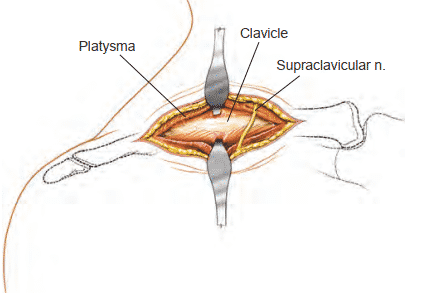 Approach Extension
This approach can be enlarged longitudinally along the whole length of the clavicle as required.
The approach can be extended distally into the anterolateral approach to the proximal humerus and
mid shaft of the humerus using the deltopectoral interval.
Dangers
The structures at risks in anterior approach to the clavicle are:
Nerves: The brachial plexus.
Vessels: The subacromial artery and vein.
---
References & More:
Surgical Exposures in Orthopaedics 4th Edition Book.
Anterior approach to the clavicle – AO Surgery Reference.
Bentley TP, Hosseinzadeh S. Clavicle Fractures. [Updated 2022 Aug 1]. In: StatPearls [Internet]. Treasure Island (FL): StatPearls Publishing; 2022 Jan-. Available from: https://www.ncbi.nlm.nih.gov/books/NBK507892/
Ai J, Kan SL, Li HL, Xu H, Liu Y, Ning GZ, Feng SQ. Anterior inferior plating versus superior plating for clavicle fracture: a meta-analysis. BMC Musculoskelet Disord. 2017 Apr 18;18(1):159. doi: 10.1186/s12891-017-1517-1. PMID: 28420364; PMCID: PMC5395806.
Last Reviewed
May 16, 2023
Contributed by
OrthoFixar
Orthofixar does not endorse any treatments, procedures, products, or physicians referenced herein. This information is provided as an educational service and is not intended to serve as medical advice.