Special Test
Penn Shoulder Score
Shoulder outcome measures are used to assess patient self-report levels of pain, satisfaction, and function.
The Penn Shoulder Score is a 100-point shoulder-specific self-report questionnaire consisting of 3 subscales of pain, satisfaction, and function. 
Penn Shoulder Score (PSS)
Patients are asked to rate their level of pain, satisfaction, and function on three subscales.
Pain Subscale
The pain subscale consists of 3 pain items that address pain at rest, with normal activities and with strenuous activities (Appendix). All are based on a 10-point numeric rating scale with end points of ''no pain'' and ''worst possible pain.'' Points are awarded for each item by subtracting the number circled from the maximum of 10. Therefore, a patient is awarded 30 points for complete absence of pain. If a patient is not able to use the arm for normal or strenuous activities, 0 points are scored for that item
Satisfaction Subscale
Patient satisfaction with shoulder function is also assessed with a 10-point numeric rating scale. The endpoints are ''not satisfied'' and ''very satisfied.'' A maximum of 10 points for this section indicates that the patient is ''very satisfied'' with the current level of function of their shoulder.
Function Subscale
The function subsection is based on a sum of 20 items, each with a 4-point Likert scale. The response options include 0 (can't do at all), 1 (much difficulty), 2 (with some difficulty), and 3 (no difficulty). A patient is awarded 60 points if all activities can be performed without difficulty. Because some items in this subscale may not be applicable to all patients, the response option ''did not do before injury'' is available.
For scoring purposes, the total possible points for the function subscale is reduced by 3 when this option is circled. Scoring is based on a percentage of the total possible points. For example, a patient has a total score for the function subsection of 27 points. He or she responded ''did not do before injury'' for 2 items. Therefore, the total possible points would be 54 (60 – 6). The final function score would be calculated: 27 / 54 = 0.5, then 0.5 × 60 = patient's function subscale score of 30 points.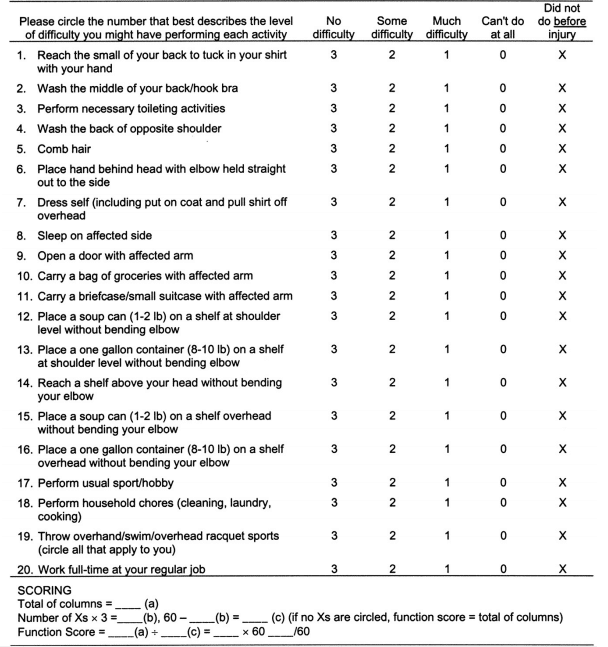 A maximum score of 100 indicates low pain, high satisfaction, and high function.
One study has demonstrated that the Penn Shoulder Score is a reliable and valid measure for reporting outcome of patients with various shoulder disorders.
References
Leggin BG, Michener LA, Shaffer MA, Brenneman SK, Iannotti JP, Williams GR Jr. The Penn shoulder score: reliability and validity. J Orthop Sports Phys Ther. 2006 Mar;36(3):138-51. doi: 10.2519/jospt.2006.36.3.138. PMID: 16596890.
The Penn Shoulder Score: Reliability and Validity – JOSPT
Netter's Orthopaedic Clinical Examination An Evidence-Based Approach 3rd Edition Book.
Last Reviewed
January 13, 2023
Contributed by
OrthoFixar
Orthofixar does not endorse any treatments, procedures, products, or physicians referenced herein. This information is provided as an educational service and is not intended to serve as medical advice.