Special Test
Milking Maneuver
Milking Maneuver is used to evaluate the posterior band of the medial ulnar collateral ligament (Valgus Instability) of the elbow joint.
See Also: Elbow Anatomy
How it's Performed?
The patient is seated and the arm is positioned in shoulder flexion, elbow flexion beyond 90 degrees, and forearm supination.
The clinician pulls downward on the patient's thumb.
This maneuver generates a valgus stress on the flexed elbow.
The tests are repeated on the opposite extremity and the findings compared.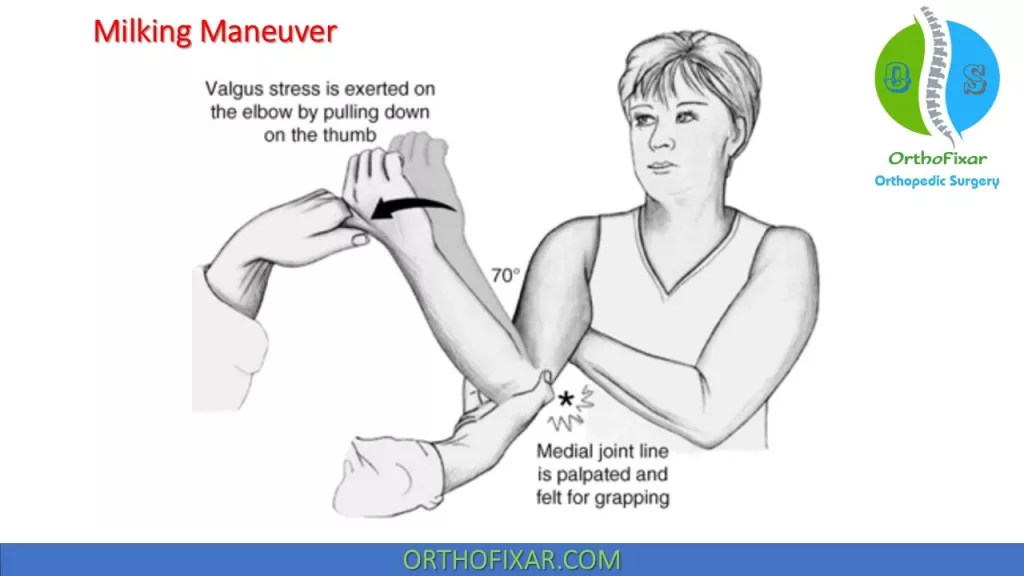 What does a positive Milking Maneuver mean?
Positive Milking Maneuver if there is apprehension, instability, or pain at the medial collateral ligament origin of the elbow.
Modified Milking Maneuver
To assess injuries to the MCL, the positioning of the shoulder should be in adduction and full external rotation. The forearm should be placed in supination along with 70° of elbow flexion. The clinician should then pull the patient's thumb with one hand to create valgus stress. The medial joint line is palpated using the other hand while the valgus stress is applied.
Pain, laxity, and/or apprehension about the medial elbow by the patient reflects a positive test.
Notes
Medial or ulnar collateral ligament (MCL or UCL) has three bundles: anterior, posterior, and transverse bundles.
It arises from the anteroinferior portion of the medial humeral epicondyle and is the primary static stabilizer to valgus stress.
Anterior bundle is the most important in helping resist valgus forces and attaches 18 mm distal to the coronoid tip at the sublime tubercle.
Valgus stability with the arm in pronation suggests that the anterior bundle of the UCL is intact.
Posterior bundle: greatest change in length from flexion to extension. It's best tested using a milking maneuver.
No diagnostic accuracy studies have been performed to determine the sensitivity or specificity of this test.
Reference
Karbach LE, Elfar J. Elbow Instability: Anatomy, Biomechanics, Diagnostic Maneuvers, and Testing. J Hand Surg Am. 2017 Feb;42(2):118-126. doi: 10.1016/j.jhsa.2016.11.025. PMID: 28160902; PMCID: PMC5821063.
Hariri S, Safran MR. Ulnar collateral ligament injury in the overhead athlete. Clin Sports Med. 2010 Oct;29(4):619-44. doi: 10.1016/j.csm.2010.06.007. PMID: 20883901.

Mark Dutton, Pt . Dutton's Orthopaedic Examination, Evaluation, And Intervention, 3rd Edition Book.

Millers Review of Orthopaedics, 7th Edition Book.
Campbel's Operative Orthopaedics 13th edition book.
Last Reviewed
June 13, 2023
Contributed by
OrthoFixar
Orthofixar does not endorse any treatments, procedures, products, or physicians referenced herein. This information is provided as an educational service and is not intended to serve as medical advice.