Special Test
Staheli Test
Staheli Test or Staheli's Rotational Profile Tests is used to identify the site of rotational deformity of lower extremity in children.
See Also: Metatarsus Adductus
How do you perform the Staheli Tests?
Foot progression angle (FPA):
Foot progression angle is the angle between the longitudinal axis of foot and direction of gait progression:
The normal foot progression is outward with a mean angle of 6° (range −5 to +15°) in children aged 1–3 years
4° (range −2 to +12°) for children aged more than 4 years.
Foot progression angle gives a measure of degree of toeing in or out due to contributions from foot, tibia and femur.
Medial and lateral rotation of hip:
Medial and lateral rotation of hip is best assessed in prone position with knees flexed to 90º. Patient with excessive femoral anteversion will have more internal rotation movement with corresponding limitation of external rotation. Internal rotation of hip greater than 70º indicates excessive femoral anteversion. The version is estimated by the degree of hip rotation required to bring head and neck axis to the horizontal and is represented by the angle between the leg and vertical axis.
Clinically the head and neck axis is made horizontal to the couch by rotating the leg and holding it when the trochanter is most prominent. The normal anteversion is about 40º at birth and 15º in adults.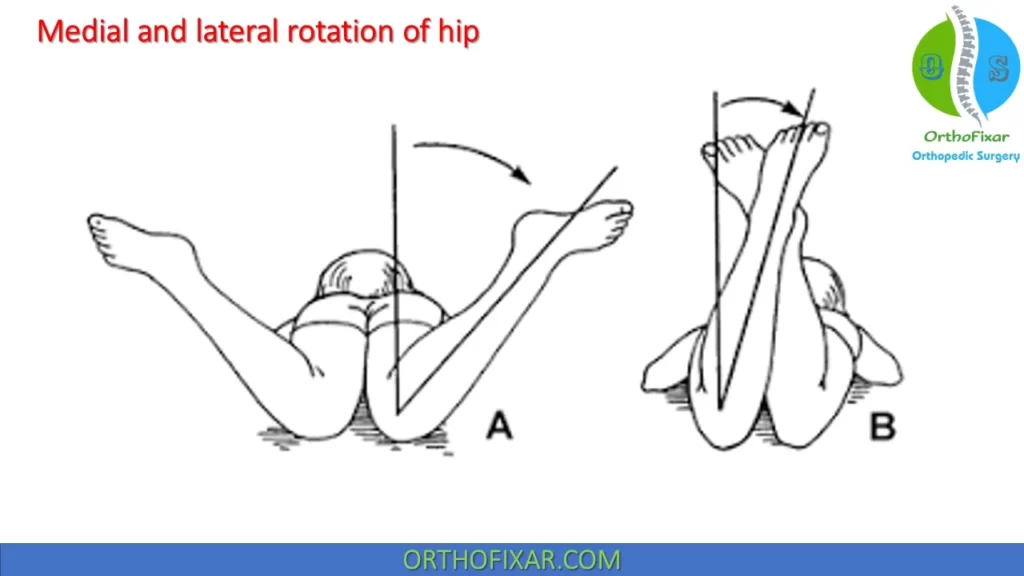 Thigh foot angle:
Thigh foot angle determines the tibial torsion and is between the longitudinal axis of the thigh and foot when observed from above with patient in prone position and knee flexed to 90º (Normal 0 to 30º). Transmalleolar angle can also be used for tibial torsion; with patient in same position the angle between axis of thigh and line perpendicular to transmalleolar axis (line connecting mid point of medial and lateral malleoli) measures the tibial torsion. This can be used when there is a foot deformity.
The foot deformity is assessed by noting the position of forefoot in relationship to hind foot by the heel bisector line.
In infants, the average thigh-foot angle measures 5° internal (range −30° internal to +20° external).
Commonly, the tibial rotational profile changes from internal torsion to external torsion, and most of the change takes place by 4–5 years of age.
By the age of 8 years, the thigh foot angle averages 10° external (range, −5 to +30°).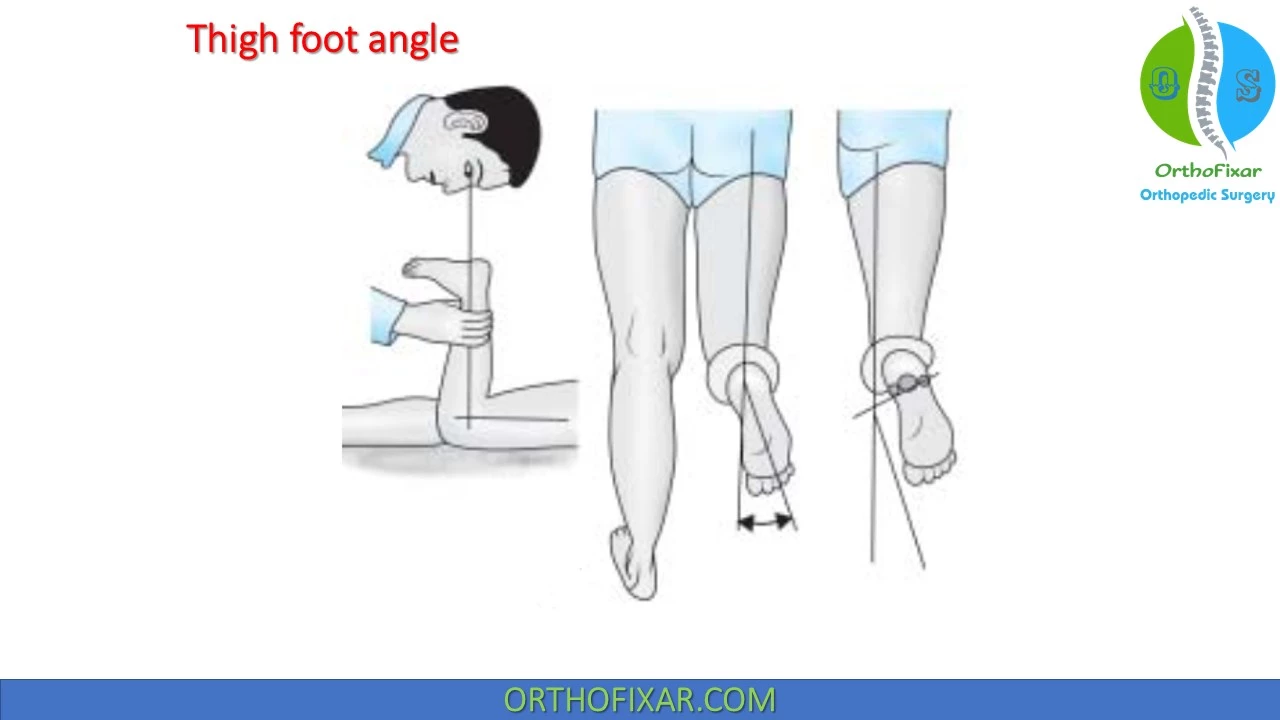 Rotational deformities in children
Rotational deformities in children manifest with toeing in or toeing out. The deformity can be in the femur, tibia or foot. The usual presentation is for cosmetic reasons or sometimes with gait disturbance, patellofemoral disease and arthritis. Version refers to normal rotational alignment of tibia and femur; torsion is when the deformity is abnormal. In common practice version is used for describing femoral rotational alignment and torsion for tibia.
Birth history and milestones must be asked.
The family may complain of:
clumsiness,
difficulty in running,
frequent falls,
cosmetic appearance.
Gait can be in-toeing or can have other abnormalities.
Examination on Standing
Assess the normal limb alignment in sagittal plane. The normal plumb line (mechanical axis) is from midinguinal point (midpoint between anterosuperior iliac spine and pubic symphysis) through midline of knee joint and passes through second toe. In-turning of patella due to excessive femoral torsion may be associated with toeing in or out depending upon tibial rotation. In early stages of excessive femoral anterior torsion, in toeing is present, but in late stages normal toeing out is present because of compensatory lateral tibial rotation following growth.
Examination on Sitting
Sitting with legs hanging down, axis of thigh to intermalleolar axis gives an indication of tibial torsion. Normally the tip of lateral malleolus is 1 cm behind and below the medial malleolus. Child with significant anteversion often sits in "W" position that is "both hips fully internally rotated and legs out." Always check the hip for dysplasias, spine for any abnormalities, knee for patellofemoral malalignment and increased "Q" angle, and foot for deformities.
References
Kahf H, Kesbeh Y, van Baarsel E, Patel V, Alonzo N. Approach to pediatric rotational limb deformities. Orthop Rev (Pavia). 2019 Jun 26;11(3):8118. doi: 10.4081/or.2019.8118. PMID: 31579218; PMCID: PMC6769356.
Clinical Assessment and Examination in Orthopedics, 2nd Edition Book.
Last Reviewed
May 12, 2023
Contributed by
OrthoFixar
Orthofixar does not endorse any treatments, procedures, products, or physicians referenced herein. This information is provided as an educational service and is not intended to serve as medical advice.