Special Test
Hook Test
Hook Test is used to check for Distal Biceps tendon Avulsion at the elbow joint. It was developed by Shawn W O'Driscoll in 20071.
The hook test attempts to snag the distal biceps tendon. If the tendon cannot be "hooked," it is indicative of a distal rupture.
How do you perform the Hook Test?
With the patient sitting or standing, the shoulder is abducted to 90°, the elbow is flexed to 90° and fully supinated the forearm.
The examiner stands beside the patient and try to resists forearm supination while attempting to hook the lateral edge of the distal biceps tendon with the index finger.
In uninjured individuals, the distal biceps tendon can be identified as a cordlike structure crossing the center of the cubital fossa.
See Also: Biceps Squeeze Test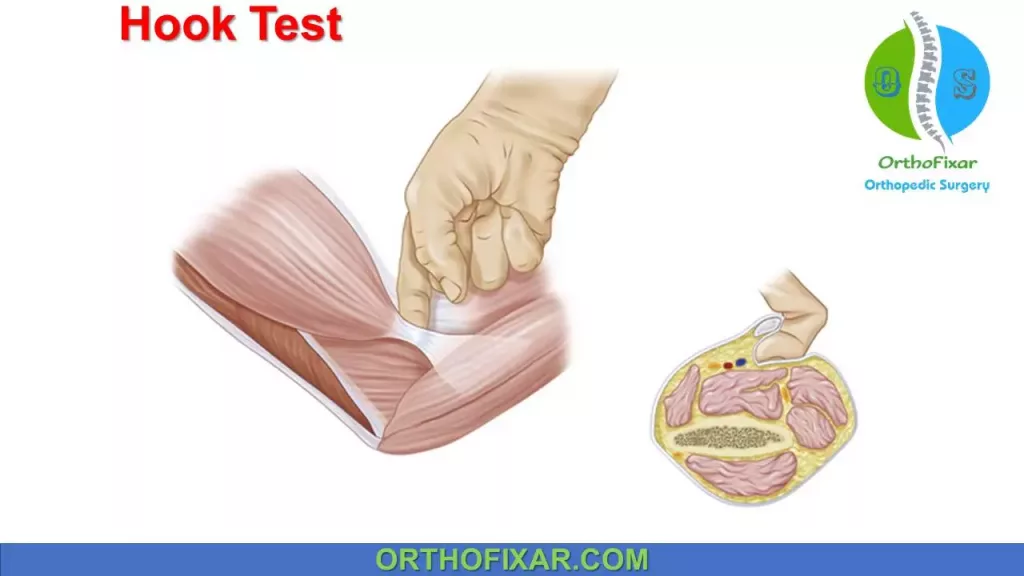 What does a positive Hook Test mean?
The examiner should be able to "hook" an index finger under the cordlike structure in the antecubital fossa if the biceps tendon is intact.
If the distal biceps tendon is completely ruptured, the examiner won't feel the cord like structure under which the he hooks the finger.
Some conditions give a false positive results:
Partial tear.
Intact lacertus fibrosis.
Underlying brachialis tendon.
See Also: Distal Biceps Tendon Tear
Sensitivity & Specificity
Shawn W O'Driscoll1 found that the hook test is a highly sensitive and specific test for assessment of distal biceps tendon avulsions:
Sensitivity: 100 %
Specificity: 100 %
In another study on 48 patients with suspected distal biceps tendon injuries, the Sensitivity & Specificity was 81% and 100%, respectively.
Note
The examiner must be sure to hook the lateral edge of the biceps tendon, not the medial edge, because the lacertus fibrosus might be mistaken for an intact biceps tendon.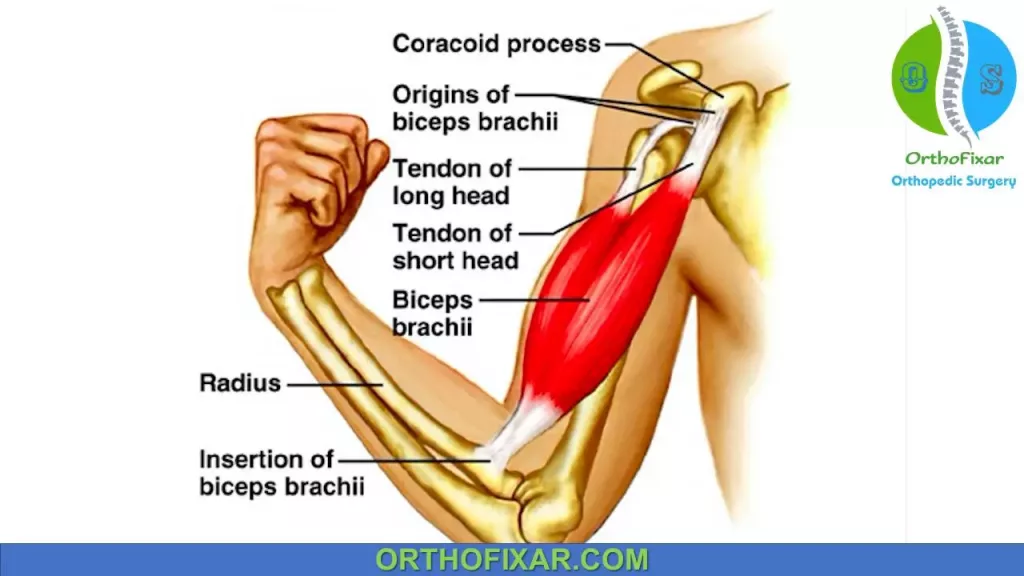 Reference
Shawn W O'Driscoll, Lucas B J Goncalves, Patricio Dietz: The hook test for distal biceps tendon avulsion. Am J Sports Med. 2007 Nov;35(11):1865-9. doi: 10.1177/0363546507305016. Epub 2007 Aug 8. PMID: 17687121.
Devereaux MW, ElMaraghy AW. Improving the rapid and reliable diagnosis of complete distal biceps tendon rupture: a nuanced approach to the clinical examination. Am J Sports Med. 2013 Sep;41(9):1998-2004. doi: 10.1177/0363546513493383. Epub 2013 Jun 26. PMID: 23804587.
Campbel's Operative Orthopaedics 13th edition book.
Last Reviewed
June 13, 2023
Contributed by
OrthoFixar
Orthofixar does not endorse any treatments, procedures, products, or physicians referenced herein. This information is provided as an educational service and is not intended to serve as medical advice.