Indications and Contraindications for high tibial osteotomy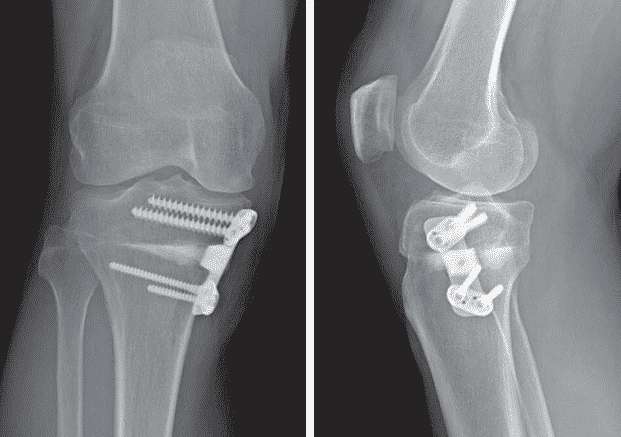 High tibial osteotomy is a procedure for the treatment of uni-compartmental osteoarthritis of the knee joint.
The most common deformity in patients with knee osteoarthritis is a varus position, which causes stresses to be concentrated om medial compartment of the joint, which leads to accelerate degenerative changes in this compartment.
What are the indications for high tibial osteotomy in osteoarthritis of the knee?
Patient is physiologically young and active.
Pain and disability resulting from osteoarthritis that prevent the patient from daily activities.
Evidence on weight-bearing radiographs of degenerative arthritis that is confined to one compartment with a corresponding varus or valgus deformity.
The patient must be able to use crutches or a walker, and have sufficient muscle strength and motivation to carry out a rehabilitation program.
See Also: Risk factors associated with osteoarthritis disease
What are the Contraindications for high tibial osteotomy in osteoarthritis of the knee?
Narrowing of lateral compartment cartilage space.
Lateral tibial subluxation of more than 1 cm.
Medial compartment tibial bone loss of more than 2 or 3 mm,
Flexion contracture of more than 15 degrees.
Knee flexion of less than 90 degrees.
More than 20 degrees of correction needed.
Inflammatory arthritis.
Significant peripheral vascular disease.
See Also: Anatomic sources of pain in osteoarthritis
Learn More Orthopedic
Get Orthopedic apps for android