Post
Prolotherapy Injection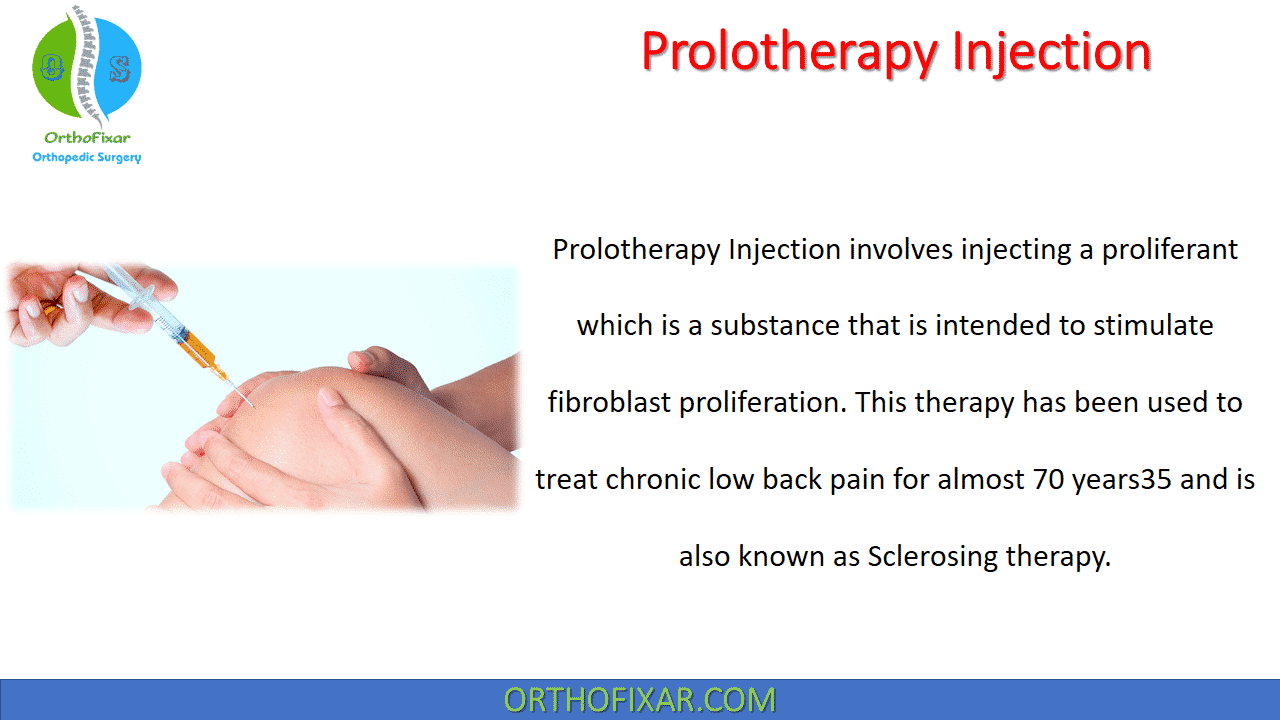 Prolotherapy Injection involves injecting a proliferant which is a substance that is intended to stimulate fibroblast proliferation. This therapy has been used to treat chronic low back pain for almost 70 years35 and is also known as Sclerosing therapy.
Sclerosing therapy was used by Hippocrates, in the form of cautery at the shoulder, to prevent recurrent dislocation. In current medical practice, sclerosing agents are mainly injected to treat varicose veins, oesophageal varices and piles.
Prolotherapy involves the injection of non-biological solutions, typically at soft tissue attachments and within joint spaces, to reduce pain and improve function in painful musculoskeletal conditions. A variety of solutions have been used; dextrose prolotherapy is the most rigorously studied.
Prolotherapy Injection Mechanism of Action
The musculoskeletal rationale for prolotherapy Injection is to strengthen inadequate ligaments by exposing them to an irritant that will induce fibroblastic hyperplasia, seeking to stimulate connective tissue growth, and promote the formation of collagen. The treatment aims to cause soft tissue inflammation, the opposite objective to corticosteroid injection therapy, but the histological responses may not be different from those caused by saline injections or needlestick procedures.
Prolotherapy Indications
Although Prolotherapy for back pain is mostly used, including the sacroiliac joint (SIJ), it has also been used for those with peripheral instability and in elite kicking sport athletes with chronic groin pain from osteitis pubis and/or adductor tendinopathy. Intraarticular dextrose prolotherapy for anterior cruciate ligament laxity has also been reported in a small study
There also Prolotherapy for Achilles tendinopathy. In a study comparing effectiveness and cost-effectiveness of eccentric loading exercises (ELEs) with prolotherapy or combined treatment, results were better at 12 months for prolotherapy and for combined treatment, which had the lowest incremental cost compared with ELE, but long-term results were similar. Sonographically guided intratendinous injection of 25% hyperosmolar dextrose has also been used to treat chronic Achilles tendinopathy and plantar fasciitis.
Prolotherapy Types
The term prolotherapy encompasses a variety of treatment approaches rather than a specific protocol, and there are a large number of sclerosants. One of the most common sclerosant solutions consists of a mixture of dextrose, glycerine, phenol and lidocaine (P2G).
Some use just dextrose and lidocaine, which may be potentially less neurotoxic, although part of the pain-relieving effect of sclerosant injection may be from a toxic action on nociceptors.
In the most carefully conducted study of prolotherapy for back pain reported so far, there was no difference between the effect of injecting a sclerosant solution or injecting saline at key spinal ligament entheses. However, because both groups of patients improved significantly, it is difficult to decide what the particular effect of sclerosant injections might be.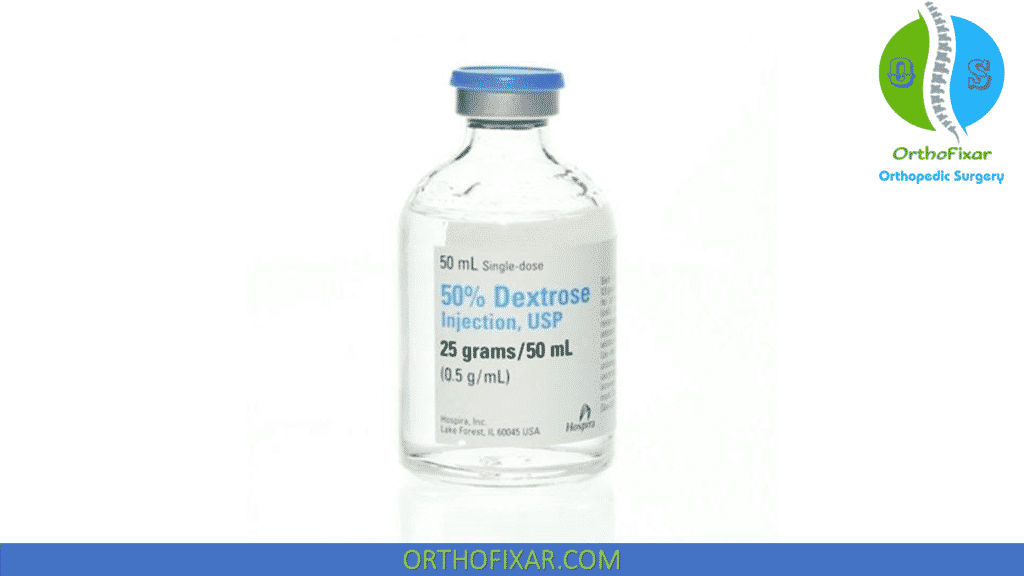 Prolotherapy Evidence
A critical review has concluded that prolotherapy may be effective at reducing spinal pain, but great variation was found in the protocols used, precluding definite conclusions. It was recommended that future research should focus on those solutions and protocols that are most commonly used in clinical practice, and that have been used in trials reporting effectiveness, to help determine which patients are most likely to benefit.
A Cochrane review has concluded that there is conflicting evidence regarding the efficacy of prolotherapy for chronic low back pain; when used alone, it is not an effective treatment. When combined with spinal manipulation, exercise and other co-interventions, prolotherapy may improve chronic low back pain and disability. Conclusions were confounded by clinical heterogeneity amongst studies and by the presence of co-interventions.
In recent years, there has been a number of studies looking again at this treatment. A systematic review has concluded that the use of dextrose prolotherapy is supported for the treatment of tendinopathies, knee and finger joint OA and spinal or pelvic pain caused by ligament dysfunction, but that efficacy in acute pain, as first-line therapy, and in myofascial pain cannot be determined from the literature.
A systematic review and meta analysis of the comparative effectiveness of dextrose prolotherapy versus control injections and exercise in the management of osteoarthritis pain has concluded that there is decreased pain in OA patients, but this therapy does not exhibit a positive dose-response relationship following serial injections. Dextrose prolotherapy was found to provide a better therapeutic effect than exercise, local anesthetics and probably corticosteroids when patients were retested 6 months following the initial injection.
Another systematic review and meta analysis has concluded that overall, prolotherapy confers a positive and significant beneficial effect in the treatment of knee OA, and that adequately powered, longer term trials with uniform endpoints are needed to elucidate the efficacy of prolotherapy better. Yet another systematic review has concluded that current data from trials about prolotherapy for osteoarthritis should be considered preliminary, but future high-quality trials on this topic are warranted.
A descriptive review has concluded that systematic review, including a meta analysis, and randomized controlled trials suggest that prolotherapy may be associated with symptom improvement in mild to moderate symptomatic knee OA and overuse tendinopathy. The authors commented that although the mechanism of action is not well understood and is likely multifactorial, a growing body of literature has suggested that dextrose prolotherapy for knee osteoarthritis may be appropriate for the treatment of symptoms associated with knee OA in carefully selected patients who are refractory to conservative therapy and deserves further basic and clinical science investigation for the treatment of OA and tendinopathy.
A systematic review of prolotherapy for lower limb injections has found limited evidence that this is a safe and effective treatment for Achilles tendinopathy, plantar fasciopathy and Osgood-Schlatter disease. Another systematic review of prolotherapy for chronic painful, Achilles tendinopathy has suggested that this treatment may be effective and can be considered safe, but long-term studies and randomized controlled trials (RCTs), are still needed.
In participants with painful rotator cuff tendinopathy who have undergone physical therapy, injection of hypertonic dextrose onto painful entheses has resulted in superior long-term pain improvement and patient satisfaction compared with blinded saline injection over painful entheses, with intermediate results for entheses injected with saline. Prolotherapy was an easily applicable and satisfying auxiliary method for the treatment of chronic rotator cuff lesions when compared with exercises for chronic rotator cuff lesions.
A retrospective case-controlled study has found that prolotherapy improves pain, disability, isometric strength and shoulder range of movement in patients with refractory, chronic, rotator cuff disease and recommended further studies.
In a prospective study, prolotherapy resulted in safe and substantial improvement in knee OA specific quality of life measures compared with controls over 52 weeks. Among prolotherapy participants, but not controls, MRI–assessed cartilage volume change and predicted pain severity score change suggested that prolotherapy may have a pain-specific, disease-modifying effect. The authors concluded that further research is warranted.
Polidocanol Injection
Polidocanol (ethoxysclerol) is a sclerosing local anesthetic injected to treat tendinopathies. The rationale for its use is that the pain from tendinopathy is related to the growth of new blood vessels (neovascularization) and their closely associated nerves. These vascular changes can be seen on colour Doppler ultrasound examination of tendons.
In a pilot study, polidocanol was injected under ultrasound control into the neovessels of patients with Achilles tendinopathy; 8 of 10 subjects had significant reduction in their pain and returned to pain-free, tendon-loading activities, with benefit persisting at 6 months. An RCT crossover study was conducted to investigate polidocanol in a group of elite athletes with patellar tendinopathy. The treatment group reported a significant improvement after 4 months; there was no change for the control group. After 8 months, when the control group had also undergone active treatment with polidocanol, they had a greater improvement than the treatment group. There was no further improvement in either group at 12-month follow-up.
Another prospective, double-blind, crossover RCT compared a guided intratendinous single injection with polidocanol with a single injection of local anaesthetic (lidocaine + epinephrine), in patients with tennis elbow. At the 3-month follow-up, additional injections with polidocanol were offered to both groups (crossover for group 2). At 1 year, there was similar pain relief in both groups.
In a retrospective study in which Achilles tendons received polidocanol injections for chronic midportion tendinopathy, pain correlated positively with neovessels on ultrasound. The authors concluded that their study did not confirm the postulated high beneficial value of sclerosing neovascularization injections in patients with this condition; they stressed that polidocanol injection may not be as promising as was first thought.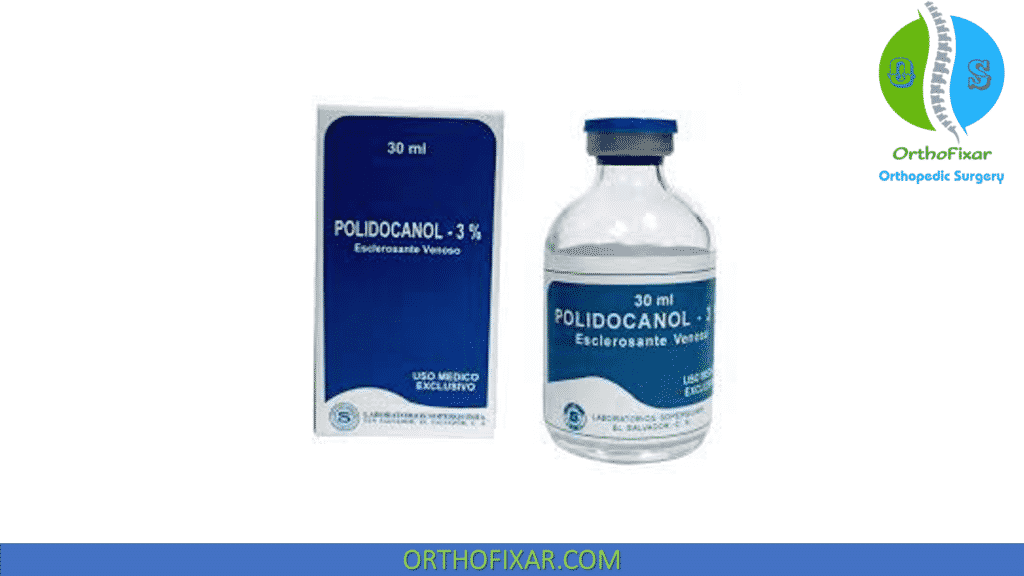 References
Dagenais S, Mayer J, Haldeman S, Borg-Stein J. Evidence-informed management of chronic low back pain with prolotherapy. Spine J. 2008 Jan-Feb;8(1):203-12. doi: 10.1016/j.spinee.2007.10.021. PMID: 18164468.
Dorman T, Ravin T. Diagnosis and Injection Techniques in Orthopaedic Medicine. Baltimore, MD: Williams and Wilkins; 1991:33–34.
Reeves KD, Sit RW, Rabago DP. Dextrose prolotherapy: a narrative review of basic science, clinical research, and best treatment recommendations. Phys Med Rehabil Clin N Am. 2016;27(4): 783–823.
Jensen KT, Rabago DP, Best TM, et al. Early inflammatory response of knee ligaments to prolotherapy in a rat model. J Orthop Res. 2008;26(6):816–823.
Fleming S, Rabago DP, Mundt MP, et al. CAM therapies among primary care patients using opioid therapy for chronic pain. BMC Complement Altern Med. 2007;7:15.
Dagenais S, Yelland MJ, Del Mar C, et al. Prolotherapy injections for chronic low-back pain. Cochrane Database Syst Rev. 2007;(2): CD004059.
Rabago D, Slattengren A, Zgierska A. Prolotherapy in primary care practice. Prim Care. 2010;37(1):65–80.
Dagenais S, Haldeman S, Wooley JR. Intraligamentous injection of sclerosing solutions (prolotherapy) for spinal pain: a critical review of the literature. Spine J. 2005;5(3):310–328.
Cusi M, Saunders J, Hungerford B, et al. The use of prolotherapy in the sacroiliac joint. Br J Sports Med. 2010;44(2):100–104.
Reeves KD, Hassanein K. Randomized, prospective, placebo-controlled double-blind study of dextrose prolotherapy for osteoarthritic thumb and finger (DIP, PIP, and trapeziometacarpal) joints: evidence of clinical efficacy. J Altern Complement Med. 2000;6(4): 311–320.
Topol GA, Reeves KD, Hassanein KM. Efficacy of dextrose prolotherapy in elite male kicking-sport athletes with chronic groin pain. Arch Phys Med Rehabil. 2005;86(4):697–702.
Reeves KD, Hassanein KM. Long term effects of dextrose prolotherapy for anterior cruciate ligament laxity. Altern Ther Health Med. 2003;9(3):58–62.
Yelland MJ, Sweeting KR, Lyftogt JA, et al. Prolotherapy injections and eccentric loading exercises for painful Achilles tendinosis: a randomised trial. Br J Sports Med. 2011;45(5):421–428.
Maxwell NJ, Ryan MB, Taunton JE, et al. sonographically guided intratendinous injection of hyperosmolar dextrose to treat chronic tendinosis of the achilles tendon: a pilot study. AJR Am J Roentgenol. 2007;189:W215–W220.
Ryan MB, Wong AD, Gillies JH, et al. Sonographically guided intratendinous injections of hyperosmolar dextrose/lidocaine: a pilot study for the treatment of chronic plantar fasciitis. Br J Sports Med. 2009;43(4):303–306.
Yelland MJ, Glasziou PP, Bogduk N, et al. Prolotherapy injections, saline injections, and exercises for chronic low-back pain: a randomized trial. Spine. 2004;29(1):9–16.
Hauser RA, Lackner JB, Steilen-Matias D, et al. A systematic review of dextrose prolotherapy for chronic musculoskeletal pain. Clin Med Insights Arthritis Musculoskelet Disord. 2016;9:139–159.
Hung CY, Hsiao MY, Chang KV, et al. Comparative effectiveness of dextrose prolotherapy versus control injections and exercise in the management of osteoarthritis pain: a systematic review and meta-analysis. J Pain Res. 2016;9:847–857.
Sit RW, Chung VCh, Reeves KD, et al. Hypertonic dextrose injections (prolotherapy) in the treatment of symptomatic knee osteoarthritis: a systematic review and meta-analysis. Sci Rep. 2016;6:25247.
Krstičević M, Jerić M, Došenović S, et al. Proliferative injection therapy for osteoarthritis: a systematic review. Int Orthop. 2017;41(4):671– 679.
Rabago D, Nourani B. Prolotherapy for osteoarthritis and tendinopathy: a descriptive review. Curr Rheumatol Rep. 2017;19(6):34.
Sanderson LM, Bryant A. Effectiveness and safety of prolotherapy injections for management of lower limb tendinopathy and fasciopathy: a systematic review. J Foot Ankle Res. 2015;8:57.
Morath O, Kubosch EJ, Taeymans J, et al. The effect of sclerotherapy and prolotherapy on chronic painful Achilles tendinopathy – a systematic review including meta-analysis. Scand J Med Sci Sports. 2018;28(1):4–15.
Bertrand H, Reeves KD, Bennett CJ, et al. Dextrose prolotherapy versus control injections in painful rotator cuff tendinopathy. Arch Phys Med Rehabil. 2016;97(1):17–25.
Seven MM, Ersen O, Akpancar S, et al. Effectiveness of prolotherapy in the treatment of chronic rotator cuff lesions. Orthop Traumatol Surg Res. 2017;103(3):427–433.
Lee DH, Kwack KS, Rah UW, et al. Prolotherapy for refractory rotator cuff disease: retrospective case-control study of 1-year follow-up. Arch Phys Med Rehabil. 2015;96(11):2027–2032.
Rabago D, Kijowski R, Woods M, et al. Association between disease-specific quality of life and magnetic resonance imaging outcomes in a clinical trial of prolotherapy for knee osteoarthritis. Arch Phys Med Rehabil. 2013;94(11):2075–2082.
Ohberg L, Alfredson H. Ultrasound guided sclerosis of neovessels in painful chronic Achilles tendinosis: pilot study of a new treatment. Br J Sports Med. 2002;36:173–177.
Hoksrud A, Ohberg L, Alfredson H, et al. Ultrasound-guided sclerosis of neovessels in painful chronic patellar tendinopathy: a randomized controlled trial. Am J Sports Med. 2006;34(11):1738–1746.
Zeisig E, Fahlström M, Ohberg L, et al. Pain relief after intratendinous injections in patients with tennis elbow: results of a randomised study. Br J Sports Med. 2008;42(4):267–271.
van Sterkenburg MN, de Jonge MC, Sierevelt IN, et al. Less promising results with sclerosing ethoxysclerol injections for midportion achilles tendinopathy: a retrospective study. Am J Sports Med. 2010;38(11):2226–2232.
Last Reviewed
May 10, 2022
Contributed by
OrthoFixar
Orthofixar does not endorse any treatments, procedures, products, or physicians referenced herein. This information is provided as an educational service and is not intended to serve as medical advice.